9 Reasons Every Recruiter Should Use an Applicant Tracking System
Find your new job!

Look for your perfect career match with the Jobillico job search!

Search Now!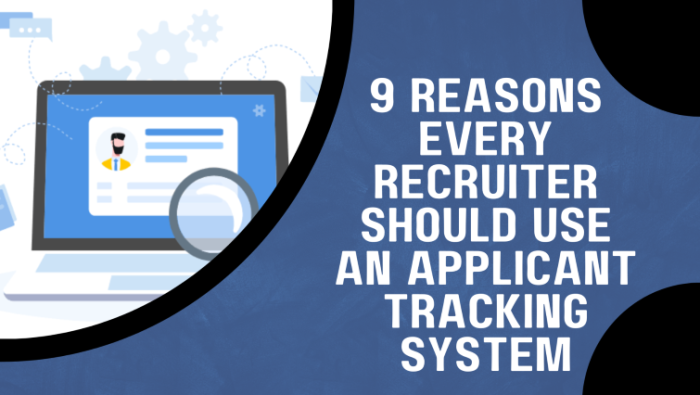 Publié le 14 December 2022
Trying to streamline your hiring process and find the right candidate for the job? Learn 9 reasons every recruiter should use an applicant tracking system.
Recruitment is crucial for every organization, whether they're small, medium-sized, or large establishments. A company's workforce will determine if it meets its goals and aspirations and the quality of the results.
This is why companies often invest a lot of time and resources in sourcing the most qualified candidates for any available job. However, despite the investments, recruitment can be challenging. It can be difficult to find candidates who have the right skills, experience and work ethic, and find them on schedule and on budget.
Providing a fantastic candidate experience and projecting a great employer brand is also critical. Recruiters who cannot sell the company positively often face the challenge of being able to attract the right candidates who will be reluctant to join based on reputation.
The great news is that an online applicant tracking system can make all of these easier and more straightforward. In this article, we will explore the 9 reasons every recruiter should use Applicant Tracking System.
What Is An ATS or Applicant Tracking System?
Many new organizations and recruiters find themselves asking what is an Applicant Tracking System (ATS), and how it can improve and streamline their hiring process. Simply put, an applicant tracking system automates recruitment processes, making managing job applications quicker and keeping candidates' information as accessible as possible.
This software application helps organizations identify, screen, and track potential candidates for open positions. Companies with large recruiting needs, such as retail, healthcare, and manufacturing industries, often use ATS systems. A good applicant tracking system has the following features:
Attracts the candidates
Manages the hiring process
Onboards new starters
How an Applicant Tracking System Works
An applicant tracking system goes through 4 basic steps:
A formal call for applications is entered into the applicant tracking system. It would include details about the position, such as the job title, desired education, skills, and the required experience.
The applicant tracking system creates an ideal candidate profile based on the information provided.
As prospects submit their resumes, the applicant tracking system examines, sorts, and grades them based on how well they fit the profile.
Then, hiring managers quickly pick out the most qualified and move them on to the next stage in the hiring process.
Why Every Recruiter Should Use an Applicant Tracking System
With an increase in the number of applicants seeking new employment opportunities, the burden on recruiters has become heavier, while the resources provided to them has not always kept pace. Finding the right recruits for any open job requires time, money and expertise, but organizations will always be on the lookout for ways to streamline the process. An ATS can help do just that. And so, here are 9 reasons why every recruiter should use an applicant tracking system.
1. An Applicant Tracking System Saves Time
Recruiters spend many hours creating job postings and reviewing applicants' resumes and cover letters. This is in addition to the time spent emailing candidates and scheduling interviews. The ATS software helps to run through all these processes quickly, delivering to you only the ones who are the best fit for the position.
2. An Applicant Tracking System Increases Efficiency
Using an applicant tracking system can help recruiters manage candidates more effectively. It helps to keep track of not only candidates' information but all interactions between the candidates and the organization. It can categorize applicants based on specified criteria created by the company, helping to keep candidates' information organized.
3. Easier Job Posting
With an applicant tracking system, you can upload your job openings on several platforms with a single click. It removes the stress of manually posting job openings on your social media platforms.
It also tracks the progress on each platform, so you do not need to monitor each post individually. The software gathers the analytics and collates data from each platform for you. This makes review much simpler while reducing the chance of confusion.
4. Better Candidate Experience
It can be frustrating for candidates to go through a stressful and repetitive application processes. Another negative experience is the need for timely updates. It can also be unpleasant to have to wait long hours or even days because of conflicting interview schedules.
Using an applicant tracking system ensures that candidates have a positive and seamless experience throughout the recruitment journey, whether they are eventually hired or not. They remain informed of where they are in the process and what else needs to be done at all times.
5. Helps Create an Applicant Pool
An applicant tracking system can help create an applicant pool, which will then become a future reference resource for recruiters. It can come in handy if you need to hire again for the same or a similar position on short notice. This saves the time of creating a profile and making fresh job postings. Instead, a recruiter can review candidates who they have already determined are qualified for the job,
With the ATS software, you already have candidates who you know are at least interested in working for your company. Plus, they have already been vetted by the system.
6. Improved Employee Retention
The applicant tracking system software ensures that the very best candidates are selected. The more the candidate is suited for the position, the higher the chances that both the employee and the company will be satisfied. When new hires are placed in a job role where they can develop, grow, and excel they are far more likely to remain with the company long-term. This reduces employee turnover, which is positive for any brand's image.
7. Improved Quality of Hire
One of the many advantages of running an applicant tracking system online is that it removes unconscious bias. Selection is made purely based on the criteria and keywords that have been programmed into the software. This ensures that unqualified candidates are immediately screened out. This way, only the most qualified make it to the job interview portion of the hiring process with recruiters.
8. Reduced Cost
Applicant tracking systems reduce costs In several valuable ways. It automates tasks that would ordinarily be carried out manually. This helps to cut down hours of work. Also, by creating a pool of passive candidates to choose from, ATS saves you the time and resources required to put together another recruitment process. Recruiters will be able to channel their focus elsewhere, using only the time that is required. The costs of bad hires are always high, so having qualified job candidates step into the available job role will actually save the company money in the long-term.
9. Streamlining the Hiring Process
An applicant tracking system unifies the different tasks and tools involved in the recruitment process into a single platform. This makes it easy to access, track and manage an applicant's progress from a single platform. It also makes collaboration easy, allowing for joint decision-making. This reduces the overhead needed for the recruitment process, and can help prevent confusion between recruiters, managers and prospective employees.
Conclusion
Applicant tracking systems work well for companies of all sizes, especially large organizations that hire employees for various positions regularly. They are also beneficial for companies that typically attract a lot of applicants.
Applicant tracking systems do not just cut the time and cost of recruitment but also ensure that you get the best candidates. Making sure that candidates have a great experience with your company's recruitment process is also important.
This will help to improve your brand's image and reduce employee turnover, and these are only a couple of the 9 reasons every recruiter should use an applicant tracking system. The best news about using applicant tracking systems is the insight they give. The more you use them, the more you understand what works best for your company. This helps you turn every recruitment exercise into a positive experience for both the applicants and the recruiters.