7 Signs An Employee Is Ready For A Promotion
Find your new job!

Look for your perfect career match with the Jobillico job search!

Search Now!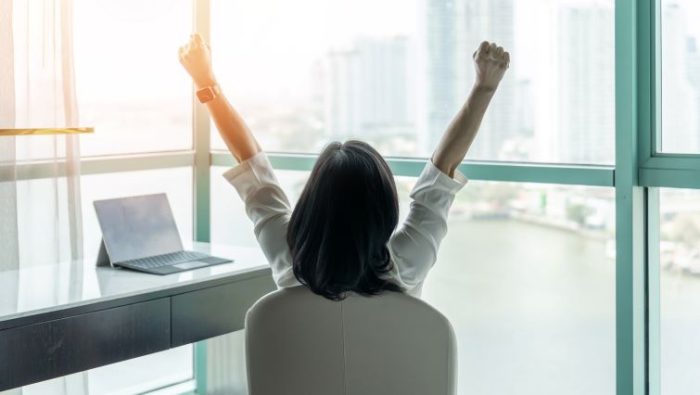 Publié le 19 May 2021
Company leaders need to know the 7 signs an employee is ready for a promotion as part of their commitment to building a strong and supportive work environment that offers clear career paths.
A clearly defined career path is one of the most important factors to prospective employees when they consider joining a company. A recent survey of workers aged 18-34 showed that 60% desired leadership training from their employer, while an additional 33% were actively looking for existing leadership opportunities. With this hard data, it is clear that internal mobility should be part of any company's talent management plan.
Promotions are not only good for employees, but they benefit the company as well. It is proof of the strong growth, expansion and new opportunities available at a business, which will make them better able to attract top level talent during the recruitment process. Improving the ability to retain the top-level talent remains a primary concern for business leaders in Canada and around the world, and demonstrating opportunities for advancement and leadership roles can help accomplish just that. In order for a business to stay on a successful trajectory, company leaders and managers need to learn to the 7 signs an employee is ready for a promotion.
7 Signs An Employee Is Ready For A Promotion
They know how to deal with failure
They are highly engaged
They demonstrate leadership
They take on increased responsibility
They teach others
They identify organizational issues
They solve problems
They Know How To Deal With Failure
Failure is one of the few guarantees in business. Every company at some point will fall short of a goal or fail to complete a project as planned. Managers look for employees who approach failure with a growth mindset. They will not view failure as a demoralizing defeat but rather an opportunity for growth.
By examining a project or initiative that was less than successful, there is still much valuable information to be gained regarding a company's products, target audience and role in the marketplace. When an employee commits to learning from a failure and building upon it for the future, they demonstrate just the right mindset for a greater role.
They Are Highly Engaged
A business cannot afford to wait for an employee to become an engaged part of the workforce only after they are promoted. An employee who desires a promotion should demonstrate that they are highly engaged from the beginning of their time with the company. As some surveys suggest that as little of 15% of employees are actively engaged at work, being one of them will be an extremely effective way to stand out.
Signs of a Highly Engaged Employee
A highly engaged employee is one who is:
Producing exemplary work
Asking questions
Taking advantage of new resources
Setting and achieving new professional goals
A highly engaged employee clearly understands that they play a strong role in the overall success of the company, and demonstrates their commitment by putting in more than the expected effort on a daily basis.
They Demonstrate Leadership
If any employee thinks that they must wait until they get promoted before they take on a leadership role, they are sorely mistaken. Leadership is valuable at all levels of a business, and there is no reason to wait to embody these traits.
A promotable employee realizes that good leadership does not mean bossing people around, but rather acting as a strong voice in the workforce. They are unafraid to take advantage of the opportunities that appear, such as taking charge of a new project, and act as a guiding force within the office to help everyone improve their performance.
They Take On Increased Responsibility
The cold hard truth is that simply fulfilling the exact requirements of their existing position is not enough to guarantee that an employee will get promoted. Company leaders look for those who go above and beyond the scale of their duties. Doing so demonstrates the increased value that they add to a company and their desire for professional growth.
A promotion to a bigger role comes with increased responsibilities, which includes dealing with unexpected issues that must be addressed immediately and proverbial fires that must be put out. An employee who does not avoid added responsibilities is clearly affirming their desire for an expanded role. While it is extremely important to ensure this workload does not cause employee burnout, this is the same behaviour that will serve them well in a managerial or supervisory role.
They Teach Others
A good leader is not someone who bosses others around all day. A good leader is one who strives to teach others and guide them to success. By striving to help those around them gain knowledge and experience, they are adding tangible value to the company and are working towards a positive company culture.
A recent study of a large tech firm found that output increased by two-thirds once a new supervisor was appointed, concluding that "imparting better methods or skills is the biggest part of effective supervision". An employee who is already willing to teach those around them, whether by training a new worker or volunteering to test a new system, is displaying one of the most valuable traits of a good leader.
They Identify Organizational Issues
No company is perfect, and those who claim to be are really just displaying their own shortsightedness. A successful business is always seeking new ways to modify and improve their organizational structure and workflow. A prime candidate for promotion is an employee who is never satisfied with the status quo. Instead, they are always thinking of ways that the company could be streamlined and improved.
By suggesting changes to the organizational structure and workflow, an employee is displaying both their commitment to the company and the best traits of a growth mindset. This demonstrates that in a senior management or leadership position, they will recognize the importance of new ideas and making changes, and be a strong asset to a company committed to growth.
They Solve Problems
While anyone can point out flaws and problems, it takes a different kind of effort to provide solutions and answers. These are the employees that not only point out organization issues, but are taking a proactive role in solving them. Company leaders look for employees who come to them with solutions to existing problems. When asked by a leadership consultancy, over 300,000 managers from all types of companies ranked problem solving as the second-most important skill for leaders to possess.
After being promoted, there will be an increase in questions presented to new managers and supervisors. By promoting those who already are thinking of solutions, these employees will likely stay ahead of organizational problems. They will have the temperament to know that the team can always devise a proactive solution for the betterment of the company.
Promotions, internal mobility and the strong potential for a career path play important roles in employee retention. People who work hard and demonstrate leadership skills, problem solving, a growth mindset and a high level of engagement have already proved themselves to be an asset to a business and deserve to be rewarded. This is how you will know that your employee is ready for a promotion. By promoting those who display the 7 signs an employee is ready for a promotion as part of a talent management plan, it puts both the employee and the company in a stronger position to succeed together.