How To Prepare For A Values-Based Interview
Find your new job!

Look for your perfect career match with the Jobillico job search!

Search Now!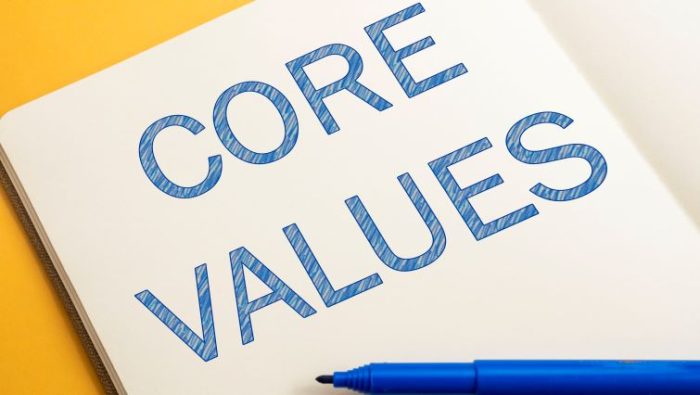 Publié le 4 October 2021
As part of your hiring process, you will likely have a values-based interview so employers can determine if you share the same values and beliefs as your future company. For those wondering how to prepare for a values-based interview, there are a few simple ways to show recruiters that you are the correct person for the job.
Successful businesses need to be built on a foundation of trust. It is most likely that your prospective employer wants to create a trusting relationship between employees, clients, and the public at large, based on shared values that connect to the goal and brand of a company. Therefore, values-based questions will likely be asked during a job interview. These are questions that are designed to reveal the values that you will bring into the workplace.
People who have never experienced a values-based interview before may find it to be a little confusing. Job seekers know by now that there can be different interview questions during a job interview depending on the circumstances and requirements of each job and company. For example, an interview for a remote job will have different questions than would be asked for an in-person job role.
When it comes to values-based questions, however, they apply to both in-person and remote work environments and will continue to play an important role in workplaces that have moved away from a traditional office space. Job seekers need to understand how to answer values-based interview questions in a way that clearly demonstrates the positive values they will bring to the role.
Values-based questions inquire about your overall compatibility with a company's own values and beliefs rather than focusing solely on the specific skills and abilities needed for a particular position. For instance, you can be asked to describe an experience that demonstrates how you used your values to positively impact a project or client experience.
To be absolutely certain that you'll leave a good impression on a recruiting or hiring manager, here are 4 pro tips to help you prepare:
How To Prepare For A Values-Based Interview:
Understand Company Values
Common Company Values
Get Prepared for Values-Based Questions
Caution! Things to Avoid in your Values-Based Interview
Understand Company Values
By understanding company values and company culture, as a future employee, you can get to know the company better and prepare yourself for an upcoming values-based interview. There are 3 important components that will help you understand company values:
Collaboration among employees
Company investments
Recruitment goals
Collaboration Among Employees
In an organization that values innovation, employees will be encouraged to brainstorm and come up with new and comprehensive ideas through collaboration with one another.
Successful businesses are those that create an environment that both facilitates and encourages regular collaboration between employees. When a project is worked on by a team of professionals with diverse views and experiences, it is far more likely that new ideas will be generated and exciting new possibilities will be explored.
A company that strongly values collaboration should encourage it from day one, including during the onboarding process. Having a new hire collaborate with experienced employees will introduce them to different methods to approach the work, give examples of how to adapt to a new work environment and help to forge bonds between colleagues.
This will facilitate your ability to build strong relationships and provide you with a solid foundation for future collaborations by making it clear that it's an important value.
Company Investments
Depending on the goals of the company, investments of time, finances and other valuable resources will be made to achieve set goals. A company that values its employees will invest in providing them with the resources they need to do their jobs as best they can.
For instance, a business that is focused on customer support should invest in educational programs for its salespeople, Customer Data Platforms or CDPs, and profitable relevant software. This will provide employees with opportunities to learn new skills and develop their roles, demonstrating how the company values their professional growth.
On the other hand, investments are not only made in the form of material goods. You will easily recognize a company that values its employees. Such a company looks for ways to reward their employees, makes it a point to credit employees and content creators for their work, and acknowledges the very real impact that each employee has on the overall organization. These examples demonstrate a company's values by showing how they provided employees with the right tools and also publicly acknowledge their hard work.
The Type of People Company is Searching For
Most businesses understand the importance of good teamwork and collaboration. Thus, they will seek employees that value being strong team players. This can take the form of conducting team-building activities that foster professional bonds between colleagues. In a values-based interview, be ready to demonstrate how you value strong professional relationships with your coworkers.
Common Company Values
Accountability
This means that you are ready to take responsibility for decisions and actions in certain projects.
By asking questions about accountability, employers can assess if a job applicant has the ability to be a team player and is prepared to meet project deadlines and fulfill expectations. A candidate who values accountability often thrives in a fast-paced setting and is considered trustworthy in performing their responsibilities by company leaders.
Adaptability
Adaptation is a necessary part of the recruitment process. The ability of the candidate to adapt to new circumstances is very important. If the future employee can easily adjust to sudden changes, they are ready to handle the work in the most efficient way possible while embracing new developments.
This can be a bit challenging, and adapting is not necessarily easy. That's why a candidate needs to consider adaptability as a key value, as they will recognize its importance even when it becomes difficult. Throughout the interview, you might be asked to give an example of a certain situation where you have managed the situation where adaptability was required. Be ready to give one and make sure it ends professionally.
Collaboration
Employers will examine how well a candidate can work within the group by asking questions about how they value collaboration. If the candidate can show how they utilize collaboration to complete projects and grow a business, they most likely have what it takes to meet joint goals.
It's not unusual to be asked about previous experiences and the way you worked with your teammates to achieve large company goals. You can expect questions like: Would you be able to work with someone you don't get along with or How would you react if one person in your team doesn't want to do the work that they were assigned? Having strong answers to these questions during your values-based interview will demonstrate your commitment to collaboration as a cornerstone of your work.
Customer Orientation
Aiming for maximum customer satisfaction is the ultimate goal for all businesses. By valuing satisfaction and loyalty as part of their customer orientation, it will help to grow their consumer base through positive word of mouth. A candidate who values creating a positive experience for their clients will be able to achieve these goals more easily and effectively.
Therefore, highlighting how you value client experience and customer orientation traits, as well as giving the example of a previous experience with loyal clients, can do miracles in your values-based interview.
Innovation
Be innovative and open to new ideas. Candidates who value innovation will naturally be at the forefront of industry change, and be prepared to take a company in new and exciting directions. Employees who value innovation will not be satisfied with outdated ways of doing business, and instead will seek to learn and generate new approaches to solving challenges facing a company
Valuing innovation is a way that a company can estimate how the future employee can flourish and grow, and whether they are suitable for a particular position.
Integrity
Integrity might be the most important value of all. If you have integrity it means you are an honest, responsible, and professional employee. Integrity has its own benefits, and will also result in creating a bond based on trust and honesty between employers, employees and colleagues alike.
So, it wouldn't be a surprise if a recruiter asks you about previous working experiences that can highlight your level of integrity. For example, How would you handle a situation where you had to face an ethical dilemma in the workplace? Having a strong answer for this question in your values-based interview will help recruiters and hiring managers see that you are the correct person for the job.
Social Responsibility
Corporate social responsibility awareness is quickly becoming another essential component of success for companies. This means that they understand the impact that their actions, products, and choices have on people, the environment, and society at large. A socially responsible company that values having a positive impact on its community will be able to attract highly qualified candidates who share this value.
That's why it's important for current job seekers to value social and environmental responsibility. This means you are able to act in a way that will benefit not only the company's business policies but the larger society as well.
Thus, you can expect to be asked questions like, how can we improve our environmental practices in the company in order to keep costs low? or how can you gain insight from members of the community that will help make this project successful? Demonstrating a commitment to having a positive impact on those around you and using your professional life to benefit society will help you appeal to recruiters during a values-based interview.
Getting Prepared for Values-Based Questions
Getting prepared for a values-based set of questions will ensure you perform well during your job interview and leave a good impression on a hiring manager. Let's review the things you should do in order to get to know the company and its needs so that your values are in alignment.
Do Thorough Research On The Organisation
You have to learn as much as you can about the company, their culture, and policies, ambitions as well as beliefs that they uphold. When you visit a company's website, make sure you look at the section "About Us". There you can find a lot of useful information, details about their goals, mission, and vision set for the future.
Other platforms like Linkedin and Glassdoor can also be very helpful in your research. Pay attention to the reviews and comments from previous employees as a person who worked there will give you more thorough details about the company and its values. If a company is hosting live events or organizing webinars and other types of virtual hiring events, use it as an opportunity to network and learn more about your potential working environment.
Values and Skills Matching
Companies often search for certain values in prospective employees that match their own. By doing your research you can even find exact values that the company is searching for, and adapt your skills and work experience to show your compatibility.
If the company has not included this specific information in the job posting, try to figure it out on your own by examining the values and the skills that you know would support it.
For example, a company aiming to be ecologically or socially responsible will have this as an important part of its brand strategy, and it should be possible to determine this from their promotional materials.
Alternativly, if your employer is searching to fill a job role that would benefit from collaborative values, you would want to highlight that you possess these. Highlight your answers during your values-based interview to demonstrate that you strongly value professional collaboration.
Caution! Things To Avoid In Your Values-Based Interview
There are certain things you should never say in your job interviews. Nobody wants to go through an unpleasant situation and potentially cost yourself a job.
There are also things you should avoid when answering values-based interview questions. Below you will find some of the most common.
Lying. Don't do it. Employers can see if you are telling the truth or not by simply asking to give an example from your previous experience. Or even if you don't have any examples that perfectly match their questions, at least try to put yourself in that position and honestly demonstrate your solution.
Don't question the values of the employer, but be clear and certain in your values, and don't demonstrate cynicism or flippant behaviour.
Values that don't meet the needed criteria. Different thinking can be a big plus for product development but it can be tricky when it comes to keeping that employee in a process-driven company.
Inflexibility. Being a newbie means that other employees will try to do their best to adapt to your working style, while you are adjusting to the company's way of working. This can't happen overnight of course, but if they have strong beliefs that don't match your values, you might rethink future collaboration.
Don't show arrogance. If in any case, you receive some constructive criticism, don't show an arrogant attitude and dismiss it. This may lead a recruiter to think that you do not value the opinion or thoughts of others, and will only bring a limited perspective to important projects.
To Conclude
Job hunting can be difficult, job applications overwhelming, and getting prepared for an interview requires the courage to stand up for yourself in an unfamiliar environment. Being prepared for job interviews will always make the process simpler and less stressful.
Defining and knowing the corporate company values will be your first step when getting prepared, and the second is to do thorough research. If you are wondering how to prepare for a values-based interview, these tips will help demonstrate that you possess the types of values employers are looking for in a new employee.