Marketing Company Culture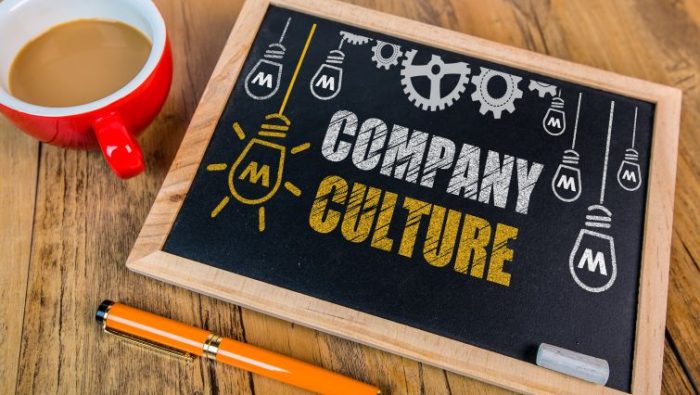 Publié le 17 March 2021
Maintaining a positive company culture based on collaboration, support and creativity makes for an effective and pleasurable workspace. Additionally, it can be a beneficial asset when used for promoting a company. Marketing company culture and a positive corporate environment to both new clients and potential employees through company mission statements, public events and employee cultural ambassadors will have a positive impact on a business. This type of marketing should be taken seriously as a means to grow a company and build a respective corporate brand.
To Prospective Clients
Promoting company culture to prospective clients, otherwise known as B2B branding, can have a large impact on the success of a company. According to Marketing Week, business clients "are more than twice as likely to consider a brand that shows personal value over business value". By placing company and corporate culture on the forefront through company mission statements, social media branding and networking events, the numbers indicate it will help companies stand out among their industry competition.
Include Culture in Your Company Mission Statement
B2B branding begins with the very identity of the company itself. It is important to make sure that a commitment to a strong company culture is part of the identity of a business from the moment they start to build client relationships. Including a mention of the positive and unique corporate culture in the company mission statement will ensure that it is an integral part of both a business' message and their plan for marketing company culture.
Clients will want to work with businesses that set high standards and make the commitment necessary to stand out through their corporate values. In a crowded marketplace it can be difficult to gain traction solely through the services which a business offers, and therefore companies must take every opportunity to harness positive attention. A strong and supportive corporate culture and the public commitment to maintaining it can help attract clients looking to form long-term business relationships.
Use Social Media
While social media can be a useful tool to share business-related updates, it is important to view it as an extension of a company's B2B branding. Marketing company culture is a central part of a business' branding, and social media provides a great opportunity to share this message. For example: if collaboration between employees is the key to achieving the best results for a client, take a quick picture during a brainstorming session and post it online. A visual representation of the teamwork being dedicated to each project will be a welcome sign to any client.
Likewise, updates about virtual events and meet ups between companies and their clients make the company seem much more personable. Photos, videos and other interactive social media content have the potential to do more to extend awareness of positive company culture than a year's worth of successful quarterly projections. Maintaining emphasis on positive benefits when marketing company culture through social media can be a benefit to all types of businesses.
Hosting (Virtual) Events
One of the most effective ways to display company culture to potential clients is to promote it through conferences, seminars, symposiums and other events. Industry fairs are an excellent opportunity for a business to reach out and connect with their targeted client base. Even the type of event can be a reflection on the corporate culture of each specific company.
For example: a tech company that prides itself on user interaction can organize demos of their latest products, followed by a question and answer session with the development team. This provides the chance to highlight the teamwork required and the many different iterations that the product took on before arriving at the finished result, displaying collaborative effort. Of course, hosting in-person events is not an option for obvious reasons at the moment, and is something that must wait until health officials tell us it is safe to do so. Fortunately, virtual events and conferences have quickly emerged to fill this need. This provide a safe and effective way for businesses to connect and virtually network with potential clients.
To Prospective Employees
The modern job market has shifted dramatically over the past decade. Today, when companies are looking to expand the workforce, more power now rests in the hands of the prospective applicants. Simply put, a company's reputation matters. A survey of job seekers found that 69% would not apply to work at a company with a bad reputation, even if they were unemployed at time. When a business wants to attract the best candidates, they need to tout the benefits of their corporate environment when marketing company culture, including company unity, the voice of their employees and the uniqueness and diversity of their workforce in order to stand out.
Maintain and Project Company Unity
To be successful, a company must have a clear set of goals with a unified team working together to reach them. It is very important that companies project their organizational unity and the strength of their corporate culture to new potential hires. A reputation for disorganization and stagnation can only harm the reputation of a company, as prospective employees will not be able to see any path forward for themselves.
By presenting the goals which they have successfully reached and highlighting plans for the future, a company emphasizes the organized work environment and clear career path that new employees can expect upon their arrival. Businesses will be able to attract candidates who are ready and willing to work and share in their success from their first day in the office.
Support Uniqueness
A new generation of employees has begun to enter the workforce and a transition of values has occurred simultaneously. The vast majority of younger employees do not want to work in a company that views them as another interchangeable piece in a vast corporate machine. With 84% of workers between the ages of 20 and 36 reporting a strong desire for constant feedback and to understand the impact of their work, it is in the best interests of a company to create a culture where employees are allowed to stand out.
Employees want to know that they are a powerful contributor to a company's success. By making it known that there is always room for diverse and unique voices in the office when marketing company culture, it will make a business all that more appealing to the next generation of workers. Ensuring that prospective employees know that they are welcome to contribute thoughts and ideas that may stray from traditional corporate thinking can attract the best talent and lead to added success for a company.
Let Employees Be Cultural Ambassadors
The most effective way to attract new recruits to a company is to simply allow the existing employees to describe the benefits of working there. With the proliferation of employer review sites, it is quite simple for prospective candidates to hear what people who work or have worked at a company have to say about it. Initially, many businesses forbade employees from publicly commenting on these websites and in similar forums out due to the perceived risk of bad press.
What businesses are now learning, however, is that that happy and fulfilled employees are their best brand ambassadors. By creating a positive atmosphere that supports the workforce, employees will be eager to extol a company's virtues and work environment. Possible outlets include outreach programs, online forum postings and interviews with current employees who will promote company culture to a wide audience.
Company culture is unique to every business and a strong company culture is vital to maintaining an effective and support work environment, while also helping make a company more appealing to both prospective clients and new employees. Building, promoting and marketing company culture should be considered a central part of the overall branding strategy behind any company looking to grow and expand.