7 Tips for Organizing a Virtual Conference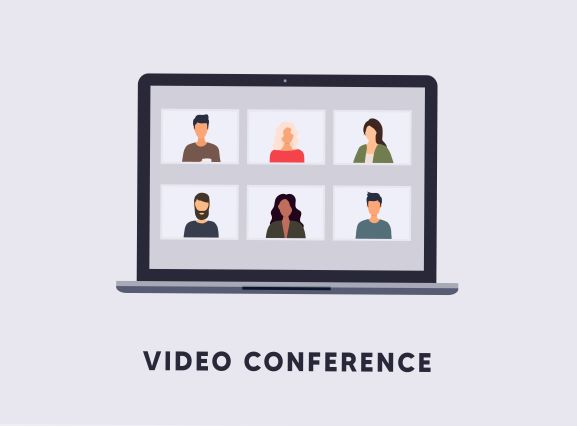 Publié le 20 May 2020
Conferences are important opportunities for professionals, industry leaders and innovators to come together and discuss important issues that affect their careers. Unfortunately, it looks like gatherings and large-scale events such as conferences will not be happening for an extended period of time. While avoiding large gatherings is an important measure that everyone should take, it means that many planned and announced events and conferences will not be happening. Fortunately, one viable option is organizing a virtual conference to replace in-person events. With each participant safely at home joining over the internet, everyone gets to connect, share information and stay as safe as possible. If you're planning such an event for the first time, here are a few helpful tips for organizing a virtual conference.
Approach global speakers
Factor in time zone differences
Explore different technical options
Live vs pre-recorded speeches
Avoid Q&A free-for-alls
Create smaller groups when possible
Schedule break times
Approach Global Speakers
Having quality speakers who can provide valuable insight and hold audience attention is very important to a successful conference. Typically when selecting speakers, conference organizers will be limited by travel schedules, distance and physical geography. A virtual conference removes these barriers, offering new opportunities to find engaging speakers.
This is the time for virtual conference organizers to contact thought leaders and innovators from around the world. Without the expectation of travel and the additional time commitments, there is the possibility that many different speakers would be available than for a typical in-person conference. Now, this doesn't mean that organizers should expect that every speaker that they ask will agree. People's time is still valuable, and it is possible to make too many commitments – even virtual ones – that can have a negative impact on their well-being.
Factor in Time Zone Differences
A virtual conference provides the opportunity for having participants, speakers and guests to join in from around the world. Gathering unique participants will make for a strong virtual conference as presenting different perspectives is always interesting, as long as organizers remember to factor in time zone differences. If you intend to start your virtual conference at 10:00AM Eastern Standard Time, don't ask an industry leader who lives in Vancouver to be your opening speaker. It is a great idea to have diverse speakers from around the world, just as long as you put in the extra work when it comes to creating a schedule that works for everyone. This means don't expect anyone to wake up before sunrise to deliver an opening speech.
Explore Different Technical Options
There are plenty of different video chatting apps and programs — Zoom, Houseparty, Messenger, Hangouts, Skype, and more — each with their own setups, interfaces and quirks. Before the virtual conference, spend a good amount of time testing different apps and learning how to use them and troubleshoot any common issues. If possible, spend time with planned speakers and guests in order to ensure they understand how to operate the apps on their end. Certain programs are better suited for different machines (Apple products, Windows computers, Smartphones), so it is best to prepare to accommodate different needs. If you will need to shuffle through multiple different streaming and video conferencing options for the sake of speakers, it's best to learn the ins and outs well before the start date.
Live vs Pre-Recorded Speeches
One of the first choices you have to make when organizing a virtual conference is whether speakers will be speaking live or pre-recorded. A live stream has several benefits:
Feels more interactive and participatory
Allows speakers to engage with the audience in real time
Closer to the feeling and atmosphere of an in-person conference
This will help to make a virtual conference feel more like a traditional in-person event.
Alternatively, pre-recorded speeches offer specific advantages:
Helps speakers who are shy or apprehensive
Exact runtimes allow organizes to create firm schedules
Lower chance of technical mishaps during the speech
Perhaps even a mix of the two would work best. Pre-recorded speeches with a live followup Q&A session, for instance. Ultimately, it is up to you to decide what type of atmosphere you wish the virtual conference to have. This will help determine whether live speakers or pre-recorded speeches will work best when organizing a virtual conference.
Avoid Q&A Free-For-Alls
Question and answer sessions can be an informative and important part of conferences. They allow the audience to interact with speakers, receive further clarification and delve deeper into the important subjects that affect their industry. If you choose to live-stream your virtual conference, some work should be done before to prevent the question and answer session from turning into a free-for-all.
Anyone who has checked out a YouTube live-stream will have seen dozens of comments flying by each second, hardly a scenario that leads to thoughtful discussion. Consider different alternative methods for audience members to ask questions, such as submitting them beforehand and selecting the best, randomly selecting a specific number of people to ask one question each, or use an informed moderator who understands the issues and can ask appropriate questions.
Create Smaller Groups When Possible
Large groups are very hard to control. This is why companies have been trying to avoid overly large or town hall-style meetings in favour of smaller and more manageable groups. Research from Stanford University has indicated that the most effective meetings have fewer than 10 participants. When organizing a virtual conference, of course you want to have as large an audience as possible but you should also consider breaking things off into smaller groups when it makes sense to do so.
For example, if you're organizing a virtual conference with workshops and multiple seminars, consider limiting things to a specific number of participants. It may seem counterintuitive, but a scenario of people talking over one another for 45 minutes would be very stressful and would not be a productive use of anyone's time.
Schedule Break Times
Conferences have an ebb and flow to them. Yes, there are speakers and workshops back-to-back on tight schedules, but there are moments in between as people move to different rooms, chat in the halls and arrive on stage. This creates a natural rhythm, complete with quiet moments in between all the activities. Even if we don't realize it, these moments give us the time to process what we just heard and reset ourselves for the next speaker or activity. Virtual conferences do not naturally have this same rhythm, and it can negatively affect the audience experience.
At a virtual conference, speakers are ready at their computer prepared to talk at the click of a button the moment that the previous speaker wraps up. Despite the fact that virtual conferences can move more quickly, they really need to slow down in order to be effective. Video conferencing can actually be more tiring than speaking in person, as it forces our brains to function in a different way without us even realizing it. Organizers need to schedule break time in between speakers and activities so that virtual conference attendees have a moment to rest and recharge. You can prepare to fill these intermissions with logos and ads promoting conference sponsors, or other related content. Without these important breaks, there is a greater chance that people will burn out before the end of the virtual conference, which defeats the purpose of attending it in the first place.
Holding a virtual conference is the safe and responsible thing to do until public health officials decide to resume in-person events. These online gatherings can still be a great way for industry professionals and innovators to connect and share important information. As long as you keep a few helpful tips in mind when organizing a virtual conference, it is still possible to have an event that is successful and safe.