Virtual Networking in 2021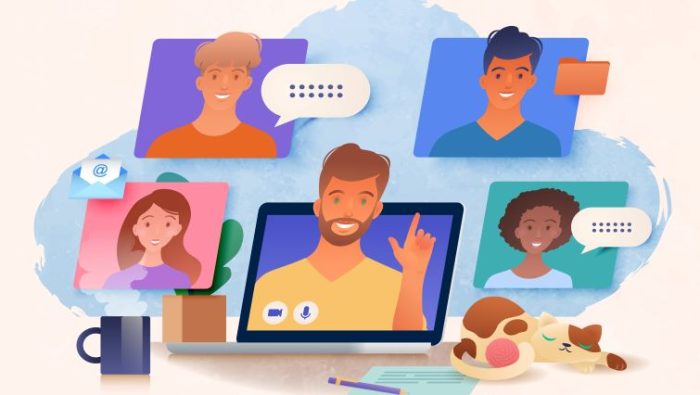 Publié le 3 February 2021
"Networking" has been a business buzzword for decades now, but the past year has thrown the traditional definition and methods for a real loop. For professionals looking to connect with one another, virtual networking in 2021 is very important. Building a strong professional network has always been an strong benefit, and the numbers don't lie:
80% of professionals agree that networking is important to their success
70% of professionals have been hired at a company where they had a connection
61% agree that regular online interaction with a professional network can lead to new opportunities
The problem is that many of the traditional avenues for professional networking involve in-person gatherings, something that is simply not safe for the time being. As many professionals continue to work remotely into the new year, there are still effective methods for virtual networking in 2021 that will allow for learning, connection and support in a safe online environment.
Virtual Networking in 2021
Conferences
Job fairs
Industry meetups
Online learning
Professional forums
Conferences
Conferences play a huge role in many businesses and industries. These events are an opportunity for like-mind organizations to gather together and launch new products, form new partnerships, hear from leading experts and connect with audiences on a face-to-face level. This is where companies can make a name for themselves and get valuable exposure and attention from their peers and industry press. It has now been almost a year since in-person conference first began to be canceled in the face of the pandemic. While this left organizers scrambling, many were able to transition to some form of virtual conferences. These first attempts could be a little ramshackle, as a lot of people were dealing with video calling technology on such a large scale for the first time.
The possibility for large-scale gatherings in 2021 still seems unlikely, and should remain that way until it is absolutely safe. In the meantime, virtual conferences have evolved from quick solutions to canceled in-person gatherings to carefully planned and organized virtual events that present a great deal of value to participants and online guests. Networking at a virtual conference is a little different than walking up to a booth and starting a conversation, but it still provides an opportunity for job seekers and aspiring professionals to reach out and connect with industry leaders.
Job Fairs
For people seeking to break into the workforce and start their careers, job fairs have long been invaluable opportunities. The chance to speak with recruiters, hiring managers and representatives from a number of companies in the same industry presented great networking possible for jobseekers. Like conferences, virtual job fairs have quickly sprung up to replace in-person meetings.
Now, participants simply sign-up online and connect through video conferencing apps and programs. Once they have been approved, they will be assigned at a scheduled time to meet with hiring representatives. This is a great chance to get one-on-one time, so be prepared with your resume, CV and examples of your professional experience. Virtual networking in 2021 through these online job fairs requires a bit of organization and prep work, but it will let jobseekers speak to recruiters and make connections in their desired industry.
Industry Meetups
Meeting people who work in the industry you wish to break into provides the opportunity to learn about new opportunities and present yourself as an emerging professional. As with all aspects of virtual networking in 2021, a simple thing like meetups has moved online. There are still professional meetups, gatherings and events, all conducted over video calls.
A quick online search can reveal a number of different virtual meetups, often categorized by industry or field. One of the benefits of these meetups moving online is that there are no longer any geographic limits. Job seekers are now able to converse with hiring managers based on the other side of the country, and organizations are quickly realizing that they can look for the most qualified and talented person for the job role without worrying about which city they live in. These meetups present an opportunity for the virtual office to expand in new and exciting ways.
Online Learning
Learning doesn't stop when a degree, diploma or certificate gets placed into your hands. A strong commitment to learning is a key sign of a growth mindset, meaning that you will be able to grow and adapt to meet the changing demands of your career and the job market. A number of businesses even offer time-off, financial compensation and other incentives for employees to take part in continuing education courses. For people seeking to break into a specific industry, gaining more knowledge and learning the necessary skills will always be an asset.
There are many different online courses, classes, lectures and programs that offer training in the specific abilities required for these job roles. It is also an opportunity to meet peers who will hopefully become colleagues and connect with instructors and professionals who will have industry connections. After a video lecture or class, don't be hesitant to follow up with the instructor or lecturer with any additional questions, they should be able to provide helpful answers and provide a more in-depth look at the job market for your desired industry.
Professionals Forums
One of the negative side effects of long-term remote work is that it can cause feelings of isolation among employees. This has left many workers and professionals with a need to connect with one another and discuss their struggles, successes and solutions to the problems facing the modern workforce. Online forums have become an invaluable resource for professionals to form connections and speak with peers and colleagues facing similar problems.
One survey found that 35% of professionals had received a professional opportunity that began as a casual LinkedIn conversation. Online forums, such as those found on industry blogs, job search sites, reddit and other social media sites can be used for virtual networking in 2021, as long as you remain genuine and open. Discussing the issues that are affecting your desired industry gives you more information about what certain companies are doing to adapt to the reality of work and business trends in 2021. This can help you be prepared for what the day-to-day reality of the job would be should you be hiring in a position. It's best to be genuine about your career goals, and form professional connections based on trust and openness.
Professional networking is an important step to building connections and gaining first-hand knowledge of your industry. As with many aspects of business, networking has moved online. While virtual networking in 2021 is a bit different, online conferences, job fairs, meetups and forums still provide plenty of opportunities for professionals to make important connections that will help them succeed.