7 HR Technology Tips to Improve Employee Experience
Find your new job!

Look for your perfect career match with the Jobillico job search!

Search Now!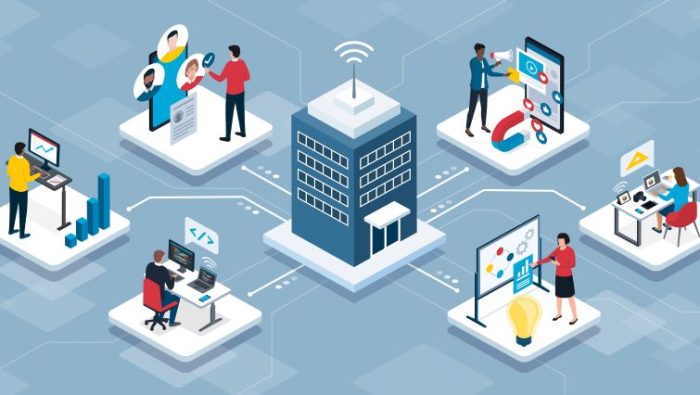 Publié le 29 September 2021
By utilizing 7 HR technology tips to improve employee experience, it is possible for tech and human resources to work together to create a better, more efficient experience for everyone.
Consider what it would be like for employees to work if HR services and the technology that supports them didn't exist. Employees who need support for various issues and concerns would be dissatisfied and annoyed, with unanswered questions leaving them unprepared and ill-equipped to succeed in the workplace.
When you add in the effect of outdated workplace technology, the employee experience is likely to become even more negative, with poorer staff productivity, worse employee morale, and increased employee turnover.
Employee experience technology has a significant impact on how employees feel about their day-to-day work experience.
While the human touch is indisputable, evolving technologies and digital transformation are critical tools that company leaders can use to change the employee experience, creating a better work environment that leads to satisfied employees and an improved bottom line.
Every business should consider new methods in order to improve the employee experience. Doing so will lead to stronger employee engagement, higher retention, and increased cooperation, all of which are part of an effective brand strategy for promoting a company culture that will attract the most qualified job candidates. Companies who create a good employee experience will enjoy improved results with clients. and strong word of mouth with qualified job seekers.
The Four Pillars of Employee Experience (EX)
Employees perform best when they have positive motivation and enjoy their work, according to a research paper titled "Importance of Employee Motivation & Job Satisfaction for Organizational Performance". Providing a strong employee experience is key to ensure that they enjoy their work. To do so, it's important to be familiar with the 4 pillars of employee experience.
Connect: The relationships between an employee and their management, coworkers, and the mission and values of your organization.
Perform: The employee's clear grasp of what they must do to be successful in their job position.
Appreciate: An employee's sense of value in their work and being recognized and rewarded for it. In simple terms, it is all about giving employees their due recognition.
Develop: Grow your career by taking advantage of learning opportunities, receiving continual feedback and ongoing assistance.
When combined, these 4 elements work together to form a strong employee experience.
The Challenges of Implementing Employee Experience Technology
Focusing too much on the technology itself and not enough on the business process and outcomes for the people involved can lead to poor results. When deploying new employee experience programs, it's critical to keep your eye on the big picture and determine how you will collect, review and act on employee feedback regarding these new changes.
Staff surveys can be an effective way to accomplish this. When creating staff surveys, however, it's critical to carefully craft questions that align with the strategy and not simply those intended to yield the desired results. Organizational psychologists and data scientists are frequently called in to assist in the definition of outcomes and the development of related questions.
It's also crucial to consider the needs of all employees, including remote workers, those in temporary roles, and other members of the extended workforce. While these employees are only employed by the company on a more limited basis, many spend a significant amount of time there and their work is important to a company's continued success.
Engaging and integrating these workers and ensuring that they have the same pleasant experience as their permanent counterparts will help them become more productive and contribute to the overall success of the work team.
Many businesses feature employees working on projects in small sequestered groups, or even by themselves, yet allowing this detached approach to get in the way of an employee experience technology deployment will significantly impact the project's success. Employee experience technology impacts every employee. Cross-collaboration between different business units and departments is critical to guarantee that it is implemented efficiently.
7 HR Technology Tips to Improve Employee Experience
1. Improve Self-Services
Self-service features in HR and non-HR systems can save the company a lot of time, but the applications must be simple to use. When a system necessitates a large amount of work due to confusion or poor design it is unlikely to be utilized. This leads to data integrity issues or causes staff to look for solutions elsewhere, which is an inefficient use of time and resources.
An employee may need to utilize these services to update their personal information, see their pay stub, or look up another employee on the organizational chart. If the system works effectively, can be accessed on mobile devices, and has simple workflows that can be followed to a conclusion it will be beneficial to everyone.
2. Systems As Part Of Recruitment
Employees are increasingly considering the technology provided in a potential workplace when deciding whether or not to accept a position. As a result, job choices and technological advancements need to go hand in hand.
To boost HR efficiency, you can modernize your recruitment by collaborative hiring. You could, for example, employ digital recruitment channels to show that your institution is digitally connected and utilizing the latest developments to improve the workplace. Alternatively, your recruiters should show potential employees what type of employee technology your company provides as part of their recruitment effort.
Of course, having the greatest technical systems in place will make it much likely that businesses will successfully recruit the top prospective employees.
3. Conduct Thorough Performance Evaluations
Employees can use performance reviews to track their success in your company and work toward improvement. A well-written evaluation should accurately reflect an employee's performance. Both employees and managers can better grasp how their efforts contribute to the business's goals by conducting regular reviews.
Employees are guided and motivated as a result, and their experience at your organization improves, leading to increased satisfaction and improved performance. It's critical to set attainable goals for your personnel that will then be reviewed. Ensure that performance evaluations are a two-way street, with staff encouraged to submit input regarding managers and supervisors as well. Identify knowledge gaps and undertake training programs to close them.
4. Personalized Learning Environments
Employee engagement is improved through applicable technologies and HR efficiency, resulting in a happy workplace in which people are satisfied and feel heard.
Beyond the monetary compensation for their labor, these strategies foster a culture of reciprocal benefit for employers and employees. There are, of course, other employee advantages you can provide to increase productivity and well-being while also retaining employees, such as learning opportunities.
It is critical to empower employees because their growth and development are directly linked to your company's success. While many firms stop at onboarding training, providing your employees with continual development opportunities is critical.
Employees cherish professional development, and digital tools like webinars and learning platforms help them achieve that goal, improving their work experience as a result.
5. Make Use Of People Analytics
HR directors may use people analytics to get the data they require in order to make better decisions about their employee experience strategy. Understanding talent trends, examining business spending habits, and ensuring pay parity can all be aided by digging into data.
You can track and assess organizational performance using people analytics, which is based on real-time data. One way to accomplish this is having a good online leave management system. You'll be able to spot and fill skill gaps, improve company projects, and receive a clear view of where your business is regarding its objectives. The value of people analytics lies in allowing data-driven management and ascertaining and analyzing the relationship between engagement and retention.
In addition to this, having crucial information about how and why people are engaged with what they do, how that translates into the business metrics, and what organizations can improve to retain them, can transform how business is done.
Furthermore, if you are well-aware of how employees feel and give them the liberty to provide their feedback, it puts the onus on the manager's hand to take action. This, ultimately, makes employees confident that their opinions are heard. This can go a long way in making a significant impact on the organization.
6. Organize Employee Surveys
As we have discussed, employee feedback is crucial. Employees provide the most useful insights into the employee experience that a firm can acquire.
Conducting staff surveys will assist you in analyzing domains within your workplace that are performing successfully. The outcomes should also reveal which areas need to be improved. Requesting feedback demonstrates to employees that their opinions and perceptions are valuable to their employer.
Surveys can be used in a variety of ways to expose a company's varied attributes. Onboarding surveys, engagement surveys, quarterly interviews, and so on are examples of these types of surveys that can be put into place to give employees the chance to provide their feedback on a regular basis.
Moreover, manager-employee relationships must be formed on a foundation of trust. And expressing gratitude is a good strategy to earn your employees' trust. Research suggests that 50 percent of employees say that their bosses' praise enhances their connection and builds trust.
7. Streamline the Task Management Process
Building a strong employee experience strategy requires effective HR operations. It's critical to execute jobs as quickly and accurately as possible for both workers and organizations.
By automating internal procedures, saving time, and lowering costs, task management technologies help improve workflow and team coordination. These easy-to-use-tools help shorten project management timeframes and make operational chores go more smoothly. Employees will be able to visualize their contributions and take action where necessary due to having everything in one location, which will improve their overall experience.
Final Thoughts
Today's potential employees want to be a part of a company that utilizes cutting-edge technology to make their lives easier. Recruiting technology can help you automate background checks, simplify job advertising, and personalize job applications.
Using 7 HR technology tips to improve employee experience, the transition from candidate to an employee will be straightforward and efficient, indicating the effectiveness of your employee experience plan.