6 Ways To Encourage Workplace Unity
Find your new job!

Look for your perfect career match with the Jobillico job search!

Search Now!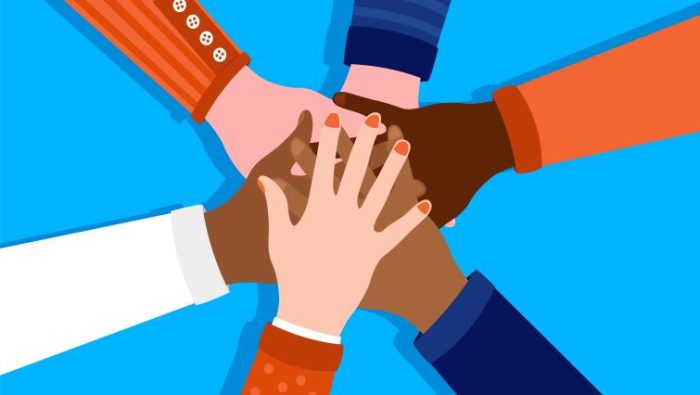 Publié le 1 September 2022
Build a workforce that respects and supports each other with 6 ways to encourage workplace unity.
United workplaces are happier, more creative and produce better results. The best and most successful companies strive to build a culture of collaboration, caring and creativity between all employees. By working together as group towards shared objectives, it is far easier to achieve large goals and expand the success of a company. By utilizing 6 ways to encourage workplace unity, organizations can build a work environment based in respect, support and collaboration.
6 Ways to Encourage Workplace Unity
Learn about each other
Set clear goals
Group activity and social events
Safe work environment
Creative atmosphere
Leave the cubicles in 90s
Learn About Each Other
The most direct way to foster workplace unity is to learn about your fellow employees. The workplace should be a space where all employees feel free to be themselves and express their true personalities, while always being respectful of others. Employees who know each other on a personal level will find it easier to work together and collaborate, producing better work than they would individually.
This is especially important when integrating new employees into the workplace. It can be quite intimidating and stressful to join a group who have known and worked with each other for an extended period of time. Extra effort must be made to make sure new employees feel that they are part of the team. As stronger relationships are formed, the result will be an inclusive and unified office.
Set Clear Goals
An office will most effectively come together and pool their collective resources when working towards a common goal. Company leaders need to make sure that business goals are clearly defined, attainable and properly planned. Each employee should be aware of the important role they play and have all the resources and support needed to do their job to the best of their ability.
The best way to convey these goals is through regular staff meetings, where expectations and plans are communicated to all employees. It is better to have more frequent and shorter meetings, ideally weekly or even daily, which convey important information while also respecting the time of the workers. Even virtual meetings with remote employees need to be effectively organized to ensure that all goals are understood.
It is very important that each employee have a voice during workplace meetings. They should be encouraged to contribute ideas, ask questions and participate with feedback in the discussion. By being an active part of the process, each worker will feel a sense of ownership and control in the long-term plans and goals of the company, improving their performance and fostering workplace unity.
Group Activities and Social Events
One of the most effective methods of creating workplace unity among coworkers is to simply spend time with each other. With each employee at their desk and focused on their job, it is easy for workers to feel disconnected from one another, even as they see each other every day. Remote work has increased this feeling of disconnect in some instances, meaning that new approaches must be taken to help keep people connected. Workplace leaders must encourage employees to spend social time together, and even take a leading role in organizing these opportunities.
An effective solution is to form a workplace social committee. This is a group of employees who organize social events and recreational activities with their colleagues. There are many proven advantages to spending time with colleagues outside of the confines of work, as it encourages them to view each other as unique individuals instead of another face at the office.
Popular activities include lunches, dinners and happy hours, city exploration, games and pick-up sports, karaoke nights and more. Even something as simple as eating lunch together in a park or on a patio near the office will help improve company culture, form bonds and help employees get to know each other on a more personal level. While it is important to consider how people can feel different about in-person meetups with the effects of the pandemic still ongoing, there are still ways to help co-workers build strong professional connections.
A Safe Work Environment
A safe work environment is absolutely necessary to a positive and unified work environment. There must be zero tolerance for harassment of any kind in the workplace. Employees deserve to feel supported and safe at all times. A company must ensure that clear rules and HR procedures are in place to deal with any issues that could potentially arise, with consequences for when workplace guidelines are violated.
By establishing a culture of tolerance and respect, it will play a large part in bringing together a team of employees and solidifying workplace unity. Employees should know that they can always count on the support of their colleagues and company management, which will in turn create an environment united by mutual respect.
A Creative Atmosphere
Workplace unity and collaboration go hand-in-hand. Employees who generate ideas and work together to bring them to life will feel more interconnected. A very effective method of encouraging employee collaboration and workplace unity is through the process of brainstorming.
Brainstorming is when a group gathers together to suggest a number of solutions and ideas to help achieve common goals. It is a great problem solving technique for tackling large and complex issues. In a brainstorming session, a problem will be presented to the workforce and employees are encouraged to offer any and all possible solutions.
Office leaders must work to ensure that employees know that they are welcome to participate without fear of judgement or negative reaction. It is impossible to tell what may spark the perfect solution, so all contributions deserve to be considered and discussed. The diversity of the team will result in a far wider range of ideas than those an individual could generate. Think of it as like moving a couch: one person can do it but it is much easier with a group.
Leave the Cubicles in the 90s
To create a unified office it is time to re-think the design of the workplace itself. It is easy to view corporate offices as fields of unending grey cubicles, popularized by images from films and TV shows from previous decades. This is an outdated office configuration and is best left as a relic of the past. The pandemic dramatically accelerated this process, with millions of people working from home during this time. After over two years of remote working, most people do not want to return to the traditional and outdated workplace.
Cubicles are bad for a number of reasons, not the least being the fact that they create literal walls between employees. The modern workplace layout is one of open offices with few physical barriers between co-workers. While employees should still have their own space where they can focus on work, removing obtuse barriers will serve to foster a spirit of unity. With work spaces that are open and adjustable, co-workers will be far more likely to turn to one another for assistance and collaboration.
The workplace should be a place where individuals with unique skills and viewpoints come together to work towards a common goal. Companies must seize every possible opportunity to foster unity among employees. By taking advantage of open concept workplaces, planning events through social committees and maintaining an open and collaborative culture, co-workers will function as a team and achieve far more than they could individually.