How To Have The Perfect Zoom Meeting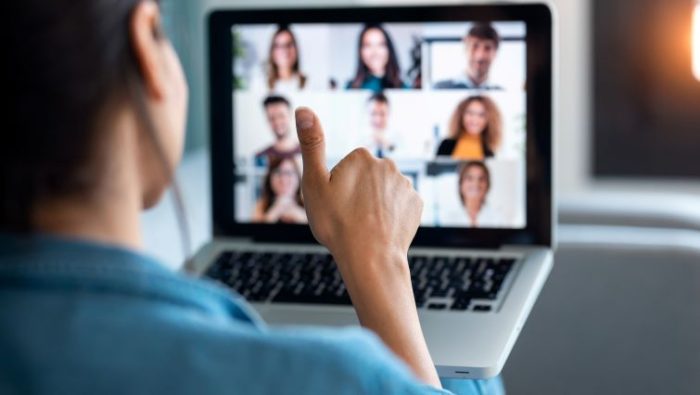 Publié le 10 February 2021
It's time for managers and team leaders to stop wondering how to have the perfect Zoom meeting and start planning their next successful video call.
Chances are that you have a meeting today, and there's a high probability that it will not be as productive as it could be. While it is true that meetings are needed to keep everyone connected and on track to meet company goals with many employees working from home as part of remote work teams and virtual offices, it can quickly become counterproductive. A 2020 study found that 71% of workers report that time is wasted with unnecessary meetings, with 31 work hours lost each month. That's over an hour per day, and doesn't even take into account the effects of the dreaded Zoom Fatigue.
Fortunately, there are simple do's and don'ts for planning the perfect Zoom meeting. Following them will make for virtual meetings that effectively convey information, value employee opinions and don't waste time.
How To Have the Perfect Zoom Meeting – The Do's:
Do schedule in advance
Do send the link twice
Do follow "the Brady Bunch rule"
Do send materials beforehand
Do have an itinerary
Do leave time for discussion
Schedule In Advance
An organized work day makes for an efficient work environment, allowing people to plan out their time and complete their tasks in an orderly fashion. Management should always strive to give advance notice of a meeting because it causes the least possible amount of interference in the work day.
When scheduling the perfect Zoom meeting, try to pick a time that will not disrupt the flow of the work day. One study found that Tuesday at 2:30 PM was the optimal time during the week to hold a meeting, so scheduling in advance can lock that time into place. That being said, it is always useful to solicit opinions from employees regarding the best time for a virtual or Zoom meeting. A quick poll can help employees feel involved and that they have a say within the organization.
Send The Link Twice
A 2020 survey found that the average office worker received a shocking 121 emails per day, which is quite a lot of information to keep track of. Emails get lost, or accidentally deleted or just plain misplaced, and receiving so many messages has actually been cited as a contributing factor to productivity loss. That being said, virtual meeting organizers should still make it simple for employees to find the link to the virtual meetings.
Send it with the original announcement and scheduling of the meeting, and then send it again the day of. If there is a work group chat or slack channel, dropping the link in there the morning of is just as effective. This will help ensure that everyone is able to virtually arrive on-time, avoiding unnecessary delays.
Follow "The Brady Bunch Rule"
Big meetings are not effective, and numerous studies support this. When there are giant town hall-style meetings with dozens or even hundreds of employees, it is almost impossible to keep everyone engaged and much easier for people's minds to wander off and lose focus. Amazon was famous for "the 2 Pizza Rule", wherein no meeting should have more people than could be fed with two pizzas. While this is a good benchmark for in-person meetings, it is harder to replicate in the virtual setting.
When organizing the next Zoom meeting, instead follow "The Brady Bunch Rule": limit the number of people in the meeting to no more than the same number of people who appear during the opening credits of the classic boomer sitcom where a family of eight and a live-in housekeeper are supported on a single salary. This allows everyone in the meeting to appear on the Zoom grid, or that of your preferred video call program, without constantly switching back and forth. Even if this limited number means that company leaders will need to split employees into groups and hold multiple meetings, the increased effectiveness and level of participation will make up for the more time that is required.
Send Materials Beforehand
One of the primary reasons for meetings to even exist is to provide important information to employees. Instead of allowing them only to see these materials during the meetings, an effective method is to send important documents before the meeting. People read and digest information at different speeds, and there's nothing wrong with that. By having access to materials and documents before the meetings, each employee can take whatever time they need to adequately review them, understand the basics and think of any questions and concerns.
It also can reduce the amount of time spent screen sharing during a meeting, which as become a source of mishaps technical and otherwise. Just include any powerpoints, newsletters and info sheets in the same email that schedules the meeting, and employees will be free to review them at their own pace.
Have An Itinerary
It's always good to have a plan for meeting. This does not mean that every second needs to be meticulously mapped out, but creating a structure for the virtual meeting has its benefits. It allows the meeting leaders to ensure that all important matters will be addressed and given the appropriate amount of discussion. If there are concerns about the virtual meeting running too long, having an itinerary makes it easier to gauge how long specific components will take, and ensures there is not too much being crammed into a limited time period.
Having this meeting roadmap can also help leaders feel more at ease. Public speaking is one of the most commonly cited fears, but having each topic planned out gives speakers the opportunity to organize their remarks and even practice what they want to say, instead of trying to guide the meeting in the correct way on the spot.
Leave Time for Discussion
Each video call or zoom meeting should include time for employee discussion, feedback and questions. With remote work still the norm for many companies, it is more important than ever that every employee feels heard and seen. Working alone for prolonged periods of time can increase feelings of isolation and can even cause resentment to build if they feel ignored, leading to employee burnout.
Recruiting data shows that people want to work for companies where they are encouraged to have a voice, with 90% of employees stating that they are more likely to commit to a company that acts on their worker feedback. A diverse team of employees will look at information through their own unique point of view, bringing a different focus to it through discussion and feedback. This will allow for new approaches to be considered and important factors to be highlighted. This type of respectful and considered discussion among work teams should always be encouraged, and video meetings continue to be an optimal time to do so.
By following these simple and straightforward guidelines, it will be possible to have the perfect zoom meeting or video call with co-workers and colleagues.
Be sure to check back soon to learn what not to do when planning your next video call.