Why Your Business Should Adopt An Open-Door Policy
Find your new job!

Look for your perfect career match with the Jobillico job search!

Search Now!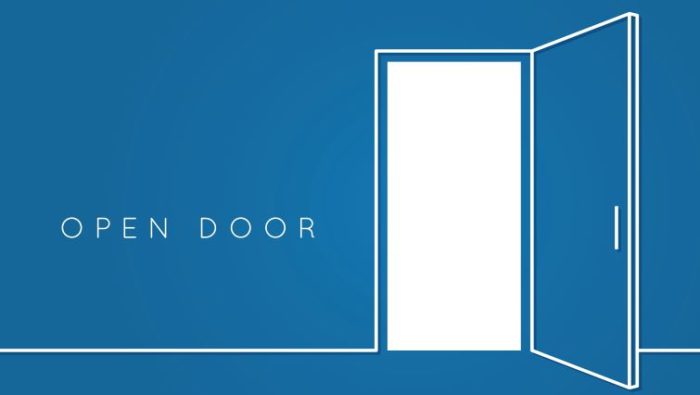 Publié le 28 February 2022
The positive impact on employees and their commitment to the workplace are just a couple of reasons why your business should adopt an open-door policy.
Gone are the days when an impersonal, formal relationship between management and employees was the accepted norm in the workplace. In the modern work environment, managers know they get the most out of their employees by being accessible and amicable to new ideas.
One way they can be more accessible to employees is by using an open-door policy. Helping you get the most out of your employees is one of the most important reasons why your business should adopt an open-door policy.
What is an open-door policy?
An open-door policy is a management style that values feedback and support. It literally means that management's door is always open to employees. Employees can easily approach management with their concerns and provide feedback.
At its core, then, an open-door policy fosters openness and honesty. It is a morale-booster for employees who feel their comments are valued in the company. An open-door policy ultimately promotes a workplace culture of collaboration between employees and management, thereby allowing the company as a whole to achieve its goals.
Three reasons why your business should have an open-door policy
An open-door policy is a management style that values feedback and support. Everyone needs their privacy, but there are considerable advantages to having an open-door policy. Here are three reasons why your business should have it:
1. Increased levels of involvement
An open-door policy means employees can go to management for frank discussions about problems or issues. If employees feel like they can have frequent open-door discussions, your business will have a higher level of employee engagement.
Source: SlideModel
Being on the same page means employees feel valued and heard, and management has a better idea of how things are going in the workplace.
2. Recognize employee attitudes towards work
An open-door policy provides managers with another way to monitor employee attitudes and expectations. Through open and transparent discussions with your team, you can discover problems impacting productivity or affecting the office environment.
For example, management can deploy open shift planning software if multiple employees raise concerns over shift patterns. This would not be possible if employees' voices are not heard under a closed-door policy that discourages them from giving their feedback about their working conditions.
3. Better workplace relationships
When management closes themselves off, it can create a gap between management and employees. The relationship can feel too formal, and management can give an impression of superiority. You don't need to be best friends with your employees, but you need to establish a positive relationship where they know they can trust you with their concerns. An open-door policy will help build that trust.
Source: Page Personnel
Also, if employees feel like they're a valued part of the organization, they are more likely to invest in workplace relationships. The better workplace relationships are, the better the organization's productivity will be.
In other words, if you're not implementing an open-door policy just yet, you're missing out.
Implementing an open-door policy in four steps
To implement an open-door policy successfully, you need to follow a strategy. Don't worry. It's not that difficult to craft one. Here's a three-step strategy you can follow to ensure your open-door policy yields the best results.
1. Create clear guidelines
Establishing clear guidelines is important whenever implementing a new workplace policy. Unfortunately, if you have a policy that allows employees to drop in whenever they want, that can be abused. You don't want employees to consult management for every little thing. So, you need to create clear guidelines in the form of a written manual to give to employees.
The open-door policy part of the manual should have primary sections. Although the content of each company's manual will vary, there are specific sections that are common to them. These are the following:
Policy elements: The policy elements section describes what employees can expect from the open-door policy.
Benefits: The benefits section would describe what can be achieved from an open-door policy, like allowing issues to be resolved faster and creating higher trust between employees and management.
Manager responsibilities: Here, the employee would learn what to expect from management.
Employee responsibilities: Employee responsibilities should include observing open-door hours and consulting their own manager before seeking intervention from higher-ups.
The more comprehensive your manual is, the more likely you can encourage employees to follow this new policy. You can also announce that open-door policy online on your website, which will make it fully accessible for both existing employees and possible future job applicants who wish to learn more about the workplace culture at your organization. Check out this example:
Source: Skidmore
If you upload your guidelines online, no employee will be left in the dark about the policy. You can foster that culture of open communication without any hiccups.
2. Set Your Availability
Managers have important tasks that take up their attention during the workday, but they still need to be available to their staff. So, it's best to allocate a specific time when the door is open to discuss issues with employees.
For example, you might want to have your door open between 4 and 5 pm daily. Or maybe you want to focus on project tasks in the afternoon and prefer to have chats in the morning. Regardless of which time works best for you, having a set time means you're accessible to employees but will still have the time to properly complete your managerial tasks.
Respecting time as a critical asset is also essential when it comes to instant messaging and email follow-ups. Answering endless messages can be very taxing, so employees need to understand the value of time when responding to messages and resolving issues. But employees also need to feel like they can ask for help with a project if needed. Make use of automated replies to let employees know when they can expect a fuller response, or to remind them of your open-door hours when they can bring issues to you in person.
3. When listening, pay attention
If management doesn't pay attention during an open-door discussion, there's no point having them. It's not enough to simply offer an open-door policy and follow it half-heartedly. An open-door policy can only be effective if management pays attention to the employee. With the open-door policy, the goal should be to learn all their employees' relevant insights and identify issues before they become critical.
Management should pay attention to four specific aspects when listening to employees to do this. Let's look at these aspects one by one:
Recognize capabilities: You need to recognize the capabilities of your team by giving them the floor to talk without making any judgment.
Awareness of feelings and attitudes: Management needs to see how employees feel about their jobs and working environment. Do they give positive feedback about the company when they talk to you? If they don't, then you should exert more effort to engage those employees.
Awareness of relationships: You need to pay attention to how employees feel about working with other team members. If you're aware of how employees feel about their colleagues, you can prevent situations that will cause workplace conflict.
Awareness of communication: Be aware of who among your team members is comfortable communicating issues to you and who isn't. That way, you can find ways to engage those who aren't comfortable talking with you.
The goal is to show genuine concern for what your employees have to say. You also want to be on top of potential issues from the get-go, instead of waiting for metaphorical fires to appear for you to put out.
4. Always set realistic expectations
Once an open-door discussion has taken place, employees need to leave with realistic expectations. They need to be aware that management cannot solve every problem it encounters right away. You can include that in your manual as a disclaimer, just like what we saw in our previous example. In the last paragraph, you see the "please understand that not every concern can be resolved to your satisfaction" clause there.
The key is never to promise something you're not sure you can deliver when talking to employees. This can have the effect of making you seem dishonest, willing to say whatever is needed to resolve the situation in the moment but without any intention of following up with real actions. Remember that employees can always take you to task for what you say you'll do but never do. Lose their trust once, and it's hard to get it back.
Employees need to know that their management is listening to their concerns. If their concerns are valid, you should ensure that you act within the timeframe you specify. You need to inform employees about the next steps you're about to take to resolve their issues.
Conclusion
If you want your employees to be loyal and motivated, management needs to be accessible. If you are still wondering why your business should adopt an open-door policy it is because productivity thrives when communication goes both ways and insights are acted upon. But boundaries are also needed to ensure that a workplace remains efficient while also maintaining an excellent open-door policy.
Implementing an open-door policy is fairly straightforward. First, you need to set clear guidelines that also include your available times. When an employee reaches out to you, you need to pay attention and take down notes. Finally, you also need to set clear, realistic expectations regarding what you can do and the timelines involved.
By following these tips, you'll have an open-door policy that will improve productivity, generate ideas, and improve work relationships in no time.