5 Signs the Traditional Office is Over
Find your new job!

Look for your perfect career match with the Jobillico job search!

Search Now!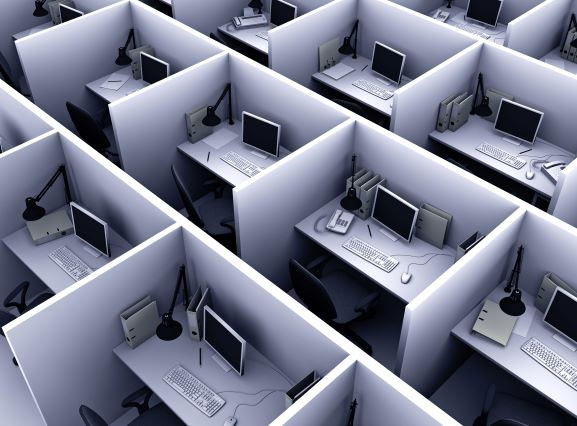 Publié le 15 May 2020
The pattern of office life is almost second nature to many workers. Driving to work, making coffee, talking to coworkers and sitting at your desk, millions of us have done it every day — until we didn't. Due to the ongoing COVID-19 pandemic, social distancing is a vital precaution we can take to help protect people and aid our healthcare system. It also means that many employees have now been working from home for weeks. This change is radical and huge, fundamentally changing the way that "office work" is being done — possibly for good. With so many people now working from home, it is becoming more clear that a big downtown workspace filled with desks and employees typing away is becoming a relic of the past, with many signs indicating that the traditional office is over.
Here are 5 signs that the traditional office is over:
The rise of remote work
The ease of digital communication
The increasing expense of commercial space
The grind of the daily commute
The desire of employees to keep working from home
Remote Work was Already an Important Benefit
When job candidates consider joining an organization, of course the salary being offered is a huge factor in their decision. Nevertheless, a rising HR trend is that many job seekers are now placing a greater emphasis on benefits and perks. Maintaining a proper work-life balance is a primary concern for virtually every worker, and they want the tools and support needed to maintain it. Flexible scheduling and remote work are two of the most valued perks, with 36% of surveyed employees stating they would accept the ability to do remote work over a pay raise.
People wanted the ability to work from home before the COVID-19 pandemic made it a reality for millions. The fact that employees now see that it is possible to do their jobs from home while maintaining productivity levels, supporting their team and reaching business goals will cause many more to seek remote working options from their employers. At the risk of losing quality employees, companies would be wise to offer these options, a strong sign that the traditional office is over.
Younger Employees Have Always Been Online
Businesses tend to think about the time and cost it would require to train their employees to successfully work online, and worry about the loss of productivity due to communication issues. The truth is, however, that every subsequent generation that will enter the workforce from this point on has been successfully operating online for almost as long as they can remember.
A 22-year old who graduates from university in 2020 was:
9 years old when the first iPhone was released
8 years old when YouTube began streaming
7 years old when Facebook went online
6 years old when Gmail launched
-5 years old when AOL started mailing millions of CDs
They have been online — or least were potentially online — for almost their entire lives. For them, communicating digitally is not unusual, in fact it is the norm. When workers are just as comfortable communicating over apps, text and email as they are in person in the workspace, it is a strong sign that the traditional office is done. It is a skill that feels natural to them, and businesses should use these skills to their advantage.
The Rent is Too High
Having an office is incredibly expensive, especially in large metropolitan cities. In New York City, renting a commercial space costs an average of $84.91 per square foot, while renting an office in Toronto costs an average of $59.71 per square foot. Vancouver and Montreal are not far behind, and these prices are rising — possibly by as much as 50% over the next three years. By not maintaining a traditional office, small and medium businesses could potentially save tens of thousands of dollars each year.
The cost of rent has increased to the point where it is actually a hindrance for emerging businesses. The profit margins for small businesses are notoriously thin, an average of 7% per year if they are successful — and that is for established companies, not startups. It's hard enough already for new businesses to get a foot in the door, so why should they devote a massive amount of overhead to an expensive commercial office space when they could use this money in other parts of the company? Improving salaries and benefit packages in order to attract the most qualified job candidates, for example, is just one way that this same amount of money could be used to further their success. The traditional office is over if companies simply don't want to pay for one.
People Hate the Commute
Sitting in traffic is bad. It's bad for people, it's bad for vehicles and it's awful for the environment. In Toronto, for example, the average commute is 42 minutes long each way, almost 90 minutes total. Who wouldn't want to have an extra hour and half of time back in their day? Time is not the only thing that is saved by avoiding the traffic, as the cost of commuting for work can be anywhere from $200-$800 per month.
Aside from the negative effects for individual commuters, commuting and traffic takes a serious toll on the environment. It's estimated that the wide-scale adoption of just part-time remote work in the United States alone would reduce carbon emissions by over 51 million metric tons per year. This is not only great for the environment, but it also aids recruitment efforts. Almost 70% of millennial workers say that they would be more likely to choose to work for a company with environmentally sustainable practices. There are few more green-friendly actions that a company can take than preventing their employees from spewing millions of tons of pollution into the air just to get to the office.
People like Working From Home
One of the simplest reasons that the office may be done is that people just prefer working from home. The terrible COVID-19 crisis has led to millions of people working from home for the first time. While this period of isolation and social distancing has had negative consequences, it has allowed people to experiment with the basic reality of work from home and many enjoy it. A recent poll found that of the 5 million Canadian workers who are now working from home, 73% want it to continue even after healthcare officials say it is safe to return to the office.
Work-life balance has long been cited as being incredibly important to people. Employees do not want to feel like they have to choose between improving either their professional or personal life at the expense of another. Remote work provides people with more options that will help them to balance their lives. Now, it should be said that not every employee feels this way. In fact, the blurring of professional and personal lives has been cited as one of the main disadvantages of working from home. Nevertheless, it is clear that a large amount of the people now working from home find it agreeable and want to keep doing it. Companies who fight back against this may find themselves losing some of their most qualified employees simply because they insist on maintaining a traditional office.
Working from home is a big change for many companies and employees. As people and businesses adapt and learn to function in this new type of workplace, it calls into question the need for an old-fashioned traditional office. The rising trend of remote work, the cost of rent, the frustration of the commute, the ease of digital communication and the simple desire to work from home are all signs that the traditional office is over. It remains to be seen whether companies will recognize this, and embrace change in order to retain the best employees, succeed in their goals and keep their clients and workers happy.