Writing Your Cover Letter: 3 Simple Templates
Find your new job!

Look for your perfect career match with the Jobillico job search!

Search Now!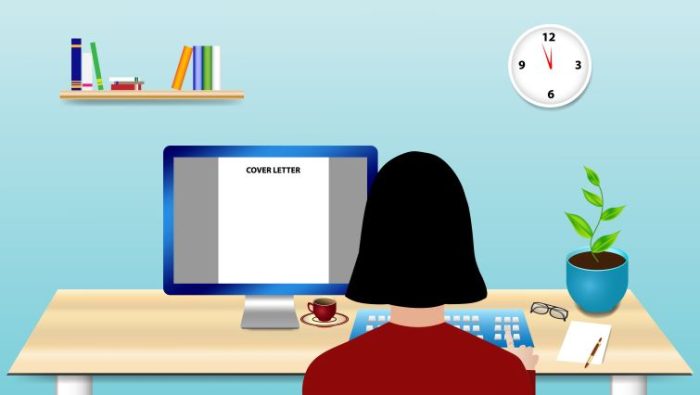 Publié le 3 February 2023
Help make the job application process straightforward and efficient by using one of 3 simple templates for writing your cover letter.
ou've filled in the job application, revamped your resume and now you're ready for the next step: writing your cover letter. A cover letter is a short overview of the professional abilities and experiences that make you the right person for the job. It also highlights important parts of your professional and personal life that have left you with the skills you have today. This is your opportunity to speak directly to the hiring manager and make your case.
A Cover Letter Is Different From A Resume
A common mistake when it comes to cover letters is simply restating the information found on your resume. The hiring manager has already read this information and – given their limited time – will not enjoy reading it again. Your cover letter is your chance to go deeper than your resume and provide a more specific and personalized look at your professional life.
Here is the simple way to remember the difference: your resume is for telling what you did, your cover letter is for explaining how you did it.
Writing your cover letter doesn't have to be difficult. With 3 simple templates to get started you will create a basic cover letter that will get the attention of a hiring manager.
1. A Basic Cover Letter
This is the simplest version of a cover letter. It will meet all the requirements of hiring a manager who needs an overview of your professional experience and qualifications. If you are a recent graduate entering the job market or a young person without a great deal of job experience, this is the cover letter for you. If you lack experience, it is important to highlight all the skills and abilities you will bring into the role. Don't be shy about mentioning your degrees, diplomas and certifications. You worked hard to gain specialized knowledge and complete your education, and you should always highlight these credentials. Take this structure and personalize it to fit your background, skills and experience.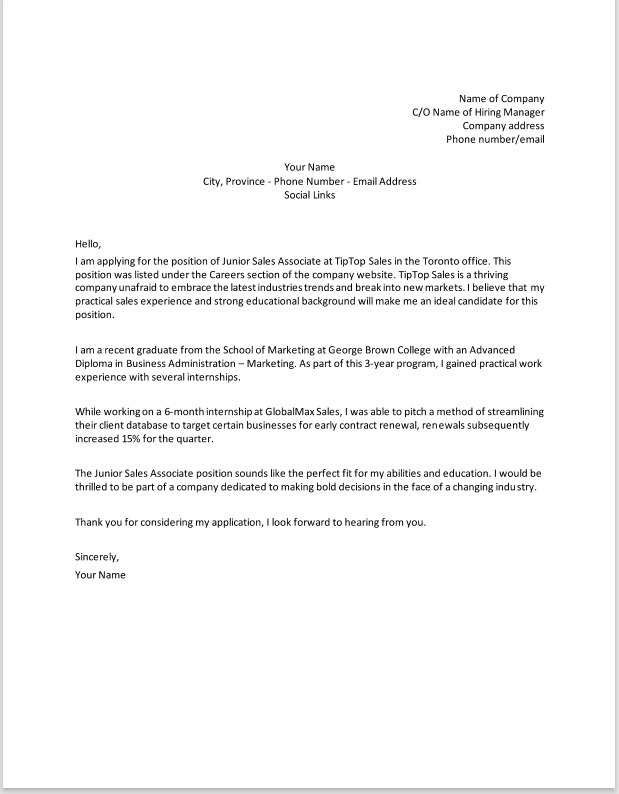 2. An Experienced Cover Letter
f you are years or even decades into your career, you don't have to give equal focus to everything when writing your cover letter. This is also true if you have had multiple jobs in different sectors. You don't have to shy away from your experiences. On the contrary, they can serve as an example of the soft skills and transferable abilities you will bring into any workplace.
Your main focus should be spent on the specific career accomplishments which are the most relevant to the job role for which you are applying. You can even spend the bulk of your cover letter describing specific large-scale projects or goals and go into detail regarding exactly how you accomplished this.
3. A Creative Cover Letter
If you are applying for a creative-based role, this could be the opportunity to show off your creativity while writing your cover letter. Instead of focusing on text paragraphs, you could create an interactive portfolio or even a video cover letter. This would be great for job roles such as digital marketer, content creator, videographer, graphic designer, freelance creative work and similar roles.
Just be sure that the hiring manager is open to receiving a cover letter in a non-traditional format. Review the job posting and the application requirements very carefully, and if the HR manager specifically requests cover letters in a specific format do not divert from it. You may think this will help your applicant stand out, but there is a greater likelihood that the hiring manager will see it as a sign that you can't follow instructions.
Here is an example:
Writing a cover letter is an important part of the job application process. After starting from one of these 3 simple templates, you can personalize your cover letter as much as you see fit in order to express your professional history and demonstrate all the benefits you bring with you to a job.