The Advantages of Including Video Interviews in Your Hiring Process
Find your new job!

Look for your perfect career match with the Jobillico job search!

Search Now!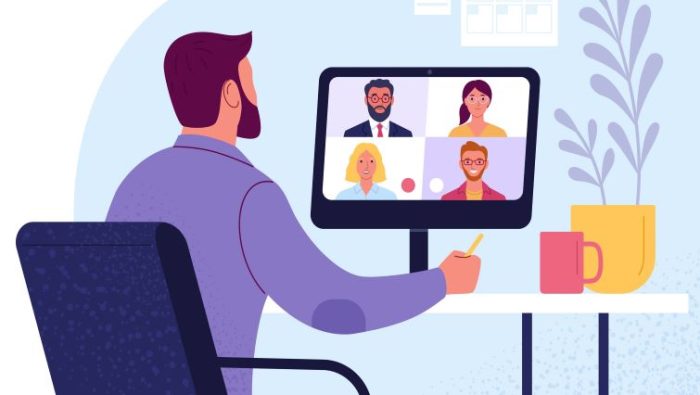 Publié le 5 August 2021
For employers looking for the best candidate for an available job role, it's important to consider the advantages of including video interviews in your hiring process.
According to a recent survey by TechRepublic, about 86% of recruiters currently conduct job interviews using online video conferences. Ever since the onset of the COVID-19 pandemic, there has been a 67% spike in the video interviews. Coupled with the rising demand for increased efficiency in every company, sector and industry, the increasing popularity of video interviews should not come as a surprise for anyone.
The introduction of video interview software has made the recruitment process smoother and has improved the experience for both interviewers and job seekers. It also helps to save valuable time and resources during the recruitment process.
Let's take a closer look at the advantages of including video interviews in your hiring process.
Firstly, what is a video interview?
A video interview refers to any program that takes place on specialized video interviewing software or any video calling program..
Just like a traditional one-on-one job interview, a video interview is an opportunity for a candidate to be asked questions to discover if their skills and abilities match the needs of a specific job position.
How many types of video interviews are there?
There are two types of video interviews:
Live video interviews
Recorded/asynchronous video interviews
A live video interview is similar to an in-person interview and is much more common. Here the interviewer and interviewee connect through a video conference call to discuss the job role and their qualifications.
In the case of a recorded interview, no actual interaction takes place, the questions are pre-recorded, and the answers provided by the candidates gets recorded during the call. After the end of the interviewee, the recruiter receives the recorded video and reviews it.
Now, it's time to look at the advantages including video interviews in the hiring process offers both employers and job seekers.
The Advantages of Including Video Interviews in Your Hiring Process
Reduces hiring time
Reduces cost
Check communication skills and motivation
Consistent interview experience
Makes scheduling easier
Makes candidates more comfortable
Better understanding of applicant experiences 
Tests candidate's command over technology
Convenient for passive candidates
Better candidate experience 
Improves collaboration among the recruiting team
Reduces Hiring Team
With an efficient hiring process, you can keep a candidate in the race until the end. The initial round usually takes the longest as the hiring managers deal with literally hundreds of applicants during a short period of time. 
By including video interviews in the application process, it becomes more efficient and faster, as interviews are typically easier to schedule and can be conducted in a short period of time. 
Reduces Travels Cost
As the job interview becomes virtual, the burden of travel costs gets removed. The candidate can give the interview anywhere and anytime, without having to worry about additional travel costs, such as transportation, gas, meals, and even hotel costs. This allows job seekers to expand their search outside their immediate neighbourhood or city, in order to find the job opportunities that best suit their career goals.
Check Communication Skills and Motivation 
For a lot of client-facing jobs, verbal communication is crucial. Video assessments let interviewers check the communication style of the candidate. The way they express themselves can be analyzed to check if it fits the needs of the job position. If they are able to explain their qualifications clearly and seem comfortable with the process, it speaks well for their ability to do the same while on the job.
Consistent Interview Experience
A hiring manager during an interview may forget to cover a topic or go off track. One of the unique benefits of an asynchronous video interview is that it can eliminate this issue. Every candidate gets asked the exact same questions during this type of video interview. In addition, every candidate answering the same set of questions provides a level of consistency that will help to evaluate them on the same level. 
Makes Scheduling Easier
Scheduling job interviews for multiple job candidates can quickly become time-consuming. With video interviews, especially a recorded video interview, It can be much simpler to schedule an interview. Both participants simply click a button to log in, and do not have to worry about delays from traffic, confusing directions, and other unexpected reasons.
You can schedule a pre-recorded interview for all the candidates simultaneously and then the hassle of time allotment gets eliminated. Later, the hiring manager can analyze all the responses and decide on who to move on within the hiring process.
Makes Candidates More Comfortable
A positive candidate experience helps to improve your employer brand in the job market. Using a video interview in your recruitment process leaves an expression on the candidate that the company takes advantage of new technologies. One of the advantages of including video interviews in your hiring process is that it shows candidates that your company is embracing the latest in recruitment technology.
58% of candidates say the video interviewing experience had made them feel more positive about the hiring company. This also shows your respect towards candidates' needs, which in return helps in improving your employer's brand through positive word of mouth from job candidates regarding your company culture.
Better Understanding Of Applicant Experiences 
Applying for a job today happens at the click of a button. Candidates just attach their resume and CV and hit send. Shortlisting/rejection happens the same way, which can make for a very impersonal experience. However, one of the advantages of including video Interviews in the hiring process is that it makes the application more personal.
Recruiters can put a face to the resume. An applicant's passion and motivation are better visible through video. It makes a candidate's experience more than just a bullet point and gives them a sense of the people who they hope will become their future colleagues.
Tests Candidate's Command Over Technology
Video interviewing software helps you to test the candidate's level of familiarity with the basic technology needed for remote work. Regardless of the job position, you want to hire someone who has an understanding of the way that technology has become ingrained in the daily work process for people in many different job fields. A job candidate who is familiar with at least the basics may indicate that less on-boarding time may be required.
Convenient For Passive Candidates
Sometimes hiring managers set out to recruit candidates, who may be currently working full-time jobs. A full-time employee not actively looking to leave their job, also known as a passive candidate, may not be able to easily come for an interview given their busy work schedule. They may not be willing to reorganize their schedule, especially if it leads to increased travel time, working outside their usual hour, or even a loss of family time that affects their work-life balance.
A 20-30 minute interview in the comfort of their home, on the other hand, will likely not present the same problems. The ease of a video interview can help attract qualified passive job candidates who may not have considered a new job. A simple and efficient experience can help convince them to try a new career opportunity.
Better Candidate Experience 
Each in-person interview typically starts with similar "tell me about yourself" questions. As a candidate proceeds through the hiring process, answering similar questions takes up valuable time, and can even be frustrating. A recorded video interview can let the candidate answer these questions once, with answers then available to all members of the hiring committee.
Instead of multiple rounds with a lot of repeated questions, these are instead cleared in a single recorded video interview, improving the candidate experience by preventing it from becoming stale or even boring.
Improves Collaboration Among The Recruiting Team
Video interview allows you to involve the whole hiring team in the recruitment process. They can view, comment, and evaluate the recorded videos and provide feedback on each of the candidates. This can lead to more transparent and collective decision-making.
Allowing everyone to provide input in this process will help in selecting the best among all the applicants, as a diverse team will be able to examine their skills, abilities and experiences from multiple different angles. With multiple perspectives, it is much more likely that the correct candidate will be selected and the team will be more open to a new colleague.
Take Advantage of Video Interviews
The video interview has become a new way to improve and upgrade your recruitment process. You must benefit from every new technology coming into the market, which can help improve the organization's overall brand and system. The advantages of including video interviews in your hiring process will help to make it simple and efficient for everyone involved, leading to qualified and happy employees.