How to Format Your Resume in 2020
Find your new job!

Look for your perfect career match with the Jobillico job search!

Search Now!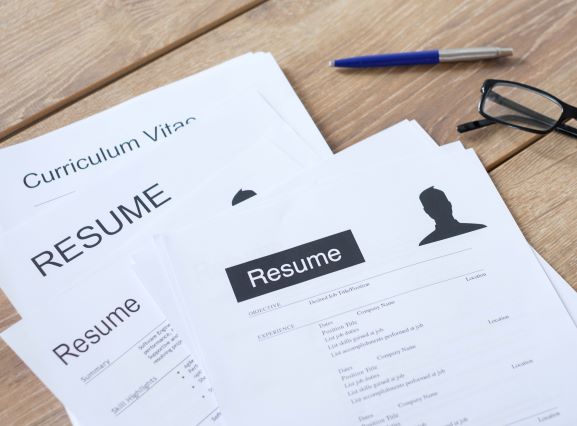 Publié le 16 November 2020
A resume is a versatile document that enables job seekers like you to customize their experiences and skills. You can match your expertise according to your targeted jobs and career objectives. Understanding how to format your resume in 2020 will land you interviews and jobs eventually.
A well-written resume is one of the critical elements that will help you receive an invitation for a job interview. Considering your professional profile, work ingenuity, intellect, and learning, you will require one or another resume layout.
An equally important decision when crafting your resume is what resume format you will choose. You need to know which CV format will provide you the opportunity to get more interviews. Read more to find out the different resume formats and find out which best suits your situation.
The 3 Most Common Resume Formats
1. Reverse Chronological Format
Most job seekers use this type of format as their number one option when making their resumés. This kind of CV may be pretty ordinary, but recruiters and employers prefer it better. It is because of the convenience of quickly skimming through the document and finding imperative information conveniently. On average, recruiters and clients spend about 6-10 seconds only when reviewing a resume.
Reverse chronological format discloses your work experience beginning from the most recent. It enables managers to see your latest experiences first, which they give more emphasis. Further, it lets them see your career development, including positions you had and for how long.
It is best to utilize this format when:
You don't have any employment intervals.
Your most updated work experience applies to your desired job.
The majority of your work experience lies in the career field where you want to get your next job.
2. Functional Resume Format
The functional resume format points out your skills more than your work experience. This format is also known as the skills-based format. Only a few job seekers use this in fear that their CVs will get tossed out.
Using this format requires you to determine the skills and accomplishments that best epitomize your value for the job. You also need to categorize them according to the job requirements, such as customer service skills.
Likewise, you have to emphasize details that showcase your abilities and experiences under each header. It will accentuate your effectiveness instead of employment history.
Utilize this format when:
You have occupation gaps.
You have plans to change your vocation.
You are newly-graduated or just establishing your career.
3. Hybrid Resume Format
This format compels all the outstanding parts of a functional resume. It includes applicable skills, credentials, and distinctively targeted information.
The Hybrid Resume Format combines all of these with the Reverse Chronological Resume Format.
Here, you can spotlight about 4 to 6 of your abilities and expertise related to the target job. Relevance and conciseness are keys when writing this type of resumé.
Use this format when:
You have plenty of work experience and a steady list of accomplishments.
You are establishing a career change with qualifications that is applicable across lines of work.
You have an extensive array of skills to render.
Which is the Best Resume Format in 2020?
You need to do a few things when opting for the kind of resume you plan to create. You have to determine which layout best complements your needs and tells a recruiter or hiring manager who you are. Remember that your resume layout choice must rely more on your experience and circumstances.
As mentioned before, employers prefer Chronological Resumes because it is easy for them to see what an applicant has done in the past. This kind of format will also work great for job seekers or employees in the middle of their careers.
Formatting your CV is not just about making it better. It is also a procedure to consolidate records within a resume that emphasizes particular aspects.
How Long Should an Ideal Resume Be?
Andrew Challenger, Senior VP at Challenger, Gray & Christmas, Inc., once said that there is no exact perfect number of pages in a resume. He added that it should demonstrate a job seeker's qualifications accurately.
Typically, for most applicants, a single-page resume would be enough. However, for job seekers with plenty of experiences, a two-page layout is ideal. The length of your CV is significant because it imparts your level of expertise. It allows you to sell your proficiency, time, and competence to your possible employer.
It doesn't matter which of the above resume formats you will use as long as it fits nicely into one single-sided page without overfilling. There are some rare occasions that a long resume is acceptable. It is applicable if there are career changes for vastly innovative fields or people at the senior or executive level. However, bear in mind that you are not writing an autobiography.
Your prime concern is to make your CV clear and readable. Use a 10 or 12 size font from Arial, Calibri, Times New Roman, or Verdana.
6 Important Factors You Need to Include in Your Resume
Systematically arranging your resume is equally essential as formatting it. Most job seekers who are not sure of how to organize their resumes lead to a vague CV. Make sure to format your resume accurately and organize it accordingly, not only about yourself. It should also be about the kind of resume that you are utilizing.
Below are the necessary categories that you have to incorporate in your resume:
1. Header
The header should contain your personal information and place it on top of your resume.
It must include your full name (of course!), contact number, email address, and personal branding website if applicable.
2. Resume Summary Statement
Also called a summary statement or professional summary, it is a quick round-up of your skills and experience. It enables you to feature your main assets instantly.
Generally, a Resume Summary Statement consists of only one sentence or two.
3. Education
This section is where you let your potential employers know about your educational attainment. You will include here where you studied and whether you graduated.
Additionally, you will put here any vocational courses you took up in technical fields.
4. Experience/Qualifications
This part talks about your previous work and features which you worked for. Moreover, it emphasizes what you have done and for how long.
Remember to include your job title and make a bulleted list of your past duties and responsibilities.
5. Skills & Abilities
This section accentuates your applicable skills to the job or position you are applying to. Be sure to list all your relevant skills to let your possible employer know what you can do and what you are best at. Your skills and abilities may include computer skills, technical skills, and other things you think will set you apart from other applicants.
Moreover, it should fit precisely what your would-be employer looks for in a hiree.
6. Certifications (if applicable)
Certification is another important factor that you need to incorporate in your resumé. This may include various honors and awards, depending on the position you are applying for.
Most employers use Applicant Tracking Systems (ATS) to filter out resumes and narrow the pool of job applicants. Including Certifications in your CV may help outsmart the software and make your resume more interesting than others.
7 Evergreen Resume Formatting Tips to Follow
There are essential things that you need to bear in mind when writing your CV. An employer knows a disorganized resume at first glance. Think of what format your resume should be in.
Make sure to follow these tips to make your resume appealing so that the recruiter will take the time to read it.
1. Keep it Simple
Employers will not spend a couple of minutes browsing your resumé. If they find it too mixed-up, challenging to read, or confusing, you will have difficulty finding a job. It is paramount that you observe proper spacing, font size, and margins.
Format your resume neatly and avoid including fancy graphics, illustrations, or pie charts. Also, make sure that there are many white spaces because an overcrowded CV is difficult to read.
2. Use a Summary Statement Instead of an Objective
A Summary Statement is a professional introduction which consists of 1 to 2 sentences. It explains how you can be an asset to the company you are applying to, rather than telling the employer what you want.
3. Highlight Key Skills
It doesn't matter where you place your Key Skills in your resumé. Just make sure that what you will list in that section is relevant to the position you wish to apply for.
If you are not sure about what skills to put, read the job description. It will tell you what skills are needed for the position.
4. Introduce Your Latest Experience First
Introduce your most recent experience first since most employers look for this information. They want to know precisely and immediately if you are fit for the job or position.
5. Use Bullet Points
For each previous job that you had, it is better to list your achievements and duties using the bullet point format. It will prevent the content from looking more complicated and more difficult to read.
Begin with a compelling action verb with each bullet.
6. Think About Citing Volunteer Experience
Listing this is beneficial for new grads and young professionals, especially if they don't have a lot of corporate experience to show for. Citing volunteer experience or other activities can add character to your resume. Likewise, it can help you bring out the complementary skills you have acquired outside your workplace.
7. Enumerate Your Bullet Points
If possible, you can include numbers and results in your bullet points. It will demonstrate the effect you had on a specific role. You can put the frequency of your task or how many employees are there.
Conclusion
When creating your CV, make sure to choose the layout that best describes yourself honestly. This should include your past jobs and the occupation you are applying for. Take into account employment gaps, career flight, where you stand in your profession, and where you plan to go. Learning how to format your resume in 2020 provides you an edge over other job seekers on securing a job.