5 Ways the COVID-19 Crisis has Forced Small Businesses to Redefine Themselves
Find your new job!

Look for your perfect career match with the Jobillico job search!

Search Now!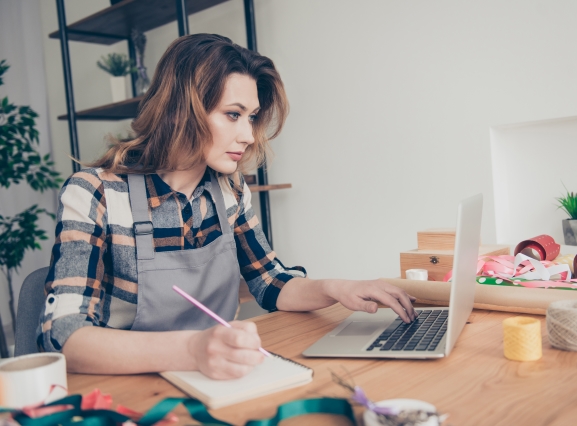 Publié le 7 May 2020
The COVID-19 pandemic has had horrifying effects, and we must always remember those who have fallen ill and the healthcare professionals putting their own health at risk to treat them. As we do the responsible thing by social distancing, many small businesses have struggled to remain open in a limited capacity and pay their bills. While there are government resources designed to provide financial support during this time, the COVID-19 crisis has forced small businesses to redefine themselves in several different ways, including:
Delivery options
Automation
Remote work
Online shopping
Pivoting product offerings
Products Are Hitting the Road
Consumers having goods shipped to their homes is nothing new. Amazon has become one of the most ubiquitous companies in the world with the promise of one-click-shopping and next-day-delivery, despite the negative effects. What has suddenly changed is the amount of people having things shipped and the number of items being delivered. It's not just books, some household items and the occasional pizza that is being delivered, virtually every product you can think of is now loaded onto trucks and vans and driven to customers.
The amount of products being offered through delivery apps have exploded, and it's possible to find everything from takeout and groceries to gym equipment and toilet paper, all at the push of a button. These apps have greatly expanded their recruitment efforts, despite the pushback from labour activists citing unfair business practices and excessive costs placed on the businesses themselves. At the same time, post offices and traditional companies are experiencing holiday-levels of shipping demand. Indie bookstores, breweries, even garden supply depots are now offering delivery. Given that walk-in traffic has completely stopped for the vast majority of stores, they had no other choice than to begin navigating the complex world of delivery and shipping options.
Once people do have the option to safely return to stores in person, it's unclear if they will be able to look past the ease (for them) of online delivery. For many stores, it appears the delivery personale is a new job category they may have to fill for the foreseeable future.
Remote Work is the New Norm
The amount of companies offering remote working positions has been steadily increasing over the past decade, for a variety of reasons. With the social distancing policies instituted by many local and federal governments, remote work has become the new normal for many employees literally overnight. Even the option between letting employees work from home versus having to shut down entirely, many companies have of course opted for the former.
Now companies that had no intention of offering remote working positions have entire staffs consisting solely of these roles. They will be gaining first hand experience with the benefits – and the drawbacks – of remote work. Businesses and work teams who can manage this transition successfully will have to assess the needs of their workforce and their company once it is safe to loosen isolation and social distancing policies.
Whether or not remote work is an option for small businesses depends on what type of business they are. Small businesses that primarily perform office-type work such, CPAs, lawyers, consultants and other similar roles, can perform a great deal of their work remotely and still serve their customers.
Retail shops, on the other hand, can perform certain aspects of order fulfillment, customer service and other forms of outreach remotely, but the switch to shipping and delivery requires a lot of work that can only be done hands-on with the products.
Always Be Online
The majority of businesses had already realized the importance of a strong web presence, or least a web presence. Given the proliferation of social media networks and online platforms specifically designed for businesses, it is a simple choice for many. This crisis has made it apparent that having an online presence is vital, especially for businesses in the retail and food service sectors. All stores and restaurants have experienced tremendous declines in sales, and for stores without any sort of online presence, sales have become non-existent with extremely limited ways for customers to support them.
A number of businesses have found themselves suddenly playing catchup, and creating online shops so that customers can still purchase their products and support them. For traditional mom-and-pop type shops, the COVID-19 crisis has forced these small businesses to redefine themselves by quickly adapting to digital e-commerce. It remains to be seen if online shopping and e-commerce will eclipse in-person shopping in many areas, even once stores can safely reopen for customers.
Automation Is A Looming Challenge
The use of automation in many industries has already been increasing year after year. The current crisis makes it starkly clear why some large corporate business owners would prefer automation. The reason, as one report puts it extremely blunty, is that "robots don't get sick". Automation is already a reality in many sectors, just think of how often we use ATMs and automatic checkouts at the grocery store. With many small businesses correctly shutting down to protect employees and the public, a number of big businesses with substantial automated components have kept going.
If a bookstore shuts down but the same book is still rolling down the production from the printers straight to the Amazon warehouse, for instance, a certain number of customers will choose to use that point of purchase. If this crisis pushes large corporations towards fuller automation at an even quicker pace, it may unfortunately be a greater challenge for small businesses to compete. One way that many small businesses have been fighting against the threat of automation is demonstrating how they have personalized touches that machines can't replicate. Customers still want an authentic experience when purchasing products, something that is much easier for smaller businesses to provide.
Pivoting and Flexibility are Key
Many stores have found that in order to survive the essential social distancing required to slow the spread of COVID-19, they need to rethink what fundamental products they offer to their customers. Pivoting to meet the needs of people in their areas is one way that they can maintain relationships with their clients and generate income for the store.
Instead of just offering traditional takeout meal options, many restaurants now offer raw ingredients and meal kits as the wait for grocery delivery grows. Instead of selling gym memberships, a number of fitness centers are now renting exercise equipment so people can still workout in their homes. Some breweries are even selling sourdough starter and excess yeast to meet the needs of budding home bakers as we all remember that carbs are wonderful. Small businesses have been able to display incredible ingenuity in face of this crisis as they pivot their product offerings to meet the immediate needs of their customers.
There is a great deal of uncertainty affecting all aspects of society right now, as we all do what we can to slow transmission and support healthcare workers. It's unclear what exactly the long term economic effects will be on small businesses. What is clear is that the COVID-19 crisis has forced small businesses to redefine themselves in major ways virtually overnight. By adapting their approach, using new technologies. adopting new procedures and diversifying their products, small businesses put themselves in a better position to serve their customers and simply survive into the near future.