Tips for Working From Home
Find your new job!

Look for your perfect career match with the Jobillico job search!

Search Now!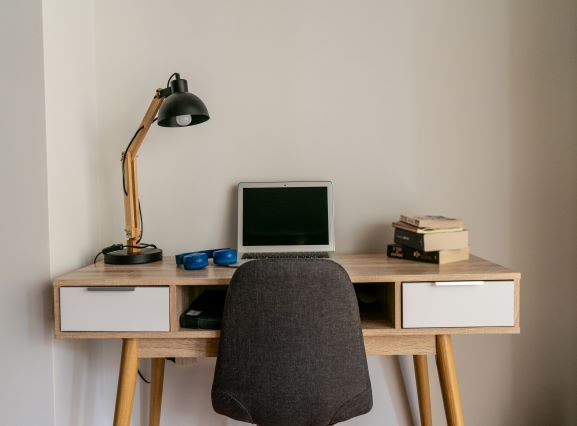 Publié le 16 March 2020
A lot of people are finding themselves working from home right now. For many this could be your very first experience with remote work, virtual teams and telecommuting. At Jobillico, we're adjusting to these circumstances as well, and remain committed to doing everything we can to support our employees. We thought we'd offer a few tips for those working from home for the first time. Obviously, each person is experiencing things differently and works best in different ways. We hope that if you feel like trying a few of these tips, it will help make the transition just a little bit easier.
Stay in Communication
It can be easy to feel isolated when you work from home. We're all used to the hustle of an office or workplace, so finding ourselves doing the same work alone can be jarring. It's important to remember that we're not alone. With so many ways of communicating (Google Hangouts, WhatsApp, Discord, Zoom, Skype) we can still keep in touch with our colleagues. Many businesses already have remote workers as part of their staff, using these apps and similar programs to facilitate communication, so many employees will likely be familiar with their use. Need some advice? Have an important question? Just want to ask our friends how their weekend went like we would at the office? We can still do all that. It is different, but we can still stay in contact and support each other.
Make a Schedule
For many of us, our jobs give us such a familiar structure that it can be quite a shock to have it removed. As we're working from home, we can still set goals and deadlines for ourselves that keep us motivated and our clients happy. At the start of the day, take stock of the assignments and tasks you wish to compete and make a schedule. If you are the type of person who already uses Google Calendars with frequent reminders, this likely won't be a difficult adjustment. If you're new to working from home, try experimenting with different types of scheduling: calendars, notes on the wall, phone notifications, etc, and find what works for you.
Set Up A Workspace
If possible, try setting up a distinct workspace in your home where you will be during working hours. This helps us to mentally separate work from rest, and trains our minds to understand that this is the time to focus on our work-related tasks. Leaving the designated workspace will also help us to mentally step away from work when the workday is over, something that full-time remote workers struggle with, even while we stay at home. Not all us have the space or the option to have an entire home office, but that is not really necessary. Making your own designated workspace can be as simple as setting up a table and chair (and a coffee maker if you're like us).
Don't Get Distracted
Our homes are filled with the things we like to do when we're not working. Books, Netflix, video games, Netflix, albums, Netflix. Did we mention Netflix? If working from home is to be a success, we need to make an effort to minimize distractions. We owe it to our clients and colleagues to focus on work, complete it as best as we can while sticking to deadlines. Make a schedule and then try to stick with it as much as possible. When it's time to work, we need to put away things that distract us. That means turning off Netflix even if we really just want to binge Gilmore Girls again.
Be Mindful of Others
Working from home doesn't mean that we are completely alone. Many of us live with roommates, family members and significant others. Us working from home will be an adjustment for them as well. We have to remember to be respectful of each other and our individual needs. If you have a video conference, consider using headphones to limit noise. Likewise, if you live with someone working from home, don't blast music out loud if they have to be on the phone frequently. It can help to set a few ground rules that can separate work time from personal time. If we have an open discussion with the people we live with, it can help avoid a lot of frustration and irritation that might occur later. If we make an effort to be mindful of others, do our best to be supportive and apologize if we make a mistake, the transition to remote working can go a little smoother for everyone.
Put On Pants
One of the biggest adjustments we face when working from home is the mental one. If you find it difficult to get yourself in the mental headspace for work, try changing your clothes. The clothes we wear do have an impact on our moods and our headspace. Not having to worry about the dress code is undoubtedly a perk of working from home, and working in sweatpants can be pretty great. If that works for you, keep doing it! For those of us who need a little help focusing, wearing something similar to what we would at the office can actually help us to focus.
Be Kind To Yourself and Each Other
As we said, adjusting mentally to working from home can be the most challenging aspect. One of the best ways to maintain a proper work-life balance is to have a clear line separating the two. Working from home effectively removes this. While we want to be productive, we have to remember not to let ourselves get overwhelmed and turn each day into a 12-hour workday. It's too easy for people working from home to prolong their workday, sometimes by hours. That leads to burnout and is not what anyone wants. If it starts to feel overwhelming, step away from the computer for a few minutes. Take breaks. Do some stretches. Look out the window. Remember to breathe. This is an adjustment for all of us, but we can remember to be kind to ourselves and do what we can to support each other.
Do you have any tips for working from home? We'd love to hear them.