7 Virtual Office Holiday Party Ideas With Your Remote Team
Find your new job!

Look for your perfect career match with the Jobillico job search!

Search Now!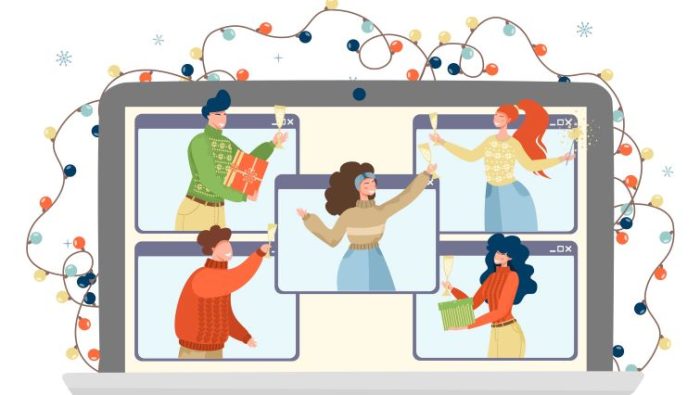 Publié le 11 January 2023
Celebrate the season and have plenty of fun with 7 virtual holiday party ideas with your remote team.
With the onset and continued existence of remote working, we've all had to get used to some differences. What used to be simplicity itself is now not so easy, because we're all so, well, remote.
A remote meeting's a cinch. But what about a virtual holiday celebration? You bet. Even when everyone's physically distant, it's possible to have quality time with the colleagues you share a virtual coworking space with. You just need to be properly prepared, and this includes coming with 7 virtual office holiday party ideas that set the theme for your celebration. Here goes: it's party time!
So, what's a virtual party?
Just like with Zoom (and other video conferencing platform) meetings, you can use tech communication techniques to get together and have a jolly online video chat. One that will involve and engage, unlike other more formal online work activities.
Image sourced from zippia.com
When a holiday season approaches, you need to decide how you want to throw your virtual party. There are lots of virtual office holiday party ideas to try out. We explore some of the best below. 
Advantages of virtual parties
Boosts team spirit
With a remote team, you need to think about how to establish and maintain a team spirit as healthy as you'd find in a conventional office set-up. This means leaping on any opportunity to do some remote bonding. This increase in team spirit can also lead to improved employee retention, and increasingly serious concern for businesses of all sizes.
Birthdays, national and international events, and holidays are golden opportunities to apply a focus to your socializing. Grab a hold of them and apply some imagination!
Even better than the real thing
How can a remote gathering ever beat the real thing? Surely that's an impossibility, right? Not quite.
Firstly, a virtual event's labour-light. It requires no physical space, and the only dressing needed is what goes on to your body and what's visible on screen. You can dress as fancy as you feel, even if that means throwing on a jacket and tie without changing your comfiest sweatpants.
Transport? With a remote team, it just requires everyone to organize transport to and from their laptop, wherever it happens to be in their home. This means that everybody can attend and you can focus completely on unique and creative ways to keep remote employees engaged throughout the event.
Finally, a real office party offers a wealth of opportunities to goof big. Let's just say that excitement, refreshments, and perhaps an excess of conviviality can have some embarrassing side effects. With a virtual event, you can navigate a route to bed that decreases the chance of embarrassing yourself.
Virtual office holiday party ideas
OK, so what can you do remotely to give that holiday spirit a boost? Let's start by looking at Christmas activities for remote teams.
1. Christmas carols
Carols are a no-brainer. This can be a lot of extra fun if your team is strewn across the globe, as there's nothing better than getting a few foreign carols on the holiday playlist. Feliz Navidad anyone?
If your team's mostly in the US, you might want to know which Christmas songs are likely to be their favorites. Fill your (Santa) boots.
Image sourced from today.yougov.com
2. Secret Santa
Secret Santa is a great way of indulging in some giving without it costing the last paycheck of the year. There's no reason why you can't have an online Secret Santa. Use an application like Elfster to get it organized, and away you go. 
3. Christmas giving
If you want to show your team how much they're valued, but you don't want the shipping costs, you could buy them all gift cards. These could be for use at an online retailer, or for use at a coffee chain that's likely to have outlets near everybody. A seasonal hot chocolate from the boss is something they're unlikely to forget.
On the subject of giving, you can encourage a little Christmas charity by matching whatever donations your team makes to the causes dearest to their hearts.
Get everyone together to talk about their passions and see what difference can be made by you all acting together as a group. If there are better virtual office holiday party ideas that demonstrate the true meaning of Christmas, I haven't heard of them.
4. Jumpers for joy
Finally, it could be a great idea to have a hideous Christmas jumper contest; it is hilarious and will have you all in stitches!
Now, for non-Christmas events…
5. Movie magic
One of the best virtual office holiday party ideas is a communally-watched movie! A lot of streaming services give you the option of organizing a holiday movie party watch-along.
To really up the atmosphere, why not all dress up? The opportunities to look ridiculous are nearly endless. T-birds and Pink Ladies; Hobbits and Orcs; or Avengers and, er, other Marvel characters! You can organize a costume contest and give out prizes!.
6. Cooking contests
Another fabulous way to boost holiday cheer is to run a cooking competition. Home baking's huge now, so take advantage.
Image sourced from foodnavigator-usa.com
There's a lot that you can do with a baking contest; best cake in the shape of a landmark… best loaf in the shape of an animal, best gingerbread recreation of the office, and the list goes on. No matter what, it gives everyone the chance to show off their favourite holiday treat, and an excuse to finish off the last spoonful of buttercream frosting.
7. Games
You could just celebrate a holiday with a fun game. Quizzes are super-popular at the moment. Pick a theme that will be of interest to all—maybe make it kind of tangentially related to your work so that everyone involved will have some grounding in it.
Don't make it solely about your latest QR code generator for apps though, or you may find that the party gets whittled down to just you. You might be better off making it all about holiday trivia questions. 
Want to try something a little more out there? How about a virtual escape room? Or a virtual scavenger hunt?
Getting everyone holiday happy
One last tip worth mentioning: make sure that you schedule your virtual holiday event at the perfect time for all. This might be a little more tricky than it sounds, and you may end up with somebody having to dial in at midnight, their time. But acknowledge this and perhaps send them a virtual gift to compensate.
Also, make sure you're including everyone in your invitations. If you're inviting via phone, you might want to ramp up inclusivity by making sure everyone knows how to send voicemails to email.
Using a bit of imagination and a whole heap of enthusiasm, you can make your virtual holiday team building exercise a holiday classic, and give everyone a truly wonderful time, wherever they happen to be. Take the 7 virtual office holiday party ideas for your remote team, and celebrate the season and all your success one last time before the end of year and the start of the new one.