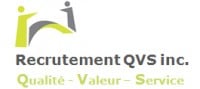 Adjoint administratif aux ventes
Recrutement QVS inc.
Quebec City,QC
Salary

To be discussed

37.50 h - Full time

Permanent job

Day shift work

Published on

March 21st, 2019
Description
Recrutement QVS est à la recherche d'une secrétaire aux ventes pour une entreprise dans le domaine du détail dans la ville de Québec
Les tâches reliées au poste sont les suivantes :
Copies et scan de documents
Suivi, maintien des copies et modification des formulaires de l'entreprise pour tous les départements;
Courriels (réception, envoi et classement)
Suivi et modification des procédures de secrétariat;
Impression et classement des documents d'appel d'offres
Dossier pour le représentant: ouverture des dossiers physiques avec étiquette des numéros de projet, classement des documents dans la chemise avec le formulaire d'ouverture de dossier;
Créer un répertoire dans chacun des répertoires des représentants avec le numéro de référence du dossier ouvert;
Préparation des devis à partir des formulaires de base en WORD (tableau rang et colonnes), vérification avant la remise au représentant, corrections finales et copies des originaux avec boudins pour présentation au client;
Classement des dossiers fermés des représentants avec le formulaire de fermeture et dans les boites de classement;
Supports aux vendeurs;
Répondre aux fournisseurs et clients;
Aider à la préparation de présentation Powerpoint pour les ventes;
Aider à la lecture et correction des brochures produites par le département marketing et tout autre média tels que site Internet, publicité, etc.
Suivi de l'inventaire des brochures, formulaires ou autres;
Création de lettre et préparation des listes et envois pour les mailings à des clients potentiels;
Traduction de lettre, courriel et autres;
Toutes tâches connexes.
Skype;
Logiciel de photo (paint, paint.net ou pickpick; outil capture)
AutoCAD Viewer
Compétences recherchées :
Bonne connaissance du français parlé et écrit;
Anglais commercial;
Excellente connaissance des logiciels Word, Excel, Acces, Sharepoint, Skype,
Expérience en secrétariat
Critères généraux :
Entregent, débrouillardise, sens de priorité;
Dynamique;
Bilingue.
Ce poste offre plusieurs avantages très intéressants et très compétitifs.
Si ce poste vous intéresse? Veuillez nous faire parvenir votre CV en format WORD à recrutementqvs@gmail.com
Nous remercions tous les candidats(es) ayant manifesté de l'intérêt pour le poste. Cependant, seules les personnes retenues pour une entrevue seront contactées.
Read more
---
Requirements
Level of education
College
Work experience (years)
3-5 years
Written languages
Fr : Advanced
En : Intermediate
Spoken languages
Fr : Advanced
En : Intermediate
Other Recrutement QVS inc.'s offers that may interest you