FAQ Candidates
How may we help you?
---
General
What is Jobillico?
Jobillico is a vibrant Quebec company that is revolutionizing the labour market. Driven by such core values as collaboration and proactivity, we offer an innovative online recruitment solution that gives companies access to the best talent as well as giving candidates the opportunity to reach their full potential in a job where they'll feel happy. We have changed the face of job searching: we can now instantaneously suggest job postings and companies to our candidate members. At Jobillico, we create the perfect match!
Jobillico's team is composed of 100 enthusiastic employees who believe that everyone deserves to be happier at work, to be pleased to go back to work every Monday morning and meet up with colleagues. We're a team with our heart on our sleeve!
Over 10,000 companies who have recruited candidates with us;
Over 4.5 million job-seekers;
Over 100,000 job postings each day.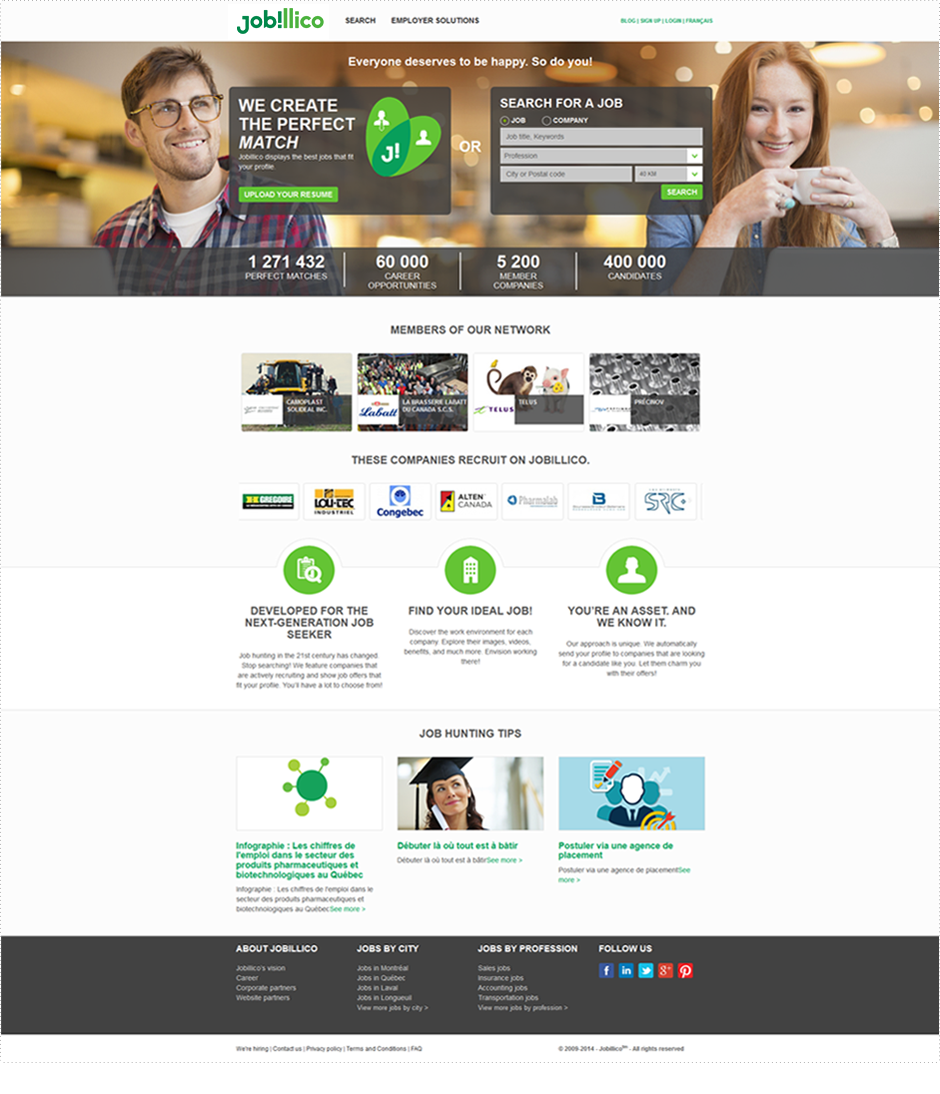 Are we placement agency?
No! We're not a placement agency. We don't meet with candidates like you who apply for jobs. Instead, we prefer to put you in direct contact with employers thanks to our web interface, either through our job postings or your online candidate profile. In short, your résumé or profile is almost automatically sent directly to employers.
Is it free?
Looking for a job on Jobillico is totally free! You can apply for as many jobs as you like.
Why should I register as a candidate at Jobillico?
Developed for the next-generation job seeker
Job hunting in the 21st century has changed. Stop searching! We feature companies that are actively recruiting and show job postings that fit your profile. You'll have a lot to choose from!
Find your ideal job!
With Jobillico, discover the work environments for each company. Explore their images, videos, benefits and much more. Envision working there!
You're an asset. And we know it!
Our approach is unique. We automatically send your profile to companies that are looking for a candidate like you. Let them charm you with their offers!
Privileged access to the hidden job market
Use Jobillico to communicate with potential employers by applying for their career opportunities and make the most of all your contacts by connecting through your favourite social network!
Discover the largest network of employers
Jobillico features 6,000 companies who recruit online!
A team with their heart on their sleeve!
We are people with our heart on our sleeve and we understand your reality. Call us and we'll give you a hand!
I live outside Canada and would like to come and work there. Can Jobillico help me?
Yes, helping job seekers from all over the world is our dream! That's why Jobillico is now available to candidates from abroad! This way, you can register on our platform and apply for offers. Employers who want to recruit internationally will see your profile. When you register, don't forget to indicate your country and city. The more accurate the information, the easier it is for employers to evaluate your application. As a result, you increase your chances of finding a job that meets your expectations!
For the procedures required to work in Canada, we recommend that you consult the following sites. You will find a lot of information there.
http://www.immigration-quebec.gouv.qc.ca/en/index.html
https://www.canada.ca/en/immigration-refugees-citizenship/services/work-canada.html
Good luck in your efforts.
You have another question unanswered ? Write us at info@jobillico.ca
© 2009-2023 - Jobillicotm - All rights reserved