The 10 Best Remote Work Job Roles in Canada (With Salaries)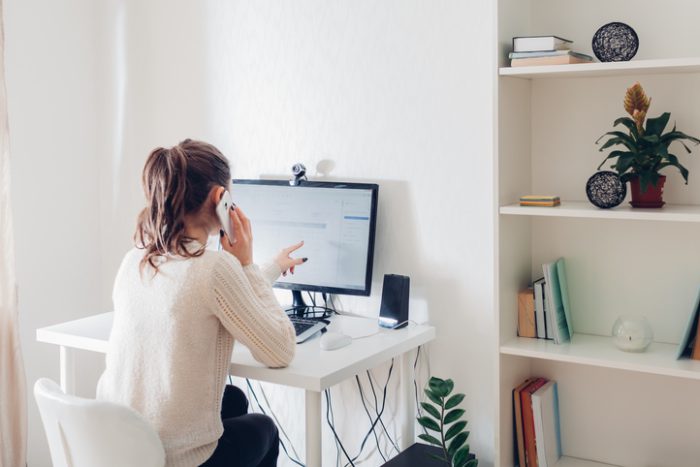 Publié le 2 December 2020
Looking to further your career and work from home? Consider pursuing one of the 10 best remote work job roles in Canada.
2020 has seen an explosion of remote work that no one could have predicted. While remote work and work from home job positions have been steadily on the rise over the course of the past decade, the events of the past year have made this a way of work and life for millions of people.
Working from home is a different experience for everyone. There are advantages to these remote work job roles, such as no commuting, casual dress code and level of comfort, and disadvantages, such as communication issues, increased utilities cost and difficulty maintaining a work-life balance to avoid burnout. For those who think that working from home is right for them, these positions are now more widely available than ever before.
As businesses slowly emerge from the negative economic side-effects of the past year, they are still looking to add highly qualified job candidates to various remote work job roles in Canada.
The 10 Best Remote Work Job Roles in Canada:
Customer Service Advisor
Web Editor
Community Manager
Graphic Designer
Teacher
Translator
Consultant
SEO / SEM Expert
Blogger
Video Editor
1. Customer Service Advisor
The Job: A Customer Service Advisor communicates with clients and customers on behalf of a larger company or business. They respond to customer inquiries, questions and problems, and attempt to provide information, support and solutions. Each customer will have different needs, so tasks could be as simple as providing an address for a customer to return a product, or walking a customer through the steps of troubleshooting and repairing a product.
A majority of Customer Service Advisors will communicate with customers over the phone or email, so communications skills and a strong internet connection are necessary to succeed in this remote work job role.
Drawbacks: Almost all of a Customer Service Advisor's day will be spent dealing with customers one-on-one. If you don't enjoy spending long periods of time on the phone or communicating with possibly angry and impatient customers, this job role may not be best suited for you.
Average Salary: $39,327 per year.
2. Website Editor
The Job: Websites have essentially become a requirement for every successful business. It's the place where customers will first check when they need information or want to purchase a product. Website Editors create and manage content for websites, ensuring that everything is working correctly. Considering the dramatic increase in online shopping and web traffic over the past year, even short term issues with the website can result in lost revenue and frustrated customers, making this an important remote work job role.
Drawbacks: This job tends to be highly collaborative, and the process of collaboration has become more difficult with everyone working in different spaces. If you feel stress about waiting for a response from your colleague in the IT department when there's a problem with the website, perhaps consider different career opportunities.
Average Salary: $41,385 per year
3. Community Manager
The Job: As digital marketing becomes the main way that businesses promote themselves and reach out to potential customers, managing these interactions becomes more important. A Community Manager is in charge of managing an organization's online presence. This occurs through social media channels, in forums and on the official company website. It involves searching online for customers talking about the business, receiving feedback, responding to concerns and organizing ways for customers to interact with each other and representatives of the company.
Drawbacks: Similar to a customer service role, if you don't relish interaction with clients and customers then this remote work job role probably isn't best for you. It could even potentially involve mediating disputes and addressing conflict, which don't necessarily occur on a 9-5 schedule.
Average Salary: $67,427 per year
4. Graphic Designer
The Job: For people with an artistic vision, a creative mindset and the ability to collaborate, graphic design is a great career option. Graphic Designers create images and visual media for clients. They design logos, posters, infographics, signage, ads, and other types of graphics to help spread a message and attack customer attention. Graphic Designers can work full-time for one company to produce all their visuals, or they can be self-employed freelancers choosing the projects they want to complete.
Drawbacks: This job involves being creative on demand, which can be difficult especially when dealing with clients with an unclear vision. It is very collaborative, and the finished project needs to match the request of the client, not necessarily the artistic impulses of the graphic designer.
Average Salary: $44,275 per year.
5. Teacher
The Job: Online education and remote learning became the de facto norm for students and teachers overnight in 2020. Even though schools have reopened in many areas and regions, remote learning is still a viable career option for teachers and educators. People who live in more remote areas or seek specialized training and education utilize online learning opportunities, meaning there are opportunities for qualified teachers. Teaching english to students across the world also remains a popular way for teachers to gain experience, help students learn and earn a living educating others.
Drawbacks: Teaching requires a great deal of patience, planning and preparation. Teachers need to have strong communication skills, and be unafraid to take charge of groups. For those teaching online students in different areas of the world, the time difference can also result in a drastically altered schedule.
Average Salary: $67,567 per year
6. Translator
The Job: Being able to understand and communicate with each other is a desire that transcends language barriers. As digital technology continues to remove international barriers, people and businesses want to be understood by as large an audience as possible.
Translators work for businesses and individuals to translate products, documents, information and other resources from one language into another. As companies normally put a great deal of time and effort into their wording and branding, translators will be in charge of maintaining this messaging as closely as possible as they work to connect people and organizations around the world. Translators can work full-time for companies targeting new clients, or freelance and select their own translation projects.
Drawbacks: Complete fluency in another language will be required from day one. That means being able to adapt tone, common sayings and idioms, all of which can be very challenging. There very likely won't be much room for learning on the job.
Average Salary: $49,391 per year.
7. Consultant
The Job: Do you have highly specialized knowledge and expertise in a certain area or field? This makes your knowledge and understanding valuable to businesses and other organizations. Being a Consultant is similar to being a teacher, except for business and professionals instead of students. Consultants meet (virtually) with organizations and provide guidance, insights and support on their areas of expertise. For example, if you have extensive knowledge of the tech industry in the Greater Toronto Area, you can consult with start-ups and companies looking to break into this market.
Drawbacks: Due to the highly specialized nature of the work that Consultants perform, it is far more likely to be a freelance position than a full-time one. If you prefer full-time employment with a single business and the benefits that come with it, a consultant role will likely not meet this career objective.
Average Salary: $77,360 per year
8. SEO/SEM Expert
The Job: For businesses to survive in 2020, the ability for their potential customers to find them online is vital. Experts in search engine optimization (SEO) and search engine management (SEM), play an important role in helping businesses create an effective online presence. They work to help companies create content, build websites, design marketing campaigns and form partnerships that will increase their presence through search engines and other online mediums.
Drawbacks: An SEO/SEM Expert devotes a lot of their time to researching what similar companies and industry competitors are doing to increase their online presence. This research is an ongoing process, and can result in the pressure to keep up or risk offering outdated, and therefore ineffective, advice.
Average Salary: $49,445 per year.
9. Blogger
The Job: A Blogger creates online content. They can either be employed by a company to create content for their blog, or promote a company through content for other blogs focusing on the same industry. Bloggers must be creative, with strong writing and communication skills, with the ability to research topics, self edit and effectively disseminate information to readers. Bloggers often work in collaboration with other SEO/SEM experts and marketers to plan content that will appeal to a wide audience.
Drawbacks: Many Bloggers find themselves working as freelancers, requiring that they submit proposals to existing websites, blogs and businesses. This work is often unpaid and can take quite a bit of time and effort.
Average Salary: $46,919 per year
10. Video Editor
The Job: Video content is a very effective way for companies to market their products, increase their presence in the marketplace and connect with potential customers. From corporate ads to movies and TV shows, video editors can create all types of content and entertainment from the comfort of their own home, with the proper software and programs. It is a career which requires a great deal of creativity and the ability to collaborate in order to deliver a final product that aligns with client wishes.
Drawbacks: Video editors have to work to meet client expectations, which can be a long process requiring many time-intensive revisions. Even with strong time-management and organization skills, video editors can still find themselves overworked to meet deadlines.
Average Salary: $44,622 per year
Despite the unexpected hardships of 2020, people and businesses have learned to adapt. If you are ready to move forward in your career, consider one of the 10 best remote work job roles in Canada. Find one that's right for you, research the average salary using Jobillico's salary calculator, and apply today!