Capitalizing On Employee Benefits: How to Make the Most of Them
Find your new job!

Look for your perfect career match with the Jobillico job search!

Search Now!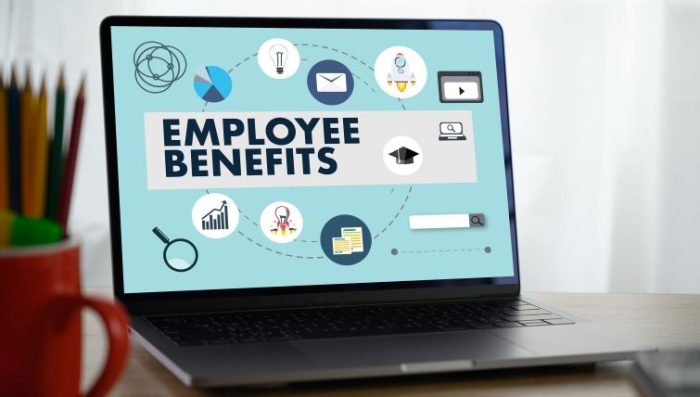 Publié le 5 September 2023
Make sure that your workers feel cared for and supported by capitalizing on employee benefits and knowing how to make the most of them.
Employees are the most valuable assets in your company. They bring in customers, complete all necessary projects and generate money for your business. Providing these employees with proper benefits keeps them always motivated, engaged, and productive.
Here's the catch: 40% of employers claim that employees resign to find job roles with better benefits. Additionally, about 10% of employees said they would take a pay cut to access more benefits. Therefore, providing employees with the appropriate benefits is imperative in business.
But what are the benefits commonly offered to Canadian employees?
Read on to learn some practical tips for capitalizing on employee benefits and how to make the most of these perks.
What To Know About Employee Benefits in Canada
Globally, employers have legal responsibilities to take care of their employees, and providing proper benefits is one of them. Of course, these offerings vary from one company to another and from one country to another.
In Canada, businesses must ensure the welfare of their workers. They must comply with federal and provincial laws and legislation governing employee benefits.
Canadian employers must provide mandatory benefits, such as personal time off (PTO), Canadian Pension Plan (CPP) contributions, and employment insurance. Meanwhile, they can offer supplementary benefits to attract quality employees and ensure staff retention.
Getting the right benefits is more than just a fun perk, but is something that the majority of employees expect from their employers. Let's look at some benefits offered in Canada, both mandatory and supplemental.
Mandatory Employee Benefits
Minimum Wage and Overtime Pay: Canadian employers must provide at least the minimum wage set by each province or territory. Also, employees are eligible for OT pay for working more than their required hours.
Pension Plans: CPP contributions are mandatory for both employers and their employees. Workers contribute a percentage of their salaries to the CPP for their retirement benefit programs.
Paid Time Off (PTO): As with most employers in many countries, PTO in Canada encompasses vacation and sick leaves. Canadian employers must provide paid vacation time and sick leave.
Parental and Maternity or Paternity Leave: Canadian employers must allow employees to take parental leave for childbirth or adoption. Likewise, they must provide them with maternity and paternity leaves so that they can take care of their newborn or adopted child.
Employment Insurance: Canada's Employment Insurance (EI) program provides financial assistance to eligible employees. This benefit is for those unable to work due to sickness, maternity, parental, or compassionate care.
Worker's Compensation: This mandatory insurance program covers those who suffer from work-related injuries or illnesses. This plan covers medical expenses, rehabilitation services, and lost wages.
Supplemental Employee Benefits
Retirement Plan: While not mandatory, employers may offer a retirement plan as an additional benefit. Some retirement plans include Registered Pension Plans (RPPs) and Registered Retirement Savings Plans (RRSPs).
Health Insurance: While there is no compulsory employer-funded health insurance, many employers provide private health insurance as a perk to employees. Over 90% offer an extended health benefits package to support the government health insurance plans.
Vision and Dental Plans: Aside from offering healthcare insurance for medical care, some employers include vision and dental coverage.
Life Insurance: This benefit provides financial help to employees' beneficiaries in the event of their death. Some Canadian employers do provide this type of benefit through partnered insurance carriers.
Voluntary Benefits: Employees can choose to opt into some of these benefits by contributing through payroll deductions. Examples are mental health coverage, virtual wellness programs, and pet insurance.
Flexible Benefits: Many Canadian employers have begun offering flexible work arrangements triggered by the pandemic. For most employees, there are benefits to hybrid working or work-from-home (WFH) setup.
Spending Accounts: These benefits allocate a specific amount of money to employees for various health-related expenses. Examples include Health Spending Accounts (HSAs) or Flexible Spending Accounts (FSAs).
Employee Assistance Programs (EAP): EAPs offer confidential counseling and support services to employees dealing with personal problems or work-related issues.
According to the Harris Poll on behalf of Express Services Inc., 62% of Canadian employers say they aren't changing their benefits in 2023. However, 51% claim they improved their benefits plans in recent years. Examples of these improvements are added sick leaves (20%) and enhanced healthcare benefits (17%).
Further, Canadian employees expressed their preferences towards non-traditional perks, such as the following:
Flexible work hours (64%)
Remote working (56%)
Shortened workweek (40%)
Learn how you can capitalize on employee benefits in the next section.
How To Capitalize OnYour Employee Benefits
Benefits are essential in business for ensuring the overall welfare of workers. However, employees must be aware of and exercise their rights and privileges. Otherwise, it defeats the purpose of employers offering these benefits.
According to SWNS Digital, the most important employee benefits are employer-covered healthcare insurance, life insurance, pension and retirement plans, mandatory PTO, and mental health assistance. Take a look at the table below.
| | | |
| --- | --- | --- |
| Employee Benefits | Employers | Employees |
| Healthcare Insurance | 67% | 68% |
| Life Insurance | 45% | 43% |
| Pension and Retirement Plans | 34% | 34% |
| Mandatory PTO | 31% | not included in the top five |
| Mental Health Assistance | 33% | 23% |
Below are practical tips for making the most of your employee benefits.
1. Attend Human Resources (HR) Orientation
It's imperative for newly hired employees to attend the HR orientation. This orientation covers all aspects of your employment in a given company, from business policies to employee perks. It provides a comprehensive overview of the benefits package you are entitled to and should be aware of.
Stephan Baldwin, Founder of Assisted Living, stressed the importance of HR orientation. "It helps employees understand the available benefits, eligibility criteria, and enrollment procedures. When asked what most of their clients regret about employment, many said not attending HR orientation and maximizing their benefits, such as retirement plans."
2. Understand the Benefits Package
Linda Shaffer, Chief People Operations Officer at Checkr, recommends reviewing the benefits documents. "Attending the HR orientation is one thing; understanding your benefits is another. While this orientation gives you a detailed overview of your benefits, you might forget the particular details. Therefore, ask for your package and read the fine print."
For example, refer to your health benefits package provided by your insurance carrier through your employer. Familiarize yourself with the plan details, such as co-payments, deductibles, and network providers. Always refer to your packet to make informed decisions about the medical services to receive.
3. Ask Questions from HR Personnel
Attending the HR orientation and referring to your benefits package would help. However, you cannot always easily and quickly understand your coverage. So, what better way to get this information than to ask questions from your HR personnel?
Eric Mills, Owner of Lightning Card Collection, recommends contacting HR when necessary. "Don't hesitate to consult your HR representatives or benefits administrators if you have questions about employee benefits. Seeking can minimize risks and help you maximize your benefits."
4. Wait for Open Enrollment and Enroll
Some employees might be interested in some benefits offered by their employers. The problem is that they fail to enroll in these benefit programs. So, it's best to remember the open enrollment date and prepare for it beforehand. That way, you can take advantage of the benefits provided by your employer.
Anthony Martin, Founder and CEO of Choice Mutual, encourages employees to participate in the open enrollment. "During this period, review your current benefit elections and see if you need to make necessary changes. Open enrollment allows you to modify coverage, enroll in supplemental plans, or add contributions to your retirement plans."
5. NOTE: Use Your Benefits!
Tim White, Founder of Milepro, advises capitalizing on all available benefits. "There is no better way to capitalize on employee benefits than to use them. However, some employees are completely unaware of what their companies offer. Even if they do, they don't take advantage of them."
As such, White recommended the following:
Take PTO When Necessary: Use your leaves when necessary to maintain a healthy work-life balance. Take a vacation and travel!
Use Health Card When Sick: Present your health card to access medical care without financial burdens when sick. Get access to affordable and quality healthcare!
Contribute to Retirement Plans: The ultimate goal is to secure your financial future. Track your contributions so you'll enjoy its perks later on in life!
Get Relevant Supplemental Plans. Consider relevant supplemental plans to fill coverage gaps. If you have pets to take care of, consider pet insurance. If you have a knack for fitness, enroll in a gym membership through your employer.
6. Stay up-to-date with Changes
Employee benefits are ever-evolving. Employers consider their relevance to workers based on changing needs. That's why open enrollment exists for change of benefits. The COVID-19 pandemic is a perfect example, where many companies have begun offering flexible and hybrid working arrangements.
Coty Perry, CMO at Anglers, suggests staying abreast with benefit changes and keeping up during open enrollment. "Stay informed about any updates to your benefits package. Employers might decide to make some modifications to their offerings during enrollment. Being aware of these changes will allow you to have informed decisions and make some changes."
7. Keep Benefit Documents and Contact Details
As a responsible employee, properly securing all your benefit documents and related employee data is imperative. Make sure to keep your plan summaries, enrollment forms, and policy information, not to mention health cards and related identifications. More importantly, create a list of contacts so that you know who to call in case you need to use your benefits.
Mark Pierce, CEO of Cloud Peak Law Group, underscores the importance of keeping legal records. "Understand that your benefit documents are legally binding since they outline the agreed terms and conditions. Always use your benefits as stipulated in your plans or policies. Therefore, keep those records for your reference."
Final Words
There's no denying the value of benefits in the world of employment. However, employees should know and deeply understand what they are entitled to.
As such, consider the benefits commonly offered in Canada outlined above. More importantly, take our vital tips for capitalizing on employee benefits and making the most of what you are entitled to from your employer. Ultimately, you can exercise your employee rights and enjoy the perks you practically deserve!