Yes, You Should Still Take A Vacation While Working From Home
Find your new job!

Look for your perfect career match with the Jobillico job search!

Search Now!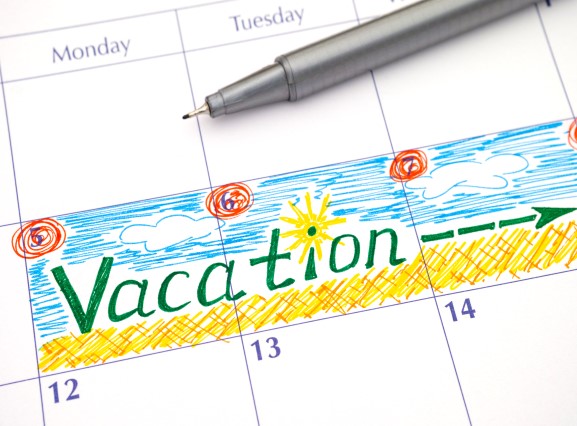 Publié le 3 June 2020
"Vacation, all I ever wanted / Vacation, had to get away"
We spend months or even years planning our vacations. The perfect getaway, with goals of good eating, exploration, relaxation and fun in the summer sun. Unfortunately, 2020 clearly had other ideas in mind. The COVID-19 pandemic has had devastating consequences for people around the world. One of the side effects is that millions of us are now working from home, with necessary restrictions over gatherings and travel. We all need to follow the advice of public health officials and be as safe as possible. This doesn't mean that we shouldn't use our vacation days this summer. A vacation is an extended break from work, and we've already talked about the importance of breaks. Even if it's not a big global adventure, you should still take a vacation while working from home.
You should still take a vacation while working from home because:
You'll work better after a vacation
Too many people don't use their vacation days
You deserve a vacation
You need a vacation
You'll Work Better After A Vacation
A major problem facing businesses in many sectors is a lack of employee engagement. A recent 2018 survey found that nearly 70% of Canadian employees were disengaged from their jobs. This is a huge problem, as disengaged employees are not happy or satisfied, and it does not make for a productive or — more importantly — a supportive work environment. One of the main causes of employee disengagement is a lack of work-life balance. While vacation days alone will not solve this complicated issue, it has been shown that more time off actually leads to increased employee engagement upon their return.
It makes sense. Anyone who has ever worked a double shift knows that you are not performing at hour 12 as well as you were at hour 2. The same idea applies to vacations and time off. If you have not had an effective break from work in quite some time, your work performance and personal well-being will suffer. Employees who use their vacations — and really disconnect from work— return refreshed, more willing and prepared to engage in work tasks and projects.
Too Many People Don't Use Their Vacation Days
Everybody wants a vacation, so it only makes sense that we use up all of our vacation days from work every year, right? Except that many of us don't. The recent Vacation Deprivation Survey conducted by Expedia found that Canadians received an average of 17 vacation days, but actually only used 14.3 of them. This means that Canadian workers had 31 million unused vacation days in a single calendar year. This issue is one faced by workers around the world, with the same survey finding this troubling trend occurring in a number of different countries:
Japan – 10 unused vacation days
Italy – 7 unused vacation days
Australia – 6 unused vacation days
New Zealand – 5 unused vacation days
US – 4 unused vacation days
While this means that Canadian workers are leaving fewer vacation days unused than fellow workers in different countries, it is still an issue. When compared to workers in Germany, France, Spain and Brazil, who had an average of zero unused vacation days, it's clear that many Canadian employers and employees still need to recognize the importance of vacations.
You Deserve A Vacation
Vacation days are a benefit, but they are also the law. Each province in Canada has a minimum number of vacation days that each employee is entitled to use. For example, in Ontario full-time employees are entitled to 2 weeks of vacation for every 12 months of employment. This is the law, and employers and employees should make sure that they understand the legal requirements and stipulations that control vacation days.
While it is a legal requirement, it is often on the onus of the employee to request and use all their available vacation days. This is especially true in companies that offer unlimited vacation days, a policy that is growing in popularity. This can lead to a phenomenon known as "vacation shaming", where employees feel some sort of pressure to not use their full number of vacation days. Vacation days are a legal right that labour advocates spent years fighting for, and employees should not feel guilt or worry about any issues resulting from taking their vacations. You deserve to use these vacation days, and workplaces should always encourage employees to utilize their vacation time in order to take a break and de-stress.
You Need A Vacation (Even When Working From Home)
Stress is a killer. Chronic stress causes a number of very unpleasant symptoms, including:
Headaches
Physical pain
Frequent illness
Chronic insomnia
Cardiovascular problems
Mental health effects
These symptoms can range from being mildly unpleasant, to potentially posing a real and serious risk to our health. During the COVID-19 pandemic, we have all dealt with levels of stress, anxiety and uncertainty on a mass scale that are virtually unprecedented. This has already taken a toll of the physical, mental and emotional well-being of millions of people.
Work can be a welcome distraction for some people. Focusing on work tasks and projects can be an effective way to avoid thinking about unpleasant or worrying thoughts. Doing so for the long-term, however, is not really sustainable. Throwing ourselves into work leads to overwork which leads to burnout, which can really harm our overall well-being. As many as seven out of ten professionals report being burned out during the COVID-19 pandemic. If focusing on work is no longer a welcomed distraction and instead has become part of the problem, it's best to take a step back. It is a real privilege to be able to work from home and to have vacation days that can be used, and it should not be taken for granted.
For many of us, taking a vacation means hitting the road or flying off on an adventure. Taking time off is an important form of self-care, and it is why we still need to take a vacation while working from home. Unfortunately, we are all facing limited options for recreation and time off activities due to the devastating effects of COVID-19. We must continue to be safe and do our part to protect each other, and this means temporarily rethinking what a vacation means. Just because we might not be able to have our dream vacation this year, it does not mean that vacations are not important. On the contrary, the amount of stress and uncertainty we as a society are facing means it's more important than ever to take a vacation and disconnect as best we can.