10 Professional New Year's Resolutions (Part 2)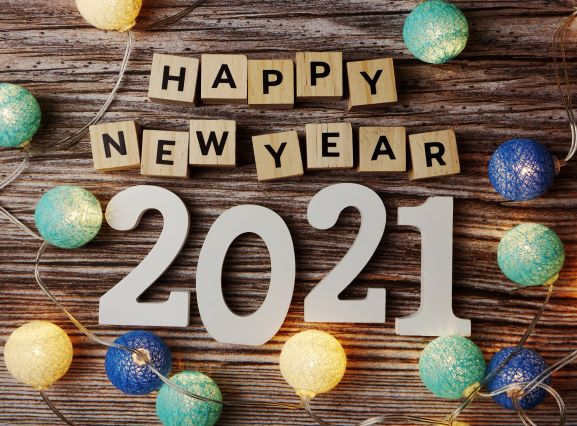 Publié le 18 December 2020
The New Year is finally about to arrive. Soon we'll be counting down the seconds until midnight on the 31st, and at last begin a new year that we can only hope will be an improvement on the last. Jobillico is thrilled to mark the occasion with Part 2 of our list of 10 professional New Year's resolutions. Be sure to check out Part 1!
10 Professional New Year's Resolutions (Part 2)
Stretch and move more
Use breaks, sick days and vacations
Support colleagues
Set goals (but be adaptable)
Be kind to yourself
Stretch and Move More
If it seems impossible that another year has already passed, that new knot in your shoulder and twinge in your knee will make it very clear. New Year's resolutions about getting into shape and exercising regularly are very popular, but it doesn't mean you need to wake up on January first and make drastic changes. Focusing on your physical health is an important goal, and small changes can still have a big impact on your professional life.
For people who work in physically demanding jobs, addressing health needs is key to a long and successful career and employers should also take this into consideration when crafting an employee health benefits plan.
People who work in office jobs also need to pay attention to their physical health. While it may not seem nearly as demanding as working in construction or manufacturing, prolonged office work can also have negative consequences for your physical health. Office work has been linked to muscle and joint issues, nerve damage, carpal tunnel syndrome and heightened blood pressure, which can significantly increase your chance of strokes and heart attacks. These issues can even follow you while working from home.
To help prevent these health issues, you don't necessarily have to hit the gym 90 minutes a day. There are a number of stretches and exercises you can perform at your desk or in your home workspace. Exercise has many benefits, and adapting a healthier lifestyle is a professional New Year's resolution you can accomplish right at your desk.
Use Breaks, Sick Days and Vacations
Have you taken a break today? Work breaks are not only important for physical and mental well-being, they are also the law. Employers are required to give both paid and unpaid breaks, but the responsibility of actually taking them often falls on employees. Regular breaks throughout the work day have been shown to help people lower stress, improve creative thinking and relieve anxiety. Even breaks as short as 10 minutes will help people feel refreshed. As many people continue to work from home, the need to take breaks may not seem urgent, but it is still important even when working remotely.
Using vacations and sick days are equally important. Employees had over 40 million unused vacation days in a single calendar year, not to mention countless unused sick days. Without vacations from work, it is far easier for work-related stress and anxiety to build up and threaten to cause severe employee burnout. While it may seem silly to take a vacation while working from home, it has many benefits for your overall well-being, not to mention that employers are still legally required to provide this time off.
Working when sick has become so common that there's even a word for: "presenteeism". This is when employees report to work while feeling sick without taking the proper time off to recuperate, and it is recognized as a problem in many different injuries. Presentism leads to employees staying sick for longer without proper rest, any work that is completed suffers in terms of quality, and there is a greater chance of making co workers sick and negatively harming the entire work environment. As 2020 has made very clear, staying home when you feel ill and using sick days is the better option for everyone.
Support Colleagues
One of the best things about a shared work environment, be it an office, warehouse, laboratory or anything in between, is the opportunity it provides for colleagues to collaborate and communicate freely. Great things are not accomplished in a vacuum, and working with a diverse team will always help lead to innovation, new ideas and improved work. With the number of people currently working from home, there has been worry about the loss of the workplace community and weakening of company culture. Many offices have added virtual happy hours and even holiday parties to their schedule, helping to keep a sense of community among colleagues, as long as the dreaded "Zoom Fatigue" is avoided.
It's true that having people working in their own separate space does present certain difficulties, there are plenty of communication tools that help to overcome these challenges as long as employees continue to use them. Keeping checking in and reaching out to colleagues, whether it be to get their opinion on a project, congratulate them on reaching an important milestone or simply to ask how their week is going. It's always nice to feel recognized and appreciated, especially when working remotely can increase feelings of isolation for some. With the high levels of stress, anxiety and uncertainty that everyone is dealing with this year, make it a professional New Year's resolution to reach out to a colleague and say hello.
Set Goals (But Be Adaptable)
It's always a good idea to start out the year with an idea of what you want to accomplish for the next 12 months. Big goals require planning, steps and deadlines, but the professional and personal rewards can be well worth it. It's also important to remember that the world doesn't take your goals into account when deciding what to throw at you over the course of the year.
No one could have predicted how much daily life would change over the course of 2020, and it had a huge impact on personal and business goals. Goals need to be adaptable, and people need to be open to change and alteration. Sometimes events completely out of your control will conspire to derail your goals, and instead of beating yourself up you need to be able to change your goals to match current reality.
Be Kind To Yourself
The most important professional New Year's resolution also doubles as a personal one: be kind to yourself. It's been a weird, long and unpredictable year that has had serious consequences on society. Each day has brought different stresses, and there have been times where we truly did not know what we would wake up to in the morning. People have felt emotionally exhausted by the constant uncertainty, alternating with between high moments of stress and strange boredom. It's been hard for businesses and people to adapt to new working situations that require new tools and new ways of collaborating, all while experiencing dramatically altering living situations.
It's easy to get frustrated, upset and stuck in negative emotions, all of which are completely justifiable feelings. The problem is when these emotions get turned inward on yourself. Getting angry and holding yourself responsible for things totally out of your control will not help anything or anyone. It's important to be kind for yourself, and let yourself feel whatever emotions you are feeling. Take the time to recognize the signs and causes of emotional burnout in yourself, don't be afraid to acknowledge that you need to prioritize your mental and emotional well-being. Never hesitate to seek support if you need it.
As the world continues to change into 2021, focusing on your own well-being is only going to be more important, so make being kind to yourself one of your professional New Year's resolutions.