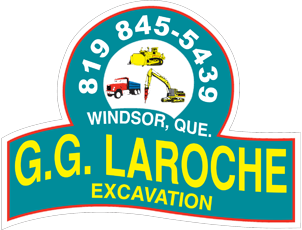 Benefits
Coffee
Commitment to work-life balance
Competitive salary
Free parking
On-going training
Social activities organized by the company
Vacation
---
Description
Excavation GG Laroche, une entreprise bien établie et en expansion, dans le domaine de l'excavation et de la construction, est présentement à la recherche d'un mécanicien en équipements lourds.

Le candidat travaillera principalement dans le garage et occasionnellement sur des chantiers.
Le mécanicien aura à se déplacer sur des chantiers situés principalement dans la région de l'Estrie.
Ce poste est permanent, à temps plein.
Tâches :
En tant que mécanicien tu seras responsable d'entretenir, vérifier, réparer et ajuster des divers composants et systèmes de machineries lourds tels que : embrayages standards et hydrauliques, les transmissions manuelles et semi-automatiques, freins hydrauliques, trains de roulement, systèmes d'alimentation, systèmes d'injection des moteurs diesel, moteurs diesel, commandes manuelles de systèmes comme les pelles, les circuits électriques, etc. Tu devras également entretenir, vérifier et faire la mise au point des moteurs diesel;
Tu auras à vérifier le fonctionnement des bouteurs, des grues, des niveleuses et d'autres équipements lourds utilisés pour la construction et l'excavation, et inspecter diverses machines pour déceler les défauts et les défaillances;
Déterminer la nature des défauts et des défaillances, en se servant d'équipement de contrôle informatisé et d'autre outillage d'essai, en vue de préciser l'ampleur des réparations à effectuer;
Ajuster l'équipement et réparer ou remplacer les pièces, les installations ou les éléments défectueux, à l'aide d'outils manuels ou mécaniques;
Mettre à l'essai l'équipement réparé pour s'assurer qu'il fonctionne bien et que les réparations sont conformes aux exigences du manufacturier;
Nettoyer, lubrifier et effectuer d'autres travaux d'entretien routinier des équipements;
Assurer l'entretien des accessoires et des outils de travail comme des marteaux, plaques de compaction et autres;
Réparer des camions lourds;
Fixer des composantes (chenilles, pneus etc.), installer des accessoires (godets, grappins, marteaux, etc.) et régler des nouvelles machines;
Remplir des rapports pour consigner les défectuosités et les travaux exécutés;
Discuter avec l'opérateur des opérations effectuées, de l'état général des véhicules et des réparations qui devront être fait dans l'avenir;
Maintenir à jour les registres d'entretien et réparation des équipements;
Faire les inspections de 6 mois sur les camions lourds et les remorques;
Céduler les inspections annuelles de SAAQ;
Vérification des rondes de sécurité.
Read more
---
Work environment




---
Requested skills
Exigences :     
Un minimum de 10 ans d'expérience en mécanique de machineries lourdes;    
Le candidat idéal possède une bonne capacité d'analyse, une bonne tolérance face à la pression, des aptitudes de communication et est autonome;          
Avoir le sens du leadership et la facilité à travailler en équipe;  
Avoir le sens de l'implication, de l'initiative, de la planification et de l'organisation;         
Être quelqu'un de débrouillard, qui trouve des solutions, qui a le souci du travail bien fait et qui est ponctuel;  
Capacité à lire des schémas électriques;              
Détenir un permis de conduire valide;  
Expérience en gestion de personnel;     
Expérience dans un domaine connexe sera évalué.        
---
Equal Opportunity Employer
This employer is an equal opportunity employer committed to diversity and inclusion. We are pleased to consider all qualified applicants for employment without regard to race, color, religion, sex, sexual orientation, gender identity, national origin, age, disability, protected veterans status, Aboriginal/Native American status or any other legally-protected factors. Disability-related accommodations are available on request for candidates taking part in all aspects of the selection process.
---
Requirements
Level of education
High school
Work experience (years)
10+ years
Written languages
Fr : Intermediate
Spoken languages
Fr : Intermediate
Other Excavation G. G. Laroche's offers that may interest you