< Back to the events
Events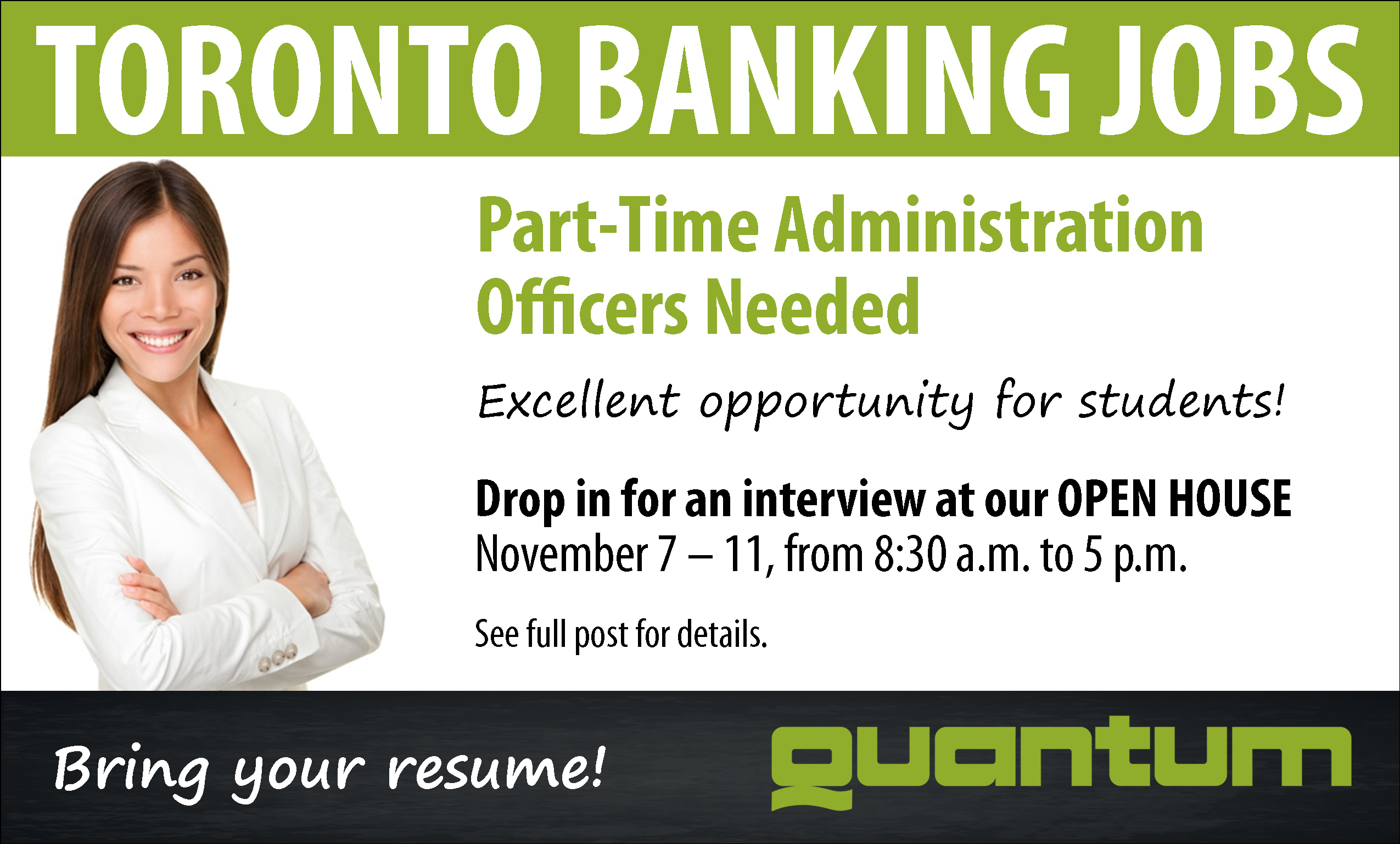 OPEN HOUSE - TORONTO BANKING JOBS
Toronto

,

ON
Monday november 7th, 2016

|

08h30 to 17h00
See all dates
Monday november 7th, 2016

|

08h30 to 17h00
Tuesday november 8th, 2016

|

08h30 to 17h00
Wednesday november 9th, 2016

|

08h30 to 17h00
Thursday november 10th, 2016

|

08h30 to 17h00
Friday november 11th, 2016

|

08h30 to 17h00
Positions: Part-time Administration Officers
Location: Toronto
Job Type: Multiple 3 – 6 month-contracts (part-time work)
Shifts: 4 – 5 hours per day, between 8:30 a.m. to 5:30 p.m. (approximately 20 hours a week)

Excellent opportunity for students! Unilingual part-time positions available! Work before, during the holiday season and into the Spring. Bilingual (French/English) positions also available! 
Shifts: 4 – 5 hours per day, between 8:30 a.m. to 5:30 p.m. (approximately 20 hours a week)
Highly competitive hourly rate!
Our financial services client is looking to add individuals to their growing team on a contractual basis. As an Administrative Clerk, you will be responsible for various administrative duties and assist with general operations and high-volume processing. In addition to administrative functions, the role involves responding to inquiries from internal and external clients.
Qualifications:
- High-volume data entry, back office processing with excellent verbal and written communication skills
- 1 to 3 years of work experience in back office, administrative operations – preferably in financial services
- Postsecondary degree or diploma
- Proficiency in Word, Excel, PowerPoint, and Outlook
- Excellent customer service skills and strong typing and data entry skills
- Attention to detail with a key focus on accuracy
- Background check and 3 references required

What's in it for you:
- Exciting opportunity to work in the financial services sector
- Multiple 3 – 6 month-contracts
- Excellent opportunity for students to work part time before, during the holiday season and into the New Year
- Training starting in November
- Downtown location – easy access to the TTC/GO transit


Please send your resume as a Word document to the following address: huma.malik@quantum.ca.
Events :Banking, students, contract, part-time, shifts, financial, administrative, clerk, operations, administrative officers