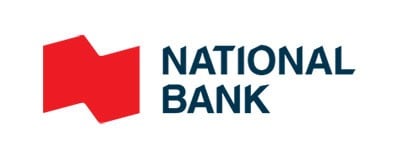 Représentant service à la clientèle
National Bank
Quebec City,QC
Salary

To be discussed

15.00 to 30.0 h - Part time

Permanent job

Published on

April 15th, 2021
Description
Un emploi de représentant service clientèle à la Banque Nationale, c'est entreprendre tes ambitions en améliorant la vie de nos clients, de tes collègues et la tienne! Grâce à ton approche chaleureuse et la qualité de ton service à la clientèle tu feras vivre une expérience humaine aux clients en succursale.
Joins-toi à l'une de nos succursales de Lévis, Québec, Ancienne-Lorette, Val Bélair, Ste-Foy ou Cap-Rouge. Reste à l'affût, notre processus de recrutement est rapide et simple! Les candidats sélectionnés seront invités à des journées d'entrevues!
Ton emploi
Accueillir chaleureusement chaque client et répondre à ses besoins

Aider les clients à effectuer leurs transactions courantes

Accompagner les clients à travers sur les options numériques

Référer à tes collègues experts en solutions d'investissement, de crédit et d'affaires

Proposer des services bancaires et offrir des solutions adaptées

Capacité à établir des relations d'affaires humaines et durables

Identifier les risques inhérents aux activités et gérer la conformité du secteur
Les succursales sont ouvertes deux soirs par semaine et le samedi, selon les besoins. Plusieurs horaires de travail sont possibles et vont varier selon les disponibilités de l'équipe. Le poste se rapporte au directeur service clientèle. Tu collabores quotidiennement avec une équipe composée de plusieurs conseillers en succursale et de spécialistes en investissement, crédit, financement hypothécaire et encore plus.
Notre équipe valorise les passions de tous et les idées audacieuses. Que ce soit pour aider nos clients à atteindre leurs objectifs ou tes collègues à réaliser ce qu'ils adorent dans la vie, nous sommes unis. Nous savons que nous pouvons compter sur nos collègues pour favoriser le partage des connaissances et l'entraide. Comme ta contribution est mise de l'avant, tu peux avoir à prêter main-forte dans une autre succursale.

Notre programme de formation dynamique sur le terrain t'est disponible dès tes débuts. Il te permettra de t'intégrer rapidement et vivre pleinement l'énergie de ta succursale. Tu es accompagné et épaulé par tes collègues tout au long de ton apprentissage, car la complicité d'équipe est au cœur nos valeurs.
Tes Avantages
Dès ton embauche, ou après 3 mois selon ton poste, nous te proposons plusieurs avantages pour que tu puisses t'épanouir. En plus d'une rémunération compétitive, nous offrons plusieurs bénéfices flexibles et avantageux pour toi et tes proches :
Programme santé et bien-être incluant de nombreux avantages

Assurance collective flexible

Régime de retraite à prestations déterminées

Services bancaires préférentiels

Programme d'implication dans la communauté

Télémédecine
Ces bénéfices ne sont que quelques-uns des multiples avantages qui s'offrent à toi. Dans le contexte de pandémie que nous vivons, plusieurs mesures additionnelles sont mises en place pour favoriser ta santé, ta sécurité et ton bien-être.
Nos environnements de travail dynamiques et nos outils de collaborations modernes favorisent une expérience employé agréable. Nous accordons une grande place aux idées des employés. Que ce soit par nos sondages, ou encore par l'entremise de nos programmes, le dialogue en continu et le feedback sont encouragés.
L'humain d'abord
Nous sommes une banque à grandeur humaine qui se démarque par son audace, sa culture entrepreneuriale et sa passion pour les gens. Nous existons pour avoir un impact positif dans la vie des gens.
Nos valeurs fondamentales de complicité, d'agilité et de pouvoir d'agir sont nos sources d'inspiration. L'inclusion est au cœur de nos engagements. Nous offrons un milieu de travail sans obstacle et accessible à l'ensemble des employés.
Nous visons à procurer des mesures d'accessibilité lors du processus de recrutement. Si tu as besoin d'accommodement, n'hésites pas à nous en faire part lors de tes premiers échanges avec nous.
Nous accueillons les candidats de tous horizons et nous aimerions savoir ce que tu peux ajouter à notre équipe.
Prêt à entreprendre tes ambitions?
Read more
---
Work environment




---
Requested skills
Compétences requises :
Diplôme d'études secondaires ou collégiales

Expérience en service à la clientèle

Bonne capacité à établir des relations privilégiées avec les clients

Habile avec les outils technologiques comme les tablettes, les téléphones intelligents et les applications mobiles;

Capacité à bien communiquer en français 
Compétences privilégiées :
Reconnu pour ta rigueur et ta fiabilité

Adaptabilité aux changements
---
Equal Opportunity Employer
This employer is an equal opportunity employer committed to diversity and inclusion. We are pleased to consider all qualified applicants for employment without regard to race, color, religion, sex, sexual orientation, gender identity, national origin, age, disability, protected veterans status, Aboriginal/Native American status or any other legally-protected factors. Disability-related accommodations are available on request for candidates taking part in all aspects of the selection process.
---
Requirements
Level of education
High school
Work experience (years)
0-2 years
Written languages
Fr : Intermediate

Spoken languages
Fr : Advanced

Internal reference No.
Other National Bank's offers that may interest you