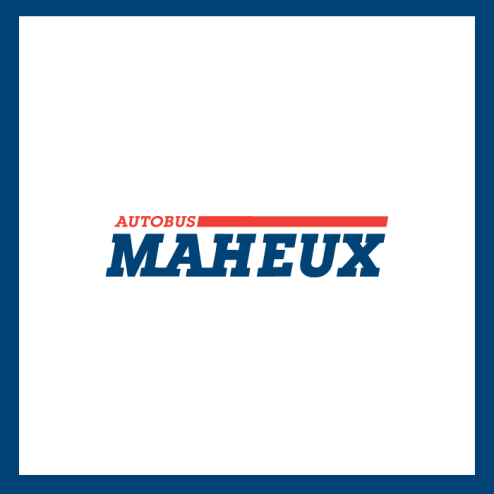 Benefits
Insurance
Assurance collective
---
Description
MÉCANICIEN POSTE PERMANENT – TEMPS PLEIN ROGER MAHEUX LTÉE – DIVISION VAL-D'OR
Roger Maheux ltée, une entreprise du Groupe Autobus Maheux, se spécialisant dans la réparation des autocars et des autobus scolaires ainsi que la vérification mécanique en tant que mandataire pour la SAAQ, est à la recherche d'un mécanicien pour sa division de Val-d'Or.
Relevant du contremaître de l'atelier mécanique, le titulaire du poste a pour principale responsabilité d'effectuer l'entretien mécanique sur les véhicules de la flotte. Il reste à jour dans sa formation et dans les règlements à connaître pour exécuter ses fonctions.
Conditions de travail :

Emploi permanent à temps plein de jour avec possibilité d'être sur appel;
Horaire de travail de 40 heures par semaine;
Salaire à discuter (selon expérience et compétences);
Qualité de vie et milieu de travail dynamique;
Être disponible pour travailler sur appel, au besoin.
Nous vous remercions de l'intérêt porté envers notre entreprise et notez que seuls les candidats retenus pour une entrevue seront contactés.
La forme masculine est utilisée uniquement dans le but d'alléger le texte et désigne aussi bien les femmes que les hommes.
Read more
---
Work environment




---
Requested skills
Le candidat recherché doit répondre aux exigences suivantes :
Détenir un DEP en mécanique;
Avoir 2 ans d'expérience pertinente en mécanique automobile ou véhicule lourd (un atout important);
Posséder idéalement de l'expérience en diagnostic et résolution de problèmes électriques;
Être minutieux, rigoureux, débrouillard et professionnel;
Exécuter un travail de qualité dans un environnement propre et sécuritaire;
Détenir un permis de conduire classe 5;
Posséder la carte PEP (un atout);
Avoir de l'intérêt pour faire de la vérification mécanique.
---
Equal Opportunity Employer
This employer is an equal opportunity employer committed to diversity and inclusion. We are pleased to consider all qualified applicants for employment without regard to race, color, religion, sex, sexual orientation, gender identity, national origin, age, disability, protected veterans status, Aboriginal/Native American status or any other legally-protected factors. Disability-related accommodations are available on request for candidates taking part in all aspects of the selection process.
---
Requirements
Level of education
undetermined
Work experience (years)
undetermined
Written languages
Fr : Intermediate
En : Beginner
Spoken languages
Fr : Intermediate
En : Beginner
Internal reference No.
Other Groupe Maheux's offers that may interest you