How To Write A Resume Headline
Find your new job!

Look for your perfect career match with the Jobillico job search!

Search Now!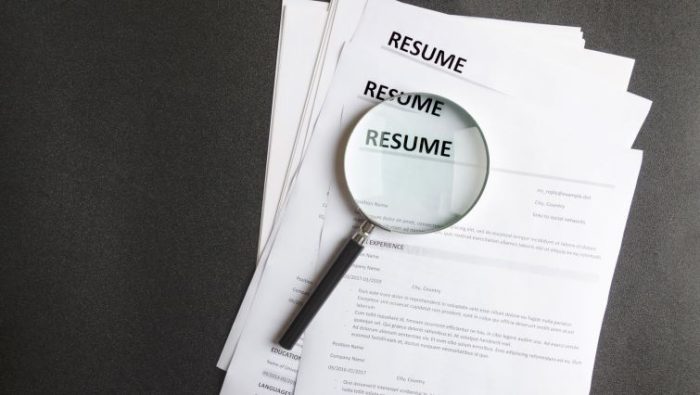 Publié le 6 March 2023
Make a great first impression on a hiring manager and recruiter by knowing how to write a resume headline.
What is a headline on a resume, and how does it help you land jobs better?
It is common knowledge that resumes are a key part of landing a job, but if each employer gets an average of 250 resumes for each role, then you must take every opportunity to stand out.
It doesn't help matters that 24% of hiring managers spend less than 30 seconds on a resume. This means you don't just have to be eye-catching, you need to pass key information across as quickly as possible.
One of the key ways to both stand out and pass key information across is by writing a great headline on your resume. Learning how to write a resume headline that will set you apart will only boost your chances of getting the job.
What Is a Resume Headline?
A good resume headline is a one-liner that summarizes your skills and professional experience. It is a description that encapsulates what you do, and it is often located right under your name and contact info.
A resume headline, when written well, quickly tells the hiring manager who you are as a candidate and the attitude you will bring with you into the workplace.
Here's a resume headline example:
We'll talk more about what makes a good resume headline. Suffice it to say that a strong resume headline can ultimately help the recruiter decide who can move on to the next stage of the resume sorting process.
Difference Between a Resume Headline and Resume Title
To be clear, a resume headline and a resume title are NOT the same.
A good headline is made to highlight your key skills and experience, thus showcasing your selling points as a job candidate. A resume title is your professional title. The first example we gave was a resume headline, so here's how a resume title looks.
Both the headline and title should be carefully written for the position.
However, if you need to pick just one to write, it's advisable to choose the resume headline. This is because your resume headline has your job title plus key skills and experiences. It contains more information about yourself and your professional experience.
Why Is a Resume Headline Important?
A great resume headline is important for several reasons. It helps you stand out. It tells hiring managers that you are relevant for the position right away. For each job application, your resume headline should be tailored to reflect the key skill needed for that job role. This way, you'll stand out even with a 6-second resume scan.
If you have a specialization that the employer finds advantageous, e.g. 10 years of experience handling top SaaS companies, then a resume headline is the best place to put it. It helps to use the same keywords in the job description template the hiring manager used to create the job announcement. We'll talk more about why this is important in the next section.
Also, don't just incorporate your hard skills into the headline. Around 61% of employers value soft skills as much as hard skills.
It helps you get through the applicant tracking software. A lot of employers use ATS (applicant tracking software). This software scans all applications and sends the HR managers only the "matches." About 75% of applicants are rejected by this software.
ATS typically scans resumes based on predetermined keywords given by the hiring manager. This makes life easy for them, but it also means loads of CVs don't even get the 6-second scan. To make sure you pass through an ATS, write a catchy resume headline that has the right keyword density.
It gives your resume a theme. Tailoring your headline for the employer means there are certain key things you need to highlight throughout your resume. With the headline as a starting point, your entire resume should have a flow that is in line with the role advertised.
5 Tips for Writing a Great Resume Headline
That said, how do you write a good resume headline? There are five tips you should follow:
Identify Your Key Selling Points
As we discussed previously, putting something that showcases your success in the role on your resume headline is key to getting noticed.
Your key selling point could be specific accomplishments, an award you've won in the cause of the job, a sought-after certification, or your years of experience.
Tailor Your Headline to the Job
You may have filled in many roles in the same line of work, or you may be looking for a better career path within similar industries.
In both cases, you probably already have relevant skills for the job advertised. Therefore, your focus should be highlighting those particular skills that fit the job description.
Remember, it's not the job of the recruiter to figure out if your skills are transferable or if you are a good fit. Instead, it's your job to highlight the skills that they need.
Your resume headline should be a one-liner, so don't write a paragraph. Instead, focus on making it concise while passing across the key points. Your resume headline should be a single phrase that includes keywords.
As much as possible, use action verbs on resume headlines to showcase what you've "accomplished," "coordinated," or "executed." These increase your chance of getting an interview by 140%.
Action verbs show you have a proven track record and give hiring managers measurable insights into your ability to succeed in the role advertised.
Did you know that 75% of HR managers have caught a lie on a resume? This isn't a good thing, as it drastically decreases your chances of getting hired.
When writing your resume headline and your resume as a whole, it's important to be honest and accurate. This way, the hiring manager can see your achievements while having faith in your integrity and professionalism.
Examples of Good Resume Headlines
Now that you learned the characteristics of a good resume headline, let's look at some examples of good ones:
Notice that the headlines above highlight a specific job role as well as a key achievement within that role. The resume headlines are short as well, with the longest having only nine words. They aren't full sentences and are just one-liners. Take note of the action verb "attained" in the last resume headline as well.
If these headlines are tailored to the job post being applied for (and are accurate), chances are the job application will prompt the hiring manager to further review their CV and cover letter. The applicant is also more likely to be shortlisted for the next stage.
You can use these headlines as your inspiration in writing your own. Just remember, ultimately the key is to highlight that something that makes you a cut above the many others applying for the same position.
In Closing
What is a headline on a resume? It's that one-liner in your resume that summarises your entire career. You need it to stand out to catch the eye of the recruiter.
You learned tips on how to write a resume headline that stands out. Make sure it has a key selling point, which could be anything from the number of years you've worked, major accomplishments, a key award, or your certification.
Tailor it to the specific job listing advertised and make sure it's accurate as well. Good resume headlines can also have action verbs. These make your work measurable and help the HR manager gauge your abilities.
All-in-all strong resume headlines greatly impact your ability to move on to the next stage and land a job interview. Just put in the effort, and you'll reap the best results.