6 Career Tips for Anyone Who Has Been Laid Off
Find your new job!

Look for your perfect career match with the Jobillico job search!

Search Now!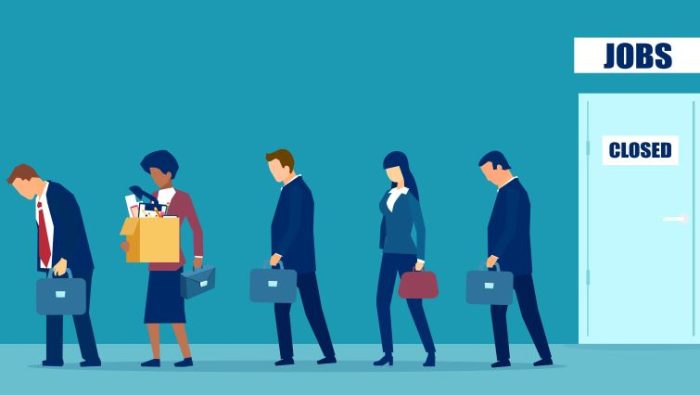 Publié le 12 April 2021
Dealing with an unexpected layoff can be difficult, but by following 6 career tips for anyone who has been laid off you will set yourself on the path for continued career success.
Life is full of challenges, but that doesn't mean it's all bad.
Dealing with a layoff can seem like a huge challenge, but being laid off from work can also turn into a chance for you to find new career opportunities.
First of all, it's important for you to know that layoffs can happen to anyone, anytime. A number of businesses contract, reduce staff or shut down due to many different extenuating circumstances, and certainly not through the fault of individual employees.
So, how should you face this layoff?
By being determined that you will overcome this challenge and embrace it as an opportunity!
Follow these 6 career tips for anyone who has been laid off:
Know that you weren't fired
Update your resume
Update your LinkedIn profile
Learn to network
Learn in-demand skills
Assess your financial situation
1. Know That You Weren't Fired
Understand the difference between "terminated vs. laid off" and "laid off vs. fired."
"Laid off" means what, exactly?
Getting laid off means that you were not fired or terminated.
More often than not, layoffs occur due to factors completely outside of your control.
You can likely think of many reasons for which employees might be laid off from a company, including:
Downsizing and staff redefinitions
Company-wide cost reduction efforts
Company mergers and restructuring
Being fired or terminated from a job, on the other hand, can occur due to individual factors, such as performance issues. This sets it apart from being laid off.
Although it is natural to feel regrets or even guilt, don't blame yourself for a layoff. There is no need to feel ashamed about your situation.
There are a couple of other vital differences between being laid off from work and being fired that you should take note of.
Perhaps most importantly, after being laid off you usually get additional benefits from the employer . Depending on your contract, these may include:
Severance pay
Insurance continuation
Support in finding another job
You can also claim unemployment benefits and insurance from your municipal or federal government after being laid off.
On the other hand, being fired or terminated usually means no access to such benefits, including unemployment benefits.
2. Update Your Resume
Once you get a clear picture of your post-employment situation, it's time to search for a new job!
The first thing you need now is an updated resume. Make sure you utilize all of your on-the-job accomplishments and experience to the fullest on your resume, as these are still relevant and important. Don't forget to customize and tailor your resume each time you apply to a new position.
If you are wondering how to address the fact that you were laid off in your resume, simply consider it to be the completion of a job.
This is where the distinction of being laid off vs. fired is important. Treat a layoff on your resume in the same way as if you had willingly left your job.
Don't fudge the end date, fearing it might make a bad impression on prospective employers. Just include the month and the year of your last day at the office and leave it at that. If it comes up during your next job interview, simply be honest about the situation.
This is where you have the chance to embrace your current circumstance of unemployment as an opportunity for bigger and better things ahead.
If you need the assistance of expert resume writers who will know just how to describe your job experience, check out these affordable resume writing services.
3. Update Your LinkedIn Profile
After fixing up your resume, take time to update your LinkedIn profile to reflect your current circumstance of unemployment.
The debate is still open on whether you should put "open to new opportunities" or "looking for work" phrases on your LinkedIn headline.
However, the majority of the job search experts advise against using such phrases in your headline.
You can consider using LinkedIn's new "Open to Work" feature that allows recruiters to find talent actively seeking a job on LinkedIn.
Apart from these changes, revisit all the other sections of your LinkedIn profile and freshen them up as needed.
If you want additional advice to make your profile stand out, consider getting help from these great LinkedIn profile writing services.
4. Learn To Network
After brushing up that profile, it's time to use it to transform from unemployed to employed once more.
LinkedIn is the go-to networking tool for job searching. Recruiters and hiring managers actively seek and vet talent on LinkedIn.
Along with searching and applying for jobs via LinkedIn, here's a tip:
Seek out the hiring managers and key decision-makers for the jobs you are applying to.
Send these key people a connection request with a personalized message.
If you're not sure where to start, try reaching out to people within your network who are working in companies that are hiring. Ask them about the decision-makers and how best to reach them.
Another way to expand your network during your job search would be to reach out to people in your targeted companies and industries.
Also, this is a time to let close friends and family know you are looking for work so that they can keep their eyes and ears open within their professional circles.
5. Learn In-Demand Skills
Often, a job dismissal can mean that you are entering the job search process after many years in the same role.
Naturally, the industry has changed during this time, and the skills employers are looking for in new hires for your position might also have changed.
But don't fret. Employers and companies consider continuous learning to be an important part of the job, so you can use this as an opportunity to expand your skills… and your prospects!
Go through a few recent job posts for your targeted roles. What are the most prominent skills mentioned repeatedly in the job posts? Are you proficient enough in those skills?
If not, it's time to put on the learning hat and get study. Take some online classes to get updated on those in-demand skills that look great on a resume and give you valuable knowledge in the workplace.
Online courses and degrees are also quite efficient ways of mastering new skills and acquiring certifications that will help you stand out to recruiters as a qualified job candidate.
6. Assess Your Financial Situation
After a job dismissal, you'll need to take a close look at your finances. You will likely want to find a new job similar to where you were just working. Waiting for something to open up in your industry, however, could take some time.
You have to ask a difficult question: how long can you and your family comfortably live without you earning an income from any job?
If you can't go for too long a period without any job, here are a few options to look into:
Temporary work
Part-time work
Freelancing projects
Accepting a temporary job or even a part-time position will provide you with financial support and offer you the opportunity to enhance your resume with some new skills and experiences. It can also help you minimize the unemployment gap while you keep searching for a permanent job role in your desired industry.
In Conclusion
In conclusion, let's review and remember the 6 career tips for anyone who has been laid off:
Know the difference between terminated vs. laid off and laid off vs. fired: laid off means that losing your job was not your fault.
After being laid off, refresh and update your resume and LinkedIn profile.
Seek assistance from professional resume writers and LinkedIn profile experts if needed.
Actively reach out to your professional network and expand your network on LinkedIn.
Update your skill set by learning new in-demand skills and abilities.
Take on temporary, part-time, and/or freelance work, if needed, during the interim period.
Being unemployed for any length of time can be difficult. It's probably one of the most challenging times a person can face, especially if the job loss comes unexpectedly.
However, remember that being laid off doesn't mean the end of the world. It can instead be the first step in a new direction.
Believe that better days are right around the corner, and keep pressing ahead!