The Benefits of Virtual Reality in the Retail Workplace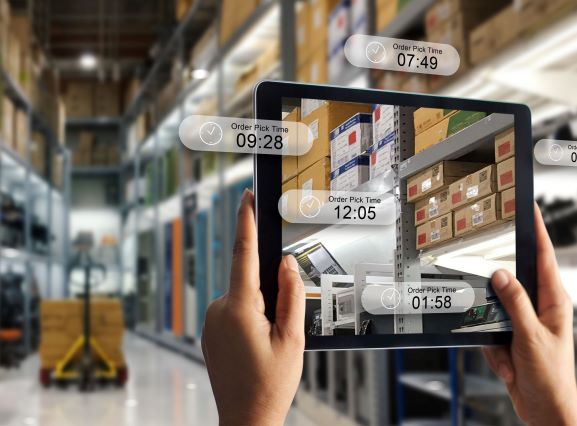 Publié le 9 March 2020
Technology is an inescapable force that continues to change businesses at an incredible rate of speed. Just by taking a look at the top HR trends of 2020, it is plain to see that tech is affecting practically every industry, and the retail sector is no exception to this phenomenon. The latest trend to affect the retail industry involves the integration of virtual reality and augmented reality tech into their day-to-day operations. Companies are exploring new options to utilize the cutting-edge technologies of VR and AR. The benefits of virtual reality in the workplace are able to enhance the experience for both their customers and their own employees, affecting the areas of human resources, worker training, customer experience and more.
For Businesses and Workers
A retail business needs to embrace emerging VR and AR technology in order to remain competitive. It allows for the opportunity to streamline the recruitment process, improve the design and workflow of the stores themselves and increase efficiency for both employees and customers.
Find and Train the Best
Establishing a strong and productive business environment starts with the recruitment and onboarding process. By investing in virtual reality and augmented reality technology, it provides human resource managers with a unique set of tools to attract, train and retain the best job candidates. If employees feel that they are involved in a dynamic and adaptable business environment, the odds of retention greatly improve.
VR and AR tech allows for:
Enhanced testing during the recruiting process
Immersive training during onboarding
A clear example to employees that this is a forward-thinking workplace
Ease of Store Design
The design and layout of a retail store involves a surprising amount of actual science. Item placement, shelf height and floor layout play a large, albeit subliminal, role in creating the perfect experience for visiting customers. Through the use of virtual reality, stores can test an almost infinite number of layouts to determine which will be best for their business. There are many advantages to using a virtual or augmented reality environment rather than experimenting in an actual physical space. These include:
No heavy shelves to move around from spot to spot
Employees and products are safe from possible accidents
Significantly less time is required to transition to a new layout
Behind the Scenes Efficiency
A well-run store operates like a well-oiled machine. To ensure this continues, businesses are always looking for new and innovative ways to increase productivity and efficiency during the training and onboarding stage. Innovation requires experimentation, and a great deal of time at major retail stores is spent developing new training processes. The use of VR can be extended to behind the scenes at the retail workplace in several ways:
Training new employees on proper procedures
Identifying any possible redundancies without impeding actually customers
Performing collaborative assessments while experimenting with new workflow possibilities
For Customers
The integration of technology has created a push and pull between consumers and companies. Many customers are now more than content to do all their shopping online, and simply wait for their new appliance, equipment or pair of shoes to be delivered right to their door. Using augmented reality is an effective method to provide customers with a unique in-store experience which they can't get at home. While it may seem that this means businesses will have to invest in expensive proprietary VR and AR devices, the answer may already be in the pockets of the majority of customers.
An Interactive Shopping Experience
According to a recent poll, between 70%-80% of retail customers with a smartphone are eager to use VR and AR apps on their phone to enhance the shopping experience. There are several ways in which smartphones could be utilized:
Using AR at a furniture store to see exactly how a new couch will fit into a customer's home
As a visual guide for customers to select the products they want and be led to the in-store location
Receiving and sending real time feedback regarding products from other customers
Unique In-Store Experiences
While there are many benefits of virtual reality and augmented reality tech on the human resources and training side of a business, it can also greatly assist the marketing and promotion of a company. Retail stores have never been more aware of the need to provide customers with a unique experience that will bring people through the front door. A store needs to give customers a reason to visit in person as opposed to doing all their shopping online. For example:
North Face allows customers to virtually climb the peaks of Yosemite while testing out their new outdoor gear without leaving their flagship stores. This uses VR to enhance the overall branding of the company and is also a way to craft a unique experience that aligns with their products.
The Topshop store in London lets customers travel on a virtual water slide throughout the city, all without getting a drop of water on them. It may not seem like it has much to do with selling clothes, but it does promote their image as a fun and forward-thinking company.
A Fundamentally Different Way of Shopping
Online shopping is taking up an ever increasing share of the retail market, and companies must adapt and accommodate this trend. While the idea of a customer wearing VR goggles to interact with a virtual recreation of store in their living room may seem unlikely, companies must continue to find innovative methods to embrace tech use among their clients. This entails:
Designing an online interface which utilizes the full capabilities of augmented reality
Taking advantage of the opportunity for immersive viewing experiences
Crafting an efficient method of product organization which does not overwhelm the customer
The integration of virtual reality and augmented reality will undoubtedly have a large impact on the retail sector and shopping industry. Businesses have to embrace the opportunities offered by advances in tech for the benefit of both their customers and their own employees. With proper implantation, VR and AR technology has numerous uses in a retail environment, from the recruitment and training process to the in-store customer experience and every step in between.
The store of the future will be one that successfully incorporates these new technologies, creating a unique and positive environment for employees and customers.