How to Post a Job on Google
Find your new job!

Look for your perfect career match with the Jobillico job search!

Search Now!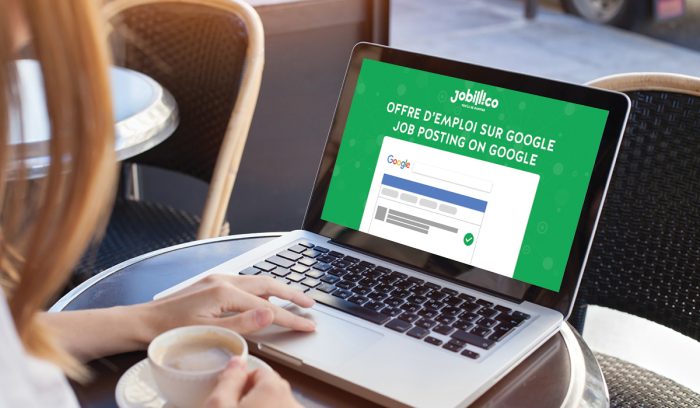 Publié le 10 May 2018
Starting April 2018, Canadians nationwide will be able to access job postings matching such searches as "jobs near me", "teacher jobs in toronto".
The question is "How can a small business leverage this new opportunity and post jobs that will rank well in Google search results?"
In this article, we reveal everything you should know to get your job postings on Google's job search engine and make them appealing to job seekers.
What is Google's Job Search Feature?
This new feature aggregates job listings from job boards and career sites to show them upfront via the search engine. To users, it will seem that the job is posted directly on Google.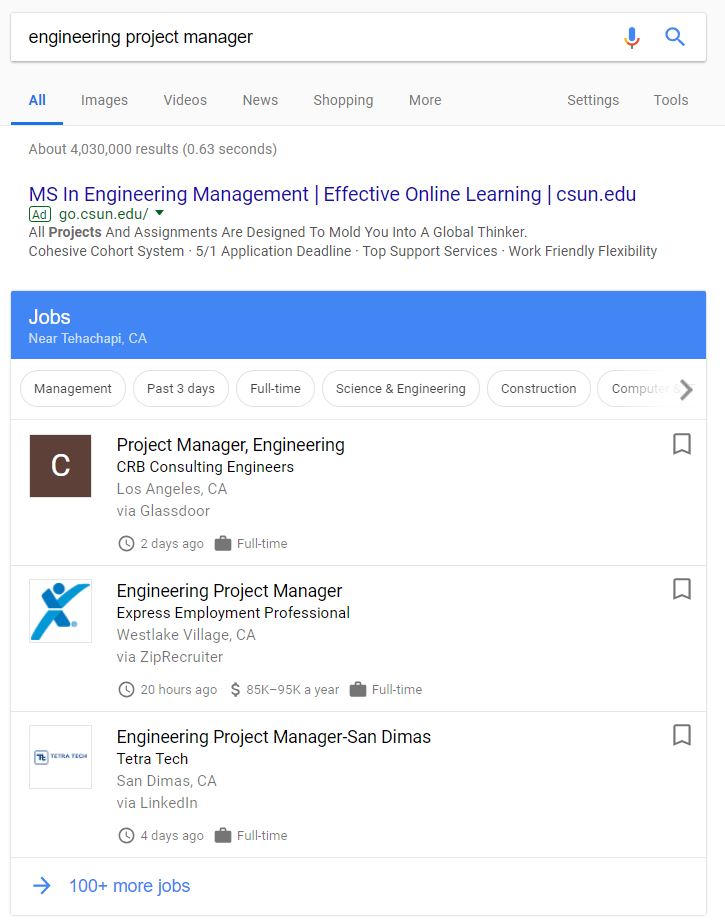 How to Get your Job Postings on Google
Google is not a platform on which you simply upload job descriptions and see them posted on the web instantly. The search engine is an aggregator that finds job postings across the web on sites such as Jobillico.
If visibility is what you're aiming for, you need to help Google understand where your job postings are.
There are two ways to do this:
#1 Make sure that you are integrated with Google
Make sure that your job postings can be found easily on the web (that is, not protected by a robots.txt file or by a META tag robot).
Add structured data to your job postings
Inform Google about changes to your job postings by sending frequently updated sitemaps.
See Google's official guidelines to find out how you can add the necessary markups to your job postings structured data so you can come up on Google.
#2 Post on a Google partner Job Board such as Jobillico
Jobs posted on Jobillico are automatically programmed to be discovered by Google's search engine and displayed within the search results.
Find out how to post your jobs on Jobillico!
How can I rank higher on Google's job search engine?
#1 Write a compelling job offer
No one can know for sure what Google's algorithm is. What we DO know is that a compelling posting always gets more results. To this end, Jobillico has put together a guide on how to write effective job postings and increase your chances of coming up at the top of searches.
#2 Make sure that your data is compelling.
Sparse, empty-looking posts and listings are not much help.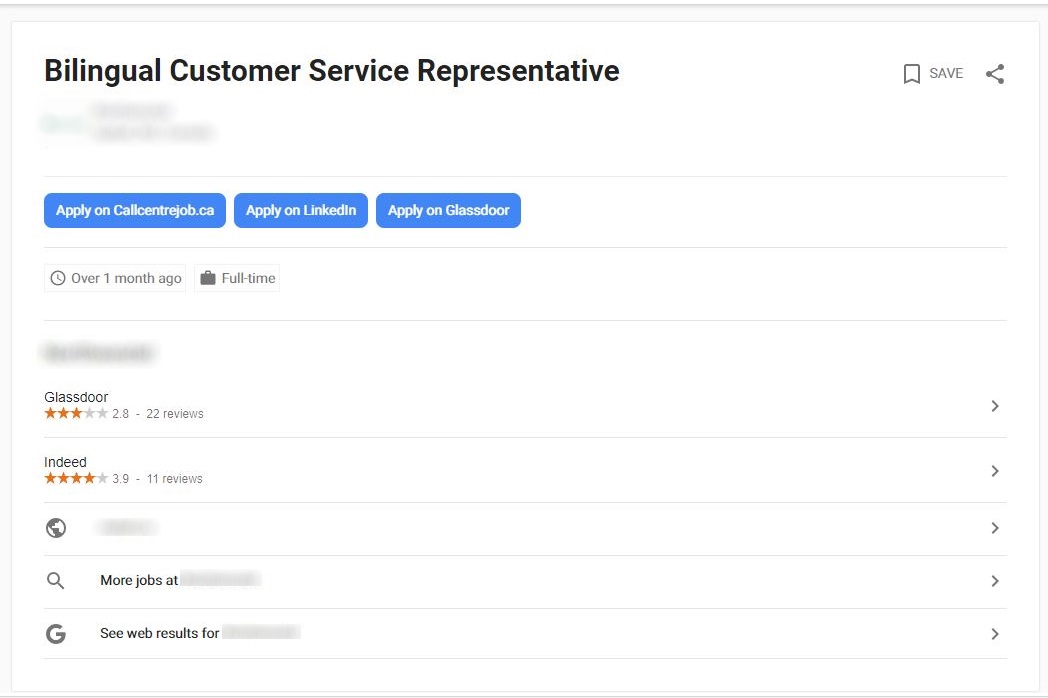 #3 Lay out the information in a clear, easy-to-read format.
If your jobs posted ends up looking like the one below, its likelihood of being read or even noticed will drop like a rock.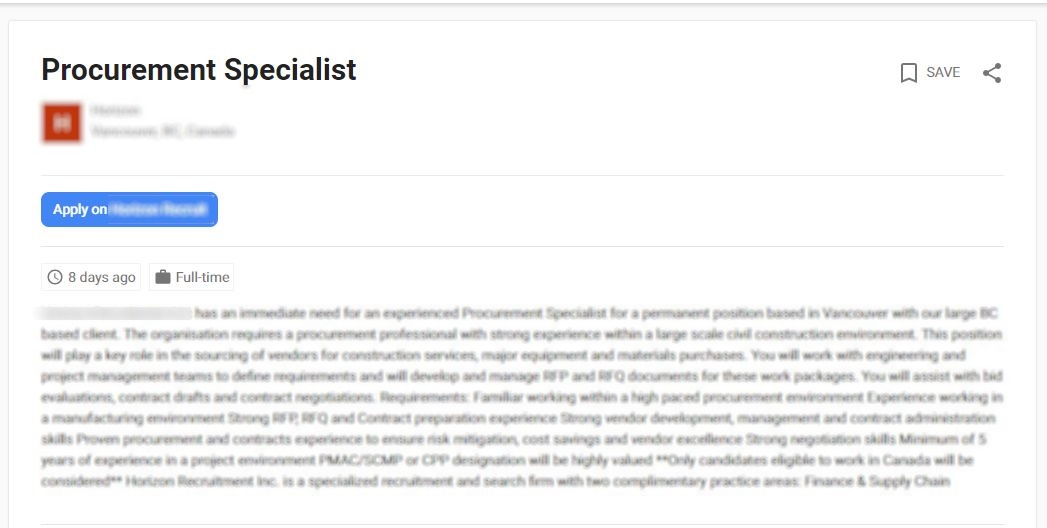 Make sure to add HTML coding in the description field for better display. (You can see this in Structured Data Testing Tool)

#4 Post several times
Employers who post several different jobs from the same platform often see an increase in the number of applications they get.
How can I obtain traffic statistics from Google?
In the Google Search Console you will be able to see the number of clicks and print-outs, CTR, and position for your job listings. Also, Google automatically tags the URL of each of your job postings with a UTM link so you can track them in Google Analytics.
Do's and Don'ts to help you get your jobs posted on Google
Do: add a job posting that lets a job seeker apply for an available position in your company. Don't let any expired job postings appear on the Web.
Don't: add a JobPosting markup to a page that is not a job posting; post a job without any way to apply on it; post jobs that require any form of payment, etc. See full list here.
Do: add structured data markup to the text of an individual job description.
Don't: add structured data to the posting's URL or to a page which merely lists job postings.
Do: keep your sitemap updated, at least daily.
Don't: leave expired job postings or links to deleted URLs on the web.
Google's Job Search Feature : Posting FAQs
How can I get my jobs on Google?
Google has many tools to help you integrate with their job search engine. You may, for example, validate your job posting markups with the Structured Data Testing Tool, check the compatibility with Rich Results Tester, and track your traffic with the Google Search Console.
What is most important in order to get my job postings on Google?
When creating a posting, follow the instructions and advice provided in the Google and Schema.org documentation.
How do I add the markup?
To tell Google where your job postings are, you need to add microdata or JSON structured data to each post. Contact your webmaster or simply post your job on Jobillico's platform. As we are partnered with Google, every job posting is directly integrated with Google's job search engine.
How can I find out how many job postings are indexed?
Go to your search console and check out the Rich Cards Report.
What should I do if my posting doesn't display properly?
The posting isn't showing up.
There are many reasons why your posting may not show up among Google search results. Here's what you can do:
Find out if your job posting is indexed by Google by performing a search. You could, for example, enter the page you are looking for in Google's search engine (something like yoursite.com/yourjobposting would do). If your page doesn't appear in the search results, then it is not indexed and Google will be unable to display it. Should this be the case, see if your page is blocked by your robots.txt or by META tags.
Validate your markup with the Structured Data Testing Tool
Keep track of your sitemap status with the Search Console
See markup error examples to see if you can find possible improvements to make.
The logo is not showing up.
To make sure that your logo is displayed within your postings, add it to your Google My Business and YouTube accounts.
If it seems complicated to post a job on Google, just get in touch with us. As Jobillico is a Google partner, all job postings on our website are formatted to display on the world-class giant of web searches.