The Average Canadian Salary in 2019
Find your new job!

Look for your perfect career match with the Jobillico job search!

Search Now!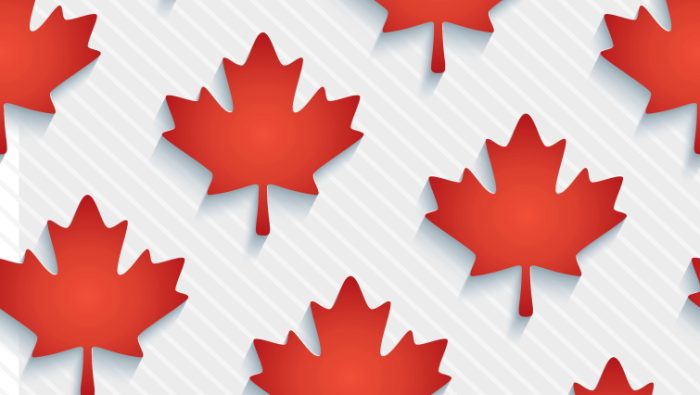 Publié le 20 June 2019
How much is the average Canadian salary in 2019? Is there an industry that is growing exceptionally fast? Which areas of the country are experiencing the most economic growth?
Statistics Canada has released another round of data highlighting wage and salary growth for several industries and in different areas of the country. By analyzing this data, we can find answers to these important questions while also providing employees and job seekers with useful information about their industries. At the same time, young people preparing to enter the workforce can learn where in Canada their skills will be the most valued and target their job searches to these areas.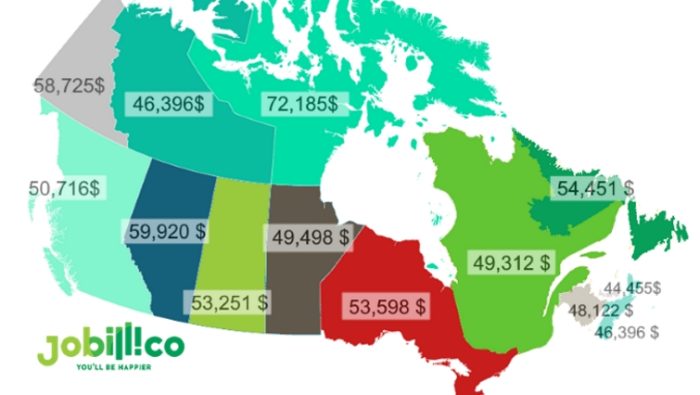 The Average Salary for Canadian Employees
As of January 2019, the average wage for Canadian employees across the nation was $1,011.62 per week – which works out to just over $52,600 per year. The overall trend is positive, with the majority of Canadians making more money than in the previous year.
When compared to data from January 2018, the average salary in Canada has risen by 2% over the past 12 months. This level of growth is fairly standard when comparing average salaries on a year-by-year basis.
Average Canadian Annual Salary by Province and Territory (data from January 2019)
Newfoundland and Labrador – $54,451
New Brunswick – $48,122
Nova Scotia – $46,396
Prince Edward Island – $44,455
Québec – $49,312
Ontario – $53,598
Manitoba – $49,498
Saskatchewan – $53,251
Alberta – $59,920
British Columbia – $50,716
Yukon – $58,725
Northwest Territories – $73,620
Nunavut – $72,185
While the average salary has grown on a national level, it doesn't mean that people make the same amount in each province and territory. According to the data, the average salary remains high in Ontario, Alberta, and British Columbia — areas which are traditionally strong economically.
At the same time, the typical annual salaries in Saskatchewan and Newfoundland and Labrador have risen to among the highest in the country, equaling Ontario and only being surpassed by Alberta. Of interesting note is that the highest average annual salaries are found in Nunavut and the Northwest Territories. This is a sign that the Canadian energy sector continues to dominate the national economy.
Average Canadian Annual Salary by Job Sector (data from January 2019)
Canadian Industries with the Most Growth
Studying the industries that are experiencing an above average level of salary growth can be a great tool for job seekers. While the average Canadian salary has increased by 2% over the past 12 months, there are certain job sectors that have experienced an even greater amount of economic growth:
Forestry and Logging – +10.3%
Information and Culture Industries – +9.4%
Administrative and Support / Waste Management – +6.5%
Arts, Entertainment and Recreation – +5.7%
Mining, Oil and Gas Extraction – +5.0%
Industries involving natural resources have experienced tremendous economic growth across the country. The average salary in the forest and logging industry grew by 10.3% from January 2018 to January 2019. During this same time period, wages in the industries related to mining and oil and gas extraction grew by 5.0%. This remains the major job sector with the highest average salary in Canada.
Interestingly, industries related to culture and the arts also experienced a high level of wage growth over the same 12 month period. The average salary in information and cultural industries grew by 9.4% and art, entertainment and recreation sector salaries grew by 5.7%.
Canadian Industries where the Average Annual Salary has Declined
Despite the fact that the national average Canadian wage and salary has increased over the past year, the same cannot be said for every specific job sector. Four Canadian industries have actually seen their average annual salary decrease by varying amounts since January 2018:
Utilities – -7.7%
Finance and Insurance – -5.8%
Management of Companies and Enterprises – -2.4%
Real Estate (Rental/Leasing) – -2.2%%
The fact that the average salary in these industries has decreased does not mean that there are only low-paying or minimum wage jobs to be found. The utilities sector still enjoys the second highest average annual salary – $95,815 per year – even after experiencing a -7.7% decline in the average salary from January 2018. With knowledge of these overall trends, job seekers are in a better position to plan their professional future.
The Canadian Job Sectors with the Highest Average Annual Salary
Mining, Oil and Gas Extraction – $111,841
Utilities – $95,815
Management of Companies and Enterprises – $86,465
Professional, Scientific and Technical Services – $72,961
Finance and Insurance – $68,777
Judging from the data gathered by Statistics Canada, the highest-paying sectors are those dealing with energy and natural resources, and management roles in larger institutions. Jobs in mining, oil and gas extraction have the highest average annual salary in the country, reaching the six figure range. The fact that the utilities industry enjoys the second highest average salary is a sign of the continued strength of the Canadian energy sector.
Job sectors that require highly specialized knowledge and experience continue to have high average annual salaries. These sectors include company and enterprise management along with scientific and technical services.
While the average wage in the finance sector has declined, this can be mainly attributed to fluctuations in the global economic market. Finance still enjoys the fifth highest average wage in the job sectors reviewed by Statistics Canada.
The data from Statistics Canada makes it clear that each job sector and every area of the country offers unique employment opportunities for job seekers. Understanding the average Canadian salary in 2019 is a useful tool for job seekers looking to plan their future and determine where their skills and abilities will be the most valued.