5 Ways to Take A Vacation While Working From Home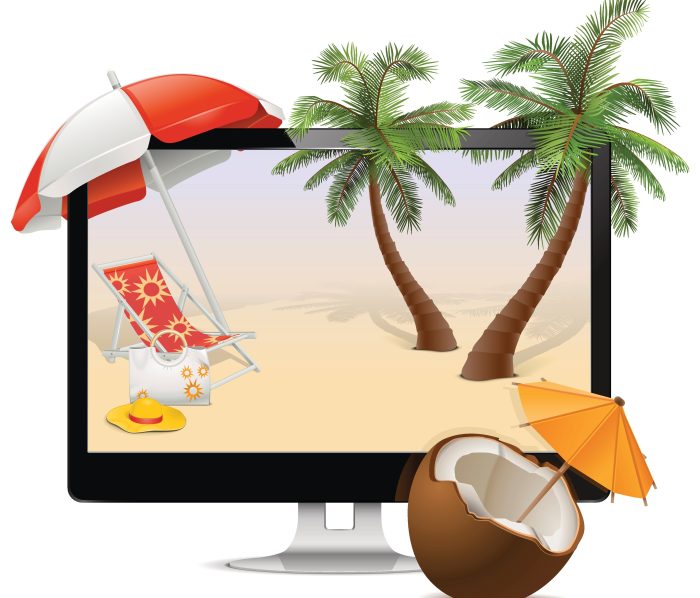 Publié le 5 June 2020
A vacation is something we look forward to all year. It's an opportunity to try something different, have new experiences and leave some of our worries behind. The COVID-19 pandemic has radically changed everyone's plans this year, right after a record 1.4 billion people went on vacation in 2019. For those of us fortunate enough to continue working from home, the idea of taking a vacation may have never even crossed our minds. Vacations are still important to our overall health and wellbeing, and we should make it a point to take an extended break. We might not be able to head straight for the airport and fly away to somewhere else, but there are multiple ways to get some of these same experiences while staying safe. Here are 5 ways to take a vacation while working from home:
Online museum/gallery tours
Virtual walks
Cook something new
Go outside
Do nothing
Online Museum/Gallery Tours
Visiting museums and galleries is one of the most popular activities for people to do on vacation. It is an opportunity to explore unique histories and cultures through incredible artifacts and art. Despite the fact that many museums and galleries around the world are currently closed or have placed necessary restrictions on the number of people visiting, it doesn't mean that we can't experience these incredible exhibits and collections. World-class museums are now offering virtual tours, so that people can explore their collections all from the safety and comfort of their own homes.
You can explore:
You can even see the Mona Lisa up close, without being crammed together with dozens of tourists standing so far away that it looks like a postage stamp. No matter your interests, you can find museums and galleries dedicated to providing opportunities for deeper knowledge and further exploration. It's a great way to take a vacation while working from home.
Virtual Walks
Vacation and travel is a great way to get out and explore the world. Seeing famous landmarks, exploring the small side streets and experiencing nature are all incredible opportunities to experience the beauty of cities, towns and communities around the world. Not to mention that getting outside in the sun and fresh air just feels good. While we can't explore the sights of some of the world's most beautiful and famous places in person right now, you can still spend the day exploring somewhere brand new at your own pace with virtual walks.
Google Street View allows you to click through and explore streets around the world. From megacities to small villages and everything in between, all right at your fingertips. If you would prefer a bit more of life-like experience, there are entire YouTube channels dedicated to long, uninterrupted videos of virtual walks. You can sit back and imagine you're walking through famous capitals, ancient ruins, national parks and natural landmarks, with all the sights and sounds. Some videos are even set up so you can watch them on a VR headset for an experience that is as immersive as possible.
Cook Something New
Let's be honest, travel is a great excuse to eat as much delicious food as we possibly can without feeling any guilt (we all agree that vacation carbs don't count, right?). That's why there are entire TV networks devoted to filming people going to different cities and eating at expensive restaurants. It's easy to fall into the same eating patterns and habits while working from home, especially for those of us who didn't consider cooking to be a hobby in the first place. With necessary distancing restrictions in place, one alternative that restaurants have turned to to remain in business is ready-to-cook meal kits.
Simply place your order online or over the phone, and either pick-up or wait for your meal kit to be delivered. Inside will be instructions and all the ingredients you need to cook a delicious meal. This is a fun way to try something different and learn a new skill. For those of us like a sweet, cold drink with a little umbrella on vacation, you can also order cocktail kits for delivery that will let you mix your favourite drinks whenever you want to bring that beach-side bar right into your home.
Go Outside
Social distancing is an important part of slowing the spread of COVID-19. Even as time moves on and we start to feel ready to return to something somewhat normal, it is vitally important that we listen to public health officials and do what we can to protect our communities. Health officials have spoken about the importance of getting outside for our overall wellbeing, albeit as safely as possible.
Going outside isn't just fun, it's actually good for our health. Sunlight releases serotonin and provides vitamin D and other essential nutrients, all of which have shown to have positive effects on our mental health. Studies have shown that people who take 30 minute walks, 3 times a week experience lower activity in the area of the brain associated with negative thoughts. Taking a vacation while working from home doesn't mean that you need to stay inside the whole time. As various jurisdictions slowly begin to lift distancing restrictions, more public areas are opening up for use. As long as we follow the rules, act safely and remain mindful of others at all times, we can go outside, experience the world and take a break from our combination home/workspace.
Do Nothing
Sometimes the best thing to do on a vacation is absolutely nothing. While vacations can be wonderful, life-changing experiences, they are also an opportunity to de-stress and recharge ourselves physically, mentally and emotionally. This is easier said than done, unfortunately. Call it over-saturation, FOMO, or just plain anxiety, it can require real work to be able to relax and calm ourselves. Taking time away from work can be an opportunity to better learn how to keep ourselves calm and release negative thoughts. There are breathing exercises, meditation apps, calming music and sound effects, all of which can be useful tools to quiet our minds. Sometimes though, the best thing we can do is turn off the lights, close our eyes and do nothing.
Do not underestimate the importance of sleeping. Sleep lets our minds and our bodies rest and heal. A lack of sleep can have very serious side effects on our mental and physical health. Short term effects of sleep deprivation such as a lack of awareness, painful headaches and an inability to focus are hard enough to deal with, while long term consequences of chronic insomnia can include depression, high blood pressure and an increased risk of heart attacks and strokes. Despite these serious effects, at least 25% of adults do not get the recommended amount of sleep each night, and the COVID-19 pandemic has made this problem even worse.
Taking a vacation while working from home can be an effective and beneficial form of self-care, giving us the time we need to reset our sleep schedule and get the rest we need. This way we will feel better, and be more prepared to get back to work when we sit back down in our home workspace after taking a well-deserved vacation.