5 Canadian Food and Drink Companies That Are Way Older Than You Think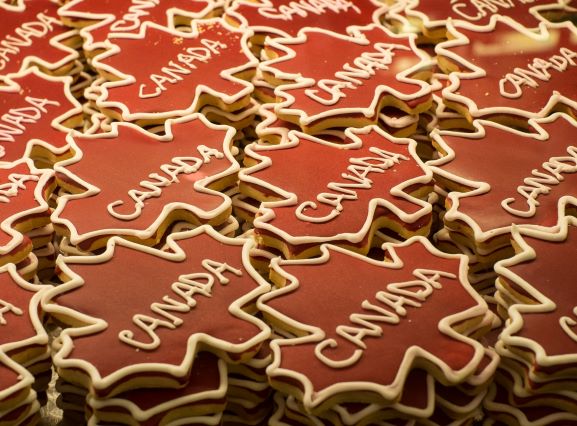 Publié le 30 June 2020
It's Canada Day soon, which means that many people are looking forward to a day off from work to rest and relax. Of course, it is still very important that we all follow the rules and guidelines put forth by public health officials in order to protect the health of ourselves and those around us, so celebrations will be a little different this year. Fortunately, one way to celebrate is to cook some delicious food, have fun snacks and enjoy a cold drink at our homes. This is also a fun chance to consider a bit of Canadian business history. We don't tend to enjoy thinking about putting "food" and "old" in the same sentence, but this is one opportunity to see the evolution and growth of an entire sector of the Canadian economy, worth over $28 billion and accounting for 16.4% of the manufacturing sector. This is due to the fact that some of the oldest companies in the country are in the food and beverage sector.
Here are 5 Canadian food and drink companies that are way older than you think:
Robin Hood Flour – Founded in 1909
Whether you're baking crunchy cookies, a fluffy cake or a fresh loaf of bread, you probably start by reaching for the familiar yellow bag of flour. Robin Hood Flour is a staple of pantries across Canada, and can currently not be found in grocery store shelves coast to coast. This is one company that is so ubiquitous that many people don't even realize it is actually a Canadian company, but it was founded in Moose Jaw, Saskatchewan as part of the Moose Jaw Milling Company in 1900. Robin Hood Flour became its own company in 1909, and grew in popularity across the country over its first decades in business to the point where it would be transported via dog-sled to remote areas. Owned by The J.M. Smucker Company — yes, as in Smucker's Jam — since 2004, Robin Hood Flour is now used by bakers across North America.
Fun Fact: During World War II, Robin Hood Flour sponsored a radio show called "On Parade", offering prizes to contestants able to recognize popular pieces of music. Don't know what that has to do with flour, but it seems like a good time was had by all.
What You Can Make: Maple Leaf Cookies!
Canada Dry – Founded in 1904
There are few things as refreshing as an ice cold can of Canada Dry on a hot summer day. People may be surprised to learn that Coca-Cola, Pepsi and Dr Pepper – Canada Dry's current corporate owner – dates to the 19th century, and that carbonated beverages have been manufactured in Canada for virtually just as long. Created by pharmacist John J. McLaughlin in Enniskillen, Ontario, Canada Dry was marketed as a health drink, combining the perceived benefits of ginger and sparkling water. The drink's popularity really took off two decades later during prohibition, when it became known as a popular mixer for homemade illegal alcohol. Contrary to popular belief, the name does not refer to "dry" areas during prohibition but rather its lack of sweetness, similar to a dry wine.
Fun Fact: Canada Dry sponsored a Dutch cycling team in the mid-1970's for some reason.
What You Can Make: A "Poolside Serenity" cocktail
Nabob Coffee – Founded in 1896
If you like to start Canada Day with a hot cup of freshly brewed coffee, you're not alone. Nabob has been helping people wake up to celebrate for over 125 years. Founded in Vancouver in 1896, Nabob Coffee spent most the next century moving eastward, establishing a presence in mugs across the country by the end of the 1980's. It reached a new level of ubiquity as the primary Canadian brand for the Tassimo coffee maker, as in those little totally non-biodegradable disks. Nabob has committed to making its primary coffee grounds using 100% coffee certified by the Rainforest Alliance, meaning they meet certain sustainability criteria and received the 2012 Sustainable Standard – Setter Award from the organization.
Fun Fact: Nabob ran a "Quest for the Golden Beans" contest where winners would receive $10,000 in gold.
What You Can Make: A Coffeehouse Cheesecake — or, you know, a cup of coffee.
Windsor Salt – Founded in 1893
No matter what delicious snacks and food you lay out on the table to help celebrate Canada Day, a pinch of salt will help them all taste a little better. The blue and white checkered box of Windsor Salt is one of the most common sights in any Canadian kitchen, and has been since the 1890's. Now the largest Canadian salt manufacturer, Windsor Salt sells products that will enhance the flavour of your food and keep the ice off your driveway. The company is now owned by an international conglomerate, but still maintains its headquarters in Pointe-Claire, Quebec, and continues to operate salt mines in Nova Scotia and — of course — Windsor, Ontario.
Fun Fact: Windsor Salt sells the Canadian government 4.5 million pounds of road salt every winter.
What You Can Make: Pickled anything.
Molson – Founded in 1786
Can a company still be Canadian when it predates the formation of Canada as itself by eight decades? In 1786 John Molson opened a brewery in Montreal (then part of British North America) and 234 years later they are still producing patriotically-marketed beverages. The Molson Brewery Company grew to be the largest in Canada and for a time the fifth largest in the world, before merging with the US-based Coors. The company and the Molson family still have a prominent role in the Canadian public consciousness, including current family ownership of the Montreal Canadiens hockey team.
Fun Fact: Brewery founder and family patriarch John Molson built the first public theatre in Montreal, the Theatre Royal, which opened in 1825 and hosted readings by Charles Dickens.
What You Can Make: A cold drink (to be responsibly enjoyed by those of legal drinking age)
We wish all our readers, members and clients and safe and happy Canada Day!