Jobillico's 7th Anniversary
Find your new job!

Look for your perfect career match with the Jobillico job search!

Search Now!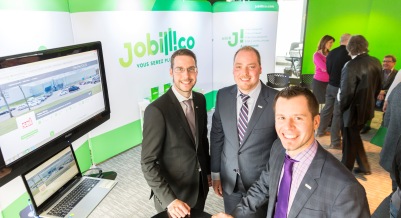 Publié le 4 December 2018
Happy Birthday Jobillico!
Wow! It's been 7 years since Jobillico first went online!
On this happy occasion, we thought we'd share with you how this company, founded in 2010 by 2 young visionaries from the Province of Québec, has become one of the major players in the field of recruiting in Canada.
The Origins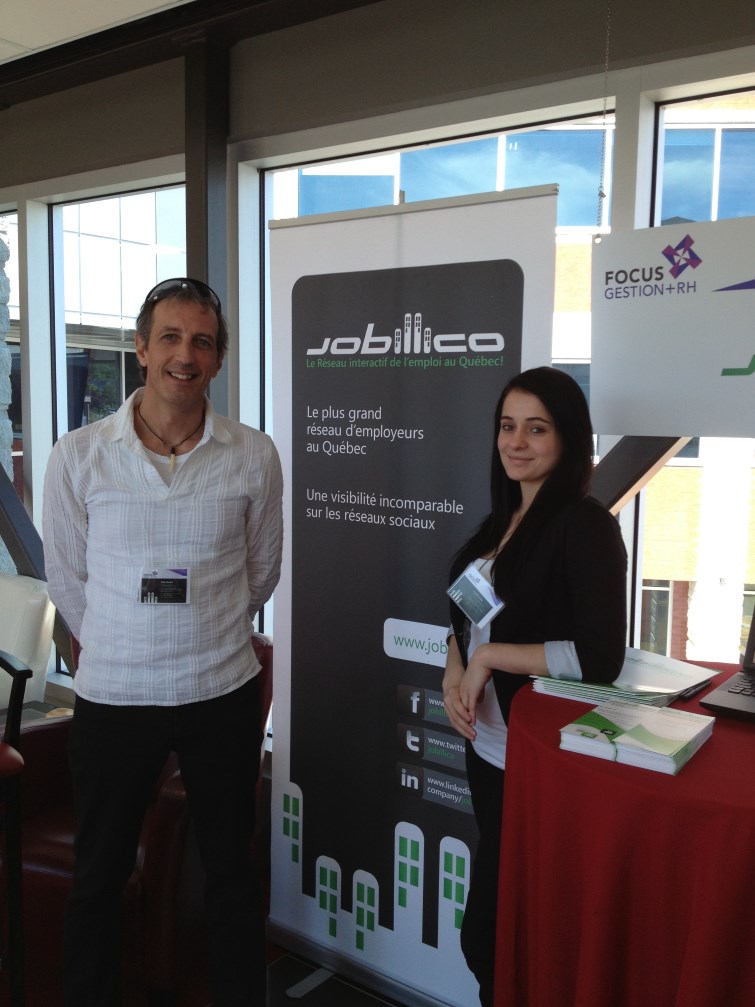 For a long time, Nicolas Chabot and Serge Lavallée had thought of a means of getting employers and jobseekers to meet, very much in the way of a huge job fair. They knew people who struggled to get their full potential recognized and who had no way of staying updated on career opportunities in their industry. "I remember discussing with Nicolas that jobseekers should be presented with all career opportunities, not just the vacancies that need to be filled in the short term. There was a need to be able to learn about which businesses were part of your community, which industries they belonged to and what type of employees they were looking for" says Jobillico Cofounder and Financial Director Serge Lavallée.
It was indeed true that businesses had no easy way of putting forward what they had to offer to prospective hires. As a matter of fact, nearly 85% of vacancies weren't posted as recently as ten years ago, mainly because of the high cost of doing so. "We wanted to democratize recruiting with an efficient, accessible and customizable solution so that businesses would have access to the best talent on the market at a reasonable cost and with unlimited postings" adds Serge Lavallée.
Jobillico sprung from these early ideas in June 2010 and began to expand in very little time. Nicolas and Serge had struck on a concept so innovative that businesses lined up to hire the fledgling company, eventually making it essential in any recruiter's toolbox.
A few years later, in 2014, the current version of the Jobillico platform was launched at a press conference attended by about 100 business people, the Minister of Employment and the Mayor of Québec City. The company's new slogan "You'll be happier" – a phrase that was to embody Jobillico's vision – was made public during the ceremony.
More great news was on the way.
In 2015, Jobillico won the Fidéides award in two categories: 'New Business' and 'Small Business of the Year', and was then awarded the Trophée Vision in the 'Emerging Visionary Business' category. Desjardins also granted $8 million in financing to help its expansion. The list of successes goes on into 2016 when the company received the Mercuriades award for the development of web or mobile technology.
Over the same period, Jobillico's expansion took shape. Opening an office in Toronto and hiring the first employees to work there set Jobillico on the path to its nation-wide conquest.
A Community for Employers and Workers.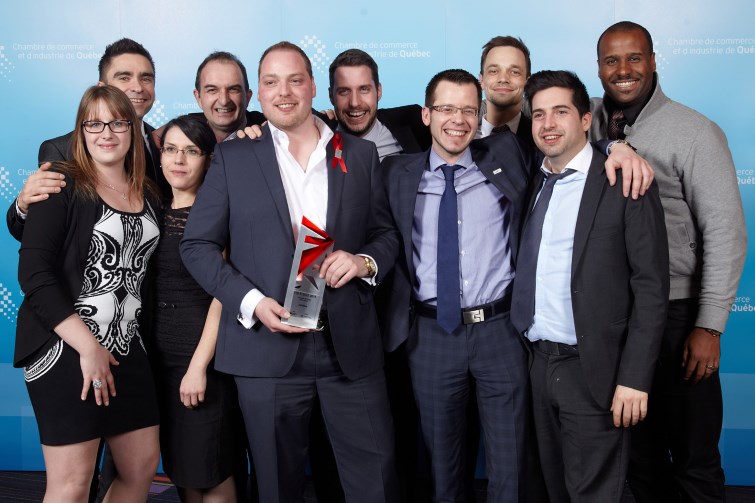 Neither recruiting nor getting a new job can be dismissed as an easy task. There's plenty of competition and that's why we've developed a platform designed to be a community where talent and employers can meet. The latter are given the opportunity to showcase all that they have to offer to potential hires: benefits, company values, pictures of the workplace and a whole lot more. In addition, they may call on our team to get their employer profile and even postings to be as appealing to future candidates as possible.
All these services and functionalities have made our platform stand out but have also helped in earning the trust of thousands of businesses. As Annie Beaumont, HR Director at Ressorts Liberté, has said: "Jobillico has been our 'recruiting accomplice' for several years. The platform's ease of use and automated referencing features save us a lot of time while boosting our visibility and recruiting range".
Pascal Truchon, Products Director at Lecxeco, agrees: "Support to employers is always great. The team is able to handle our questions and they do so quickly. What's more is that the web interface is easy to use and meets all our needs. We save loads of time when we post jobs on the web site".
Jobseekers haven't been left out either: Jobillico has designed an easy-to-use job search platform that lets them stand out individually. They may sign up for job alerts, follow their favorite businesses, upload their resume to our databank and fill out their personal profile to highlight what they're best at.
Thousands of 'Perfect Matches' have thus been created over the last 7 years. Such was the case for Yann, a young programmer from Québec City: "Jobillico has helped me find a stimulating job that fits my personality at Groupe Dallaire. I've worked there for 3 years already!" Our platform also simplifies job searches for people such as Raphaëlle, a young mother who is about to return to the job market: "Jobillico really targets those job opportunities that match my professional profile!"
Jobillico: Leading by Example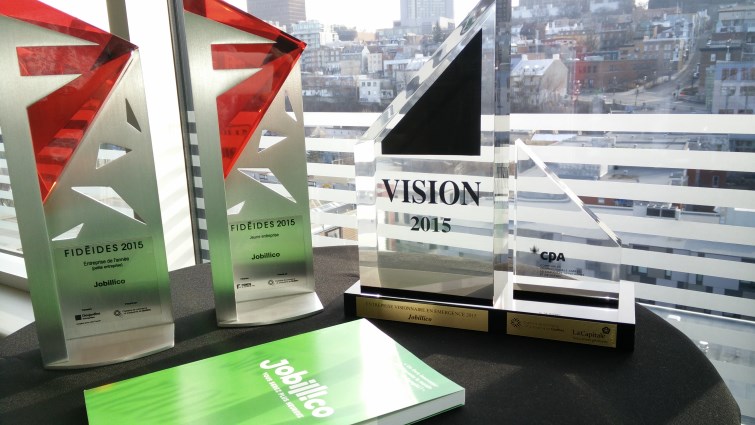 Jobillico's slogan, "You'll be happier", is actually much more than that. It is a vision that is as much at the center of our business relationships as of every aspect of our daily work. Guided by such values as collaboration, determination, evolution and generosity, the company prides itself on ensuring the happiness of its employees at work.
Our employees are at the heart of every single activity; they act as our representatives daily and are, in large part, the source of our success. Expressing our gratitude to them is a priority. This translates into a relaxed atmosphere at the office, our attention to their needs, a lighter schedule over the summer time, well-designed kitchens and lounges or inspirational quotes on our walls!
Moreover, this is a concrete demonstration of what powerful employer branding really is. The job market has changed a lot in recent years. Workers are now more than ever looking for an employer that matches their values and that can provide a fulfilling environment. All our efforts aim to stand out as an employer, to attract the best talent and, importantly, to retain it!
From a day-to-day perspective, happiness at work for our employees takes different forms. For Audrey, our Web Community Manager, it's about being yourself: "What makes me happy at Jobillico is that I not only have great freedom in my work, but that I also have colleagues with the resilience to put up with the madness I generate each day!"
"At Jobillico, there's a great family-like atmosphere! We also have a high-octane social club that cooks up a huge diversity of activities in and out of the office. We're all really happy here!" says Maud, our Administrative Assistant. Sporting events as well as cultural and community activities are set up all around the year to help build tighter bonds between employees. This is a simple, fun and fool-proof way to get to know co-workers outside of office life!
Projects by the Boatload!
Today, the little company of a handful of employees has more than 100 professionals, all passionate about online recruiting, working in Québec and Ontario. With all this talent at hand, Jobillico is soaring to new heights! Our team thinks up ideas and innovative projects by the boatload, all with the same goal: make people happier at work.
To keep in touch with projects at Jobillico, follow us on Facebook!