Five templates and some advice on how to boost your resume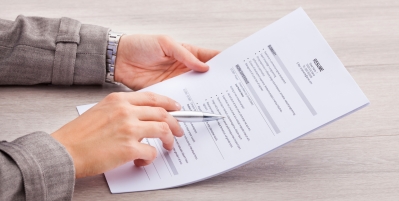 Publié le 8 February 2017
The use of resume templates has gained popularity among jobseekers. In today's increasingly competitive environment, what better way to stand out from the crowd?
The basic strategy is simple enough: move away from any run-of-the mill, outdated look! Go for creative resumes in which you can simply remove placeholder text and insert your own.
While you might think that this is going to cost a fortune and require complicated, specialized software, it's actually nothing of the sort. The following models are available online for less than 20 bucks, are completely customizable and were created using Microsoft Word!
Here are a few pointers to get you going:
Five resume templates
1. Simple use of colour
| | | |
| --- | --- | --- |
| | | This template is all about a modern, uncluttered feel. The header is refreshingly simple and the colour can be adjusted to your liking. Making full use of white space, it also features text in two columns for a less traditional look. A nice touch is the use of icons for your contact and social media info. A number of them are included for quick and simple customizability. |
2. Say it with flair.
| | | |
| --- | --- | --- |
| | | The Morein template features a modern, eye-grabbing header. We're looking at a personal marketing approach complete with colour, monogram and subheading. Colour is used in subtle touches throughout the document to enhance the person's profile. Again, all icons are interchangeable and the job descriptions can be changed from a text format to a bulleted format. |
3. Picture this!
| | | |
| --- | --- | --- |
| | | Pictures are making a comeback in resumes. Depending on the field of activity and the acceptable level of creativity, this is becoming more of an option. With text in a two-column layout, this document is appealing in its simplicity. Splashes of pink give it a feminine touch but the colour is, of course, entirely up to you. Here's a thought: if you like this template but are unsure about the picture, you could substitute a logo instead or simply leave it out! |
4. Simple and to the point: no layout
Despite its classic use of black and white, this template manages to stand out. It uses a monogram and icons but displays text in a straightforward manner with little formatting and no text boxes.
This template is easy to use: switching the contents around is easy as pie and it downloads without a hitch.
5. The one-pager
| | | |
| --- | --- | --- |
| | | High on visual appeal with subtle use of colour and a solid layout, this template is sleek. Strategic use of text boxes highlights your key experience on a single page though the template works well in two pages also. Colour and social media icons are all customizable. Once you've chosen the template that feels right for you, consider these expert tips to make the most of this approach. |
Once you've chosen the template that feels right for you, consider these expert tips to make the most of this approach.
Five quick tips
1. Choose a style and a layout that is suited to the industry.
2. Mind ATS software: always keep an unformatted text version of your resume.
3. Download the free fonts that are recommended; they'll give your document just the right look.
4. Always apply with a PDF document!
5. Pick colours according to your own personal branding – but keep it simple and fresh!
by Jessica Gohier