< Back to the events
Events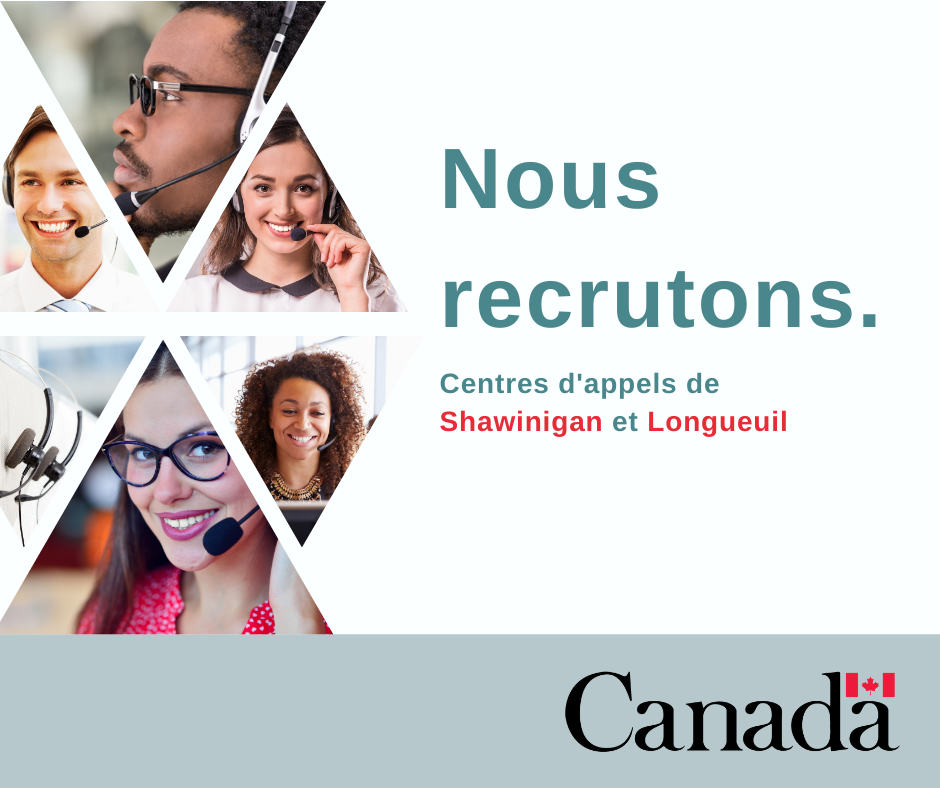 Sessions d'information: Service Canada embauche!
Longueuil

,

QC
Thursday october 29th

|

14h00 to 15h00
See all dates
Thursday october 29th

|

14h00 to 15h00
Thursday november 5th

|

13h00 to 14h00
Tuesday november 17th

|

14h00 to 15h00
Thursday november 19th

|

11h30 to 12h30
Savez-vous que Service Canada embauche et organise des sessions d'information virtuelles les 22 octobre, 29 octobre, 5 novembre, 17 novembre et 19 novembre?
Comme dans l'ensemble du pays, la pandémie de la COVID-19 a eu un impact sur notre organisation. Cela s'est traduit, entre autres, par un besoin pressant de rehausser nos effectifs dans nos centres d'appels, afin de mieux répondre aux besoins d'assurance-emploi des Canadiens.
Nous sommes donc à la recherche de personnes dynamiques pour occuper le poste d'agent de services au paiement, à Shawinigan et à Longueuil.
Cette séance d'information s'adresse à vous si :
Vous êtes à la recherche d'un emploi dans un centre d'appels.
Vous avez de l'expérience en service à la clientèle au téléphone.
Vous êtes à l'aise avec les technologies et vous exprimez correctement en français.
Vous comprenez aisément les informations complexes et êtes en mesure de les expliquer.
Cette séance vous permettra de :
Vous assurer que votre profil correspond bien à l'offre et à vos aspirations de carrière.
Comprendre le processus d'embauche et maximiser vos chances de réussite.
Prendre connaissance des avantages à travailler pour la fonction publique fédérale.
Posez vos questions en lien avec le sujet.
Choisissez une date, inscrivez-vous et partagez l'information à vos contacts!

Visitez la description de l'évènement sur Eventbrite pour consulter l'offre d'emploi.
https://www.eventbrite.ca/e/billets-seances-dinformation-service-canada-recrute-121373396095?aff=Jobillico
October 3rd, 2020

3223, rue Sainte-Émilie, Saguenay, QC

October 2nd, 2020

Longueuil, QC

October 2nd, 2020

Shawinigan-Sud, QC