< Back to the events
Events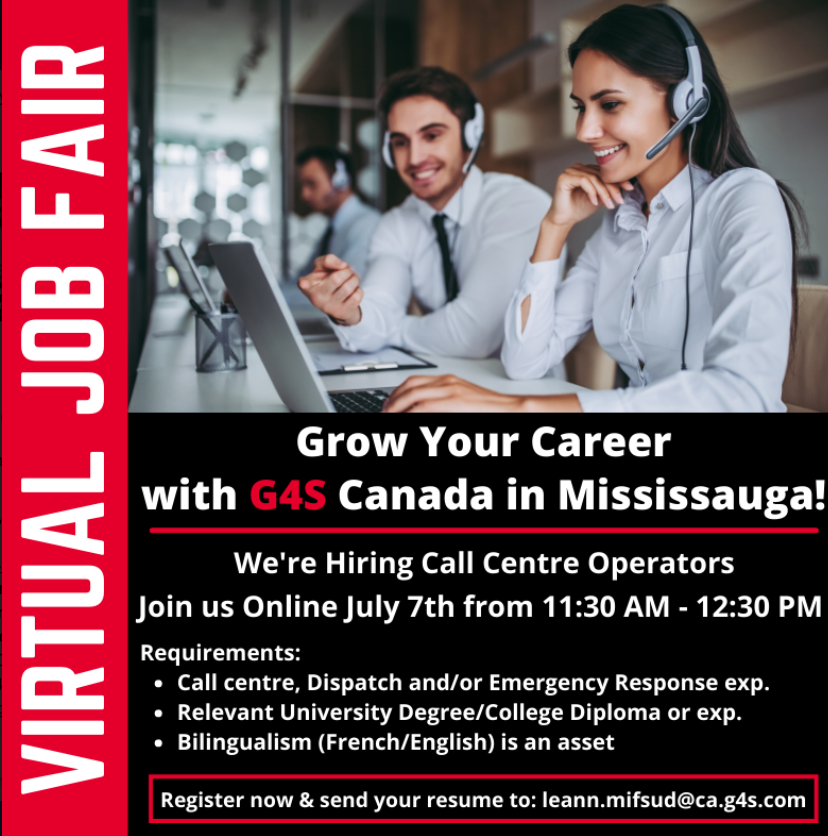 Call Centre Virtual Job Fair - Wednesday July 7th - 11:30am to 12:30pm
Mississauga

,

ON
Wednesday july 7th

|

11h30 to 12h30
G4S is holding a Virtual Job Fair for Call Center Operators!!!!
English & Bilingual (French & English)
DATE: Wednesday July 7th
TIME: 11:30am to 12:30pm
Join with Google Meets: meet.google.com/yen-pzsi-hfi
Join by phone: ‪(CA) +1 587-794-6760‬ PIN: ‪811 299 990‬#
Please read the Job Description and Requirements carefully. Only qualified candidates will be considered.
*12hr shifts, Monthly Day & Night Continental Rotation
*Own transportation preferred
*Must have a 5 year Residency in Canada due to Reliability clearances
G4S is Canada's leading provider of security solutions. Our company specializes in hiring and training security professionals to meet all of our client's needs. We are currently seeking a English AND Bilingual (English & French) Call Centre Operators for one of our prominent clients' Incident Reporting Centre. The Operator will be responsible for the intake, triage and escalation of all types of incidents reported to the centre, with the assistance of the Supervisor. The Operator will also be responsible for documentation and data entry, monitoring various security systems and responding to e-mail and telephone calls in a professional and timely manner.
Responsibilities Include:
Providing, in accordance with protocol, alarm monitoring via Access Control and/or Automatic Video Display for intrusion, robbery or duress
Providing access Control with Automatic Video Display with Voice Communications
Dispatch of personnel and escalation based on event type
Performs intake, triage, and escalation functions for all incidents reported to the centre
Deals with issues and incidents that are potentially sensitive, confidential or may put persons at risk
Applies the appropriate professionalism, maturity and tact to manage the incident
Escalates incidents to the Supervisor immediately when unable to manage the situation at his/her level
Supports incidents as documented or directed to do so by the Supervisor, or other authorized persons
Performs active monitoring of various security systems, including video and access control systems
Advises the Supervisor of urgent matters, life safety incidents, etc., in a timely manner to ensure the appropriate triage is applied and the appropriate steps are taken
Follows procedures, work instructions and other directions from the Supervisor, G4S Management, and the client
Collects information and data, creates and provides reports, maintains effective communications with a wide variety of stakeholders
Performs data entry in a timely, accurate and inclusive manner
Adheres to and promotes the clients' and G4S policies and procedures at all times
Liaises with employees, visitors and vendors in a helpful, cordial and pro-active manner
Participates in departmental meetings as required
Communicates concerns, process improvement ideas or other opportunities for improvement to the Supervisor
Performs other duties as required
The Ideal Candidate....
Minimum requirements
Excellent Communication skills
Bilingual Operators must be fully fluent in French and English; both written and spoken
Relevant University and/or College Diploma
3-5 years of work related experiences(preferably in the security industry)
Call Centre/dispatch centre /emergency response centre experience
Proficiency in MS
Knowledge of CCTV systems, access control systems, monitoring of alarms, biometric security systems and additional devices and
sensors related to security
Experience in critical environments where decision making, and actions can impact life-safety and business continuity
Well-developed analytical, mathematical, interpersonal, listening and communication (verbal and written) skills
The ability to problem-solve by active listening
Preferred Qualifications
Work effectively with employee groups and build partnerships
Strong administrative and multitasking skills
Microsoft Communicator, Incident Management Software and Office SharePoint and InfoPath
Prior corporate security, military or civilian law enforcement experience
Experience with network /telecommunications technology
https://community.g4s.com/members/?j=213725
Events :Security Guard, Call Centre, Dispatch, Emergency Response, French, Bilingual