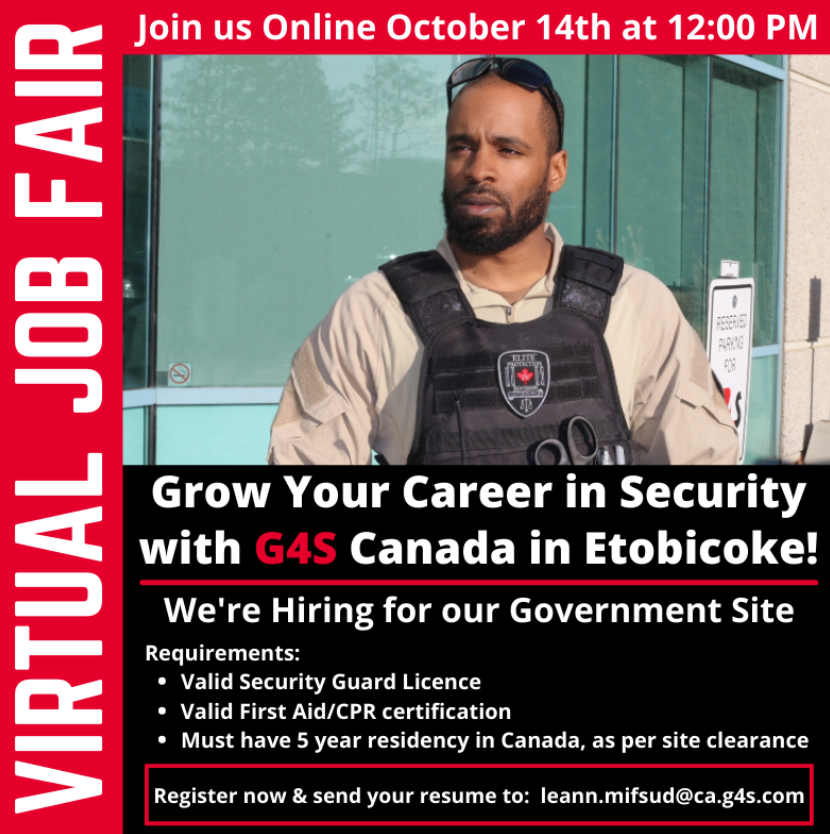 Government Site Virtual Career Fair - Thurs. Oct. 14th - 12pm to 1pm
Toronto, ON
Thursday october 14th, 2021
|
12h00 to 13h00
---
High Profile Security Government Site - Virtual Job Fair - Thursday, October 14th - 12pm to 1pm
DATE: Thursday October 14th, 2021
TIME: 12pm to 1pm
Join with Google Meets (click on this link): meet.google.com/aip-dvda-qwy
Join by phone: ‪(CA) +1 587-977-9173‬ PIN: ‪778 161 430‬#
Learn more about G4S and our available opportunities at Government sites!!!
*****PLEASE READ CAREFULLY: in order to be considered for these roles, you MUST have a minimum 5 year Residency in Canada (min. PR held since October 2016) due to Federal clearances.
Toronto Immigration Holding Center/ Detention Centre:
Security Guard
Full time and Part time spots!!!
Valid Security Guard Licence & First Aid/CPR certificate required
Minimum 5 Year Residency in Canada including either a Canadian Birth Certificate, Citizenship or PR card (must be held since Oct. 2016) due to Federal clearances
Min. High School Diploma or Canadian Assessment for any education completed outside of Canada
Ability to travel to Hwy 27 & Rexdale in Etobicoke
Can work overnights, 12am to 8am and afternoons, 4pm to 12am, any day of the week
Use of Force/ MAB training
$17.00 to $18.00 per hour
Great experience for those who are pursuing a career in Law Enforcement!!
If you're interested in the above position(s) and want to learn more, we hope to see you there!
http://www.g4s.ca
Events :Security Guard, Government site