< Back to the events
Events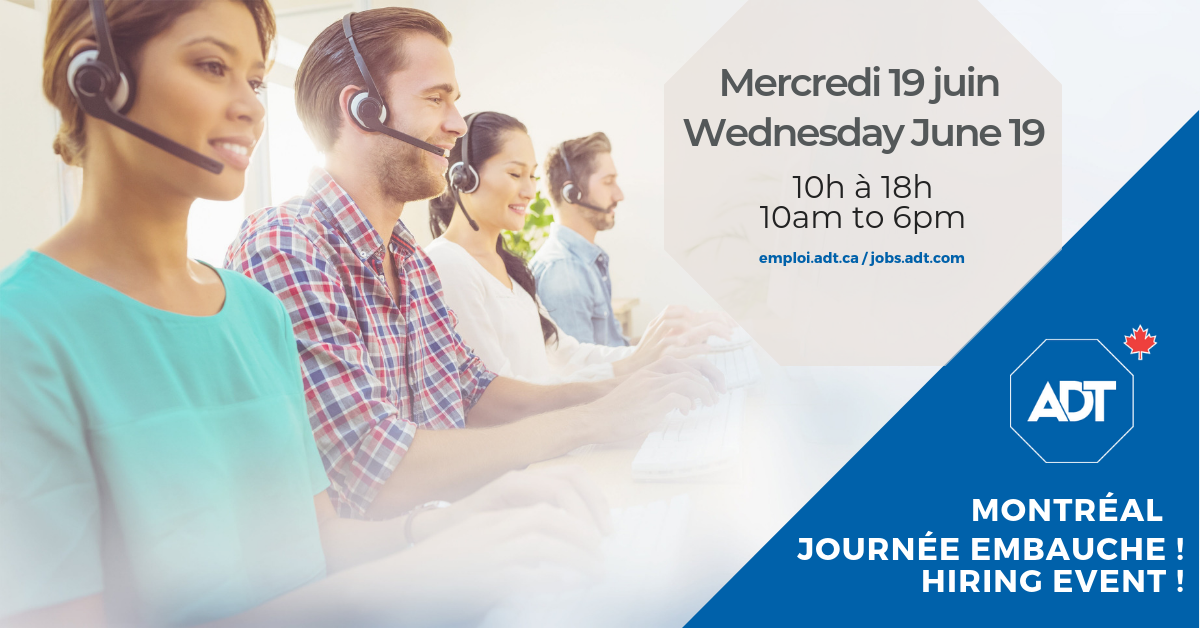 ADT Hiring Event- June 19- Monitoring agents
Montréal

,

QC
Wednesday june 19th, 2019

|

10h00 to 18h00
OPEN HOUSE HIRING EVENT
BILINGUAL MONITORING AGENT (French/English)
Dates: June19, 2019
Hours: 10:00am to 6:00pm
No appointment needed! Interviews on site! 8481 Langelier Blvd, St Leonard Qc.
Only bring a copy of your resume!
 
Become a Monitoring Agent within our team! Next training starts July 8, 2019 in Montreal…
 As a monitoring agent, you will play a key role in ensuring our clients are well protected. Taking charge of various alarm signals such as burglary, fire, panic and others, while making our clients a top priority through excellent customer service. Furthermore, you will be responding to customer calls and communicating with emergency services to transmit requests for assistance.
 Training will be held Monday to Friday 9am to 5pm for 2 weeks.
 Shift Availability: Rotation evening, night and/or weekend (24/7).
 Your must-haves
Bilingual French and English
Client empathy
Calm under pressure
Multi-tasking
Customer service experience
 Perks of the job:
Permanent/ full time position
Part time available
Full Benefits/RRSP
Career development
evening & night bonus
 Apply online or contact iiannetta@adt.ca
https://jobs.adt.com/job/montreal/montreal-hiring-event-bilingual-monitoring-agent/29/12138628
Events :customer service, open house, hiring event, representative, call center, agents, Montreal