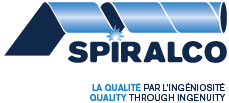 Benefits
Air conditioning
All administrative offices are air-conditioned.
Coffee
Paid leave
Paid sick leave
2 sick days per year are offered by Spiralco to our employee.
Vacation
Spiralco grants annual vacation pay to its employees in accordance with the standards in force and according to the time of service performed by an employee.
---
Description
SPIRALCO inc. este une compagnie spécialisée dans la production de tubes et tuyaux en acier spiralé qui a acquis et développé l'expertise nécessaire pour produire des tuyaux en spirales de très grande qualité. La gamme de produits manufacturés à nos usines est très large et variée.

Nous sommes présentement à la recherche d'un chef de maintenance et d'équipe.

CHEF D'ÉQUIPE (30%)


Planifier et superviser le travail quotidien des électromécaniciens;
Gérer les réquisitions (bons de travail);
Planifier et organiser les cédules de travail;
Veiller à ce que les décules d'entretien préventif soient suivies;
Voir aux achats de tous les produits nécessaires à l'entretien;
Répondre aux appels de services logés en dehors des heures normales de travail;
S'assurer de la gestion de l'inventaire des équipements;
Procéder à l'entraînement à la tâche des nouveaux électromécaniciens.
MAINTENANCE (70%)
Voir au bon fonctionnement des systèmes mécaniques des machines industriels;
Effectuer les tâches planifiées de maintenance préventive
Faire la coordination des interventions avec les différents opérateurs en ce qui a trait à la maintenance des machines;
Exécuter les travaux et les tâches générés par les système de réquisitions de service (Maintenance Directe);
Préparer les demandes d'achats (P.O.) et gérer l'inventaire du matériel utilisé pour la maintenance des machines;
Toute autre tâche connexe.
Read more
---
Work environment




---
Requested skills
COMPÉTENCES CLÉS
Intérêt pour les machines industriels;
Leadership, habilité à résoudre les problèmes et les conflits;
Habileté de coaching, savoir déléguer, esprit d'équipe;
Sens des responsabilités, esprit entrepreneurial;
Sens de l'organisation, gestion des priorités, débrouillardise;
Souplesse interpersonnelle;
Capacité d'adaptation, tolérance au stress;
Connaissance du logiciel MAINTENANCE DIRECTE un atout.
---
Equal Opportunity Employer
This employer is an equal opportunity employer committed to diversity and inclusion. We are pleased to consider all qualified applicants for employment without regard to race, color, religion, sex, sexual orientation, gender identity, national origin, age, disability, protected veterans status, Aboriginal/Native American status or any other legally-protected factors. Disability-related accommodations are available on request for candidates taking part in all aspects of the selection process.
---
Requirements
Level of education
undetermined
Work experience (years)
3-5 years
Written languages
Fr : Advanced
En : Intermediate
Spoken languages
Fr : Advanced
En : Intermediate
Other Spiralco's offers that may interest you