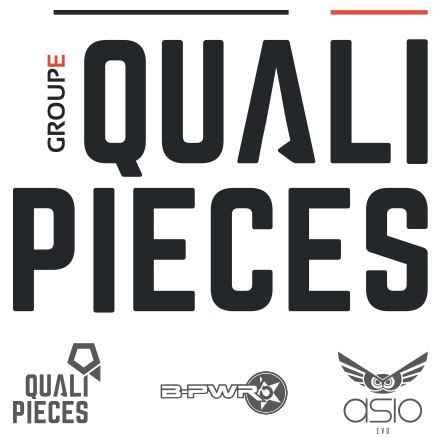 Benefits
Insurance
Nous offrons un programme d'assurances collectives avantageux payé à 50% par l'employeur.
Summer schedule
Nous offrons un horaire d'été allégé, vous permettant de profitez pleinement de la belle saison!
---
Description
QUALIPIÈCES c'est d'abord une ÉQUIPE PASSIONÉE, CRÉATIVE et DYNAMIQUE.

Nous sommes une entreprise qui conçoit, fabrique et distribue des accessoires utilitaires pour le domaine du sport motorisé.

Avantages à travailler chez nous ?
- Belle ambiance de travail
- Horaire flexible
- Conciliation travail et vie personnelle, une priorité
- Assurance groupe
- Formation continue
- Programme Mieux-Être
- Fruits frais chaque semaine
- Massage sur chaise
- Horaire de jour seulement
- Tâches diversifiées
- Assurance collective
- Environnement propre
- Sécuritaire
- Entreprise humaine, à l'écoute des besoins de son personnel.

Description du poste :

Le Technicien en génie mécanique sera responsable de planifier la production et d'en assurer un suivi rigoureux ainsi que le respect des normes de qualités. De plus, il sera responsable des dessins techniques et participera à l'élaboration des nouveaux produits. Être capable d'innover, d'être axé sur les résultats et de mettre en pratique un esprit de synthèse et résolution de problèmes seront la clé de votre réussite.


Responsabilités :
Planifier et ordonnancer la production.
Faire respecter les normes de qualité et de sécurité.
Élaborer et interpréter des plans, des dessins et des devis techniques.
Travailler en collaboration avec la direction afin d'améliorer les produits existants, en développer et concevoir de nouveau.
Participer à la réalisation des prototypes et à leur mise en production.
Le candidat aura la possibilité de travailler soit à partir de Valcourt ou de Drummondville et de faire du télétravail.
RH@ecopak.ca
qualipieces.com

Read more
---
Work environment




---
Requested skills
Le(s) candidat(s) recherché(s) devront démontrer les compétences suivantes, en plus des exigences du poste:
DEC en Technique génie mécanique 3 à 5 ans d'expérience en gestion de production et en conception technique
Forte connaissance des outils de la suite MS Office.
Connaissance de  Solidworks un atout.
Être autonome, débrouillard, responsable et créatifs.
Capacité d'innover, capacité de synthèse, d'analyse et de résolution de problèmes.
Capacité à passer du concept à la réalisation.
Connaissance dans le domaine de la motoneige et des véhicules récréatifs serait un atout.
---
Equal Opportunity Employer
This employer is an equal opportunity employer committed to diversity and inclusion. We are pleased to consider all qualified applicants for employment without regard to race, color, religion, sex, sexual orientation, gender identity, national origin, age, disability, protected veterans status, Aboriginal/Native American status or any other legally-protected factors. Disability-related accommodations are available on request for candidates taking part in all aspects of the selection process.
---
Requirements
Level of education
College
Work experience (years)
3-5 years
Written languages
Fr : Advanced
En : Intermediate
Spoken languages
Fr : Advanced
En : Intermediate
Other Qualipièces's offers that may interest you