---

This recruiter is online.
This is your chance to shine!
Apply Now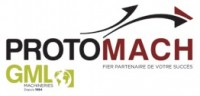 Benefits
Air conditioning
L'entièretée des installations sont dotées de l'air climatisée. Que ce soit dans l'usine, l'entrepôt ou les bureux.
Life insurance
Long-term disability insurance
Medical and paramedical expenses coverage
Social activities organized by the company
Travel insurance
---
Description
Vous avez besoin d'action? Votre expérience et votre attitude professionnelle vous permettent de relever tous les défis? Protomach est à la recherche d'un électromécanicien en automatisation qui mènera d'une main de maître nos projets. Nous avons besoin de votre talent.
Depuis plus de 23 ans, Protomach se spécialise dans la distribution et la fabrication d'équipement et d'outillage pour le secteur industriel. Depuis nos débuts, nos valeurs sont les piliers sur lesquels reposent nos activités : Persévérance, harmonie, appréciation, réalisation, efficacité, voilà les mots d'ordre qui guident chacune de nos actions.
Vos journées ne seront jamais les mêmes en tant que monteur, assembleur et programmeur d'équipements industriels. Vous serez amené à réagir rapidement et efficacement. Votre énergie et votre assurance vous permettront de réaliser chaque nouveau projet avec brio.
Vos responsabilités
En tant que technicien en électromécanicien, vous jouerez un rôle primordial pour le bon fonctionnement de nos opérations. Grâce à votre sens de l'organisation et à votre attitude proactive, vous trouverez rapidement des solutions aux aux nouveaux projets qui vous seront confiés.
Plus précisément, vous devrez :
Vous serez amené à participer au montage mécanique, électrique et pneumatique de nos équipements. Vous aurez la chance de programmer les drives dans les équipements. Vous travaillerez au sein d'une équipe pro-active qui possède de multiples talents qui se complémenteront au vôtre. Vous aurez un lien privilégié avec le superviseur à la production pour vous permettre d'effectuer la gestion de votre production en lien avec la production générale.
Read more
---
Work environment




---
Requested skills
La personne devra avoir un bon esprit d'équipe et un bon tempérament;
Devra être calme et poser afin de permettre la réalisation de ces projets;
Travailler avec attention et munitie;
Posséder des méthodes de travail;
Posséder une expérience en montage et assemblage;
Connaissance du logiciel EPlan et SO Machine seraient des atouts;
Ayant le goût du défis, du dépassement de soi et d'un accueil familier, notre équipe n'attend plus que vous!
---
Requirements
Level of education
Professional
Work experience (years)
3-5 years
Written languages
Fr : Advanced
En : Intermediate
Spoken languages
Fr : Advanced
En : Intermediate
Other Protomach Inc.'s offers that may interest you
---