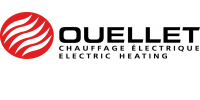 Benefits
Carpooling program
Pour les gens de Lévis/Québec, un service de navette est disponible pour le transport Lévis-L'Islet.
Commitment to work-life balance
Flexible hours
Lorsque le poste le permet, Ouellet Canada offre des horaires flexibles aux employés.
Floating leave days
Des congés mobiles sont offerts aux employés à chaque année.
Insurance
Une assurance collective est offerte aux employés incluant les garanties: maladie, vie et invalidité longue durée.
Long-term disability insurance
L'assurance collective offerte comprend une garantie d'assurance invalidité de longue durée.
Profit sharing program
En fonction des résultats de l'entreprise, un partage de profit est offert aux employés.
Social activities organized by the company
Il y a un club social à l'interne qui organise des activités gratuites ou à faibles coûts pour les employés.
Travel Assistance
L'assurance collective comprend une couverture assurance voyage et annulation pour les séjours à l'étranger.
Vacation
Les vacances sont établies en fonction de la politique en place dans l'entreprise.
Years of service recognition
Un programme de reconnaissance des années de service est en vigueur dans l'entreprise afin de souligner l'implication et le dévouement des employés.
---
Description
Sous la responsabilité du superviseur du département de la maintenance, le ou la titulaire du poste aura à participer aux différentes activités du département, dont principalement installer, entretenir, réparer et effectuer des modifications répondant aux exigences de production des composants électriques, mécaniques, hydrauliques et pneumatiques de différents types de machines, équipements et systèmes automatisés industriels. Plus précisément, le ou la titulaire du poste aura à :
- Assurer le bon fonctionnement des équipements de production (mécaniques, pneumatiques, et électriques);
- Effectuer l'entretien préventif à l'amélioration et à l'installation d'équipements et machines;
- Soutien technique à la production et autres départements;
- Effectuer le diagnostic de pannes et les corriger;
- Appliquer l'ensemble des politiques et procédures de l'usine (CSA, Santé et sécurité, etc.);
- Effectuer des travaux d'entretien général;
- Effectuer du trouble shooting.


Requis :
- Cumuler un minimum de cinq (5) années d'expérience pertinente;
- D.E.P. en électromécanique ou autre(s) formation(s) incluant de la soudure, du pneumatique, de l'hydraulique et de l'automatisation;
- Bonne maîtrise de l'automatisation contrôle;
- Bonne connaissance du CNC (contrôle numérique);
- Bonne connaissance de l'anglais;
- Être responsable, autonome, polyvalent, précis et avoir un bon sens de l'analyse;
- Détenir ses cartes de conduite de chariot élévateur et de pont roulant;
- Réussir les tests requis;
- Connaissances informatiques (Suite Office, Outlook, etc.).


Conditions de travail :
Il s'agit d'un poste régulier à temps plein offrant un salaire et des avantages sociaux concurrentiels, un environnement stimulant, une ambiance de travail agréable, des horaires intéressants et des possibilités de développement. Pour les gens de Lévis/Québec, un service de navette est disponible pour le transport Lévis-L'Islet.

POUR POSTULER :

Ouellet Canada Inc., 180, 3e avenue, L'Islet, QC, G0R 2C0
srh@ouellet.com
Read more
---
Work environment




---
Requirements
Level of education
Professional
Work experience (years)
3-5 years
Written languages
Fr : Intermediate

Spoken languages
Fr : Intermediate

Other Ouellet Canada inc.'s offers that may interest you