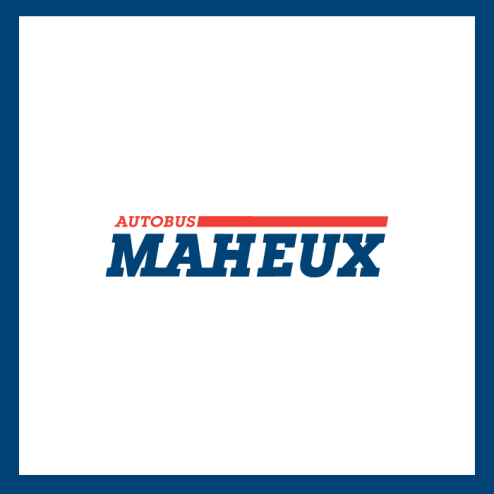 Benefits
Insurance
Assurance collective
Medical and paramedical expenses coverage
Assurance collective
---
Description
AGENT(E) AU SERVICE À LA CLIENTÈLE TEMPS PLEIN SOIR DE SEMAINE ET FIN DE SEMAINE TERMINUS DE VAL-D'OR
Les Autobus Maheux ltée, une entreprise de transport de personnes solidement implantée en Abitibi-Témiscamingue, qui œuvre également dans le transport de colis et de messagerie Expédibus, est à la recherche d'un agent au service à la clientèle pour son terminus de Val-d'Or.
Relevant de la directrice du terminus, le titulaire du poste répond aux demandes en personnes, téléphoniques et électroniques des clients. À partir des plateformes de vente, il délivre les billets aux passagers et effectue la réception et l'expédition des colis.
Si vous êtes aussi passionné que nous par le transport de personnes, vous êtes la personne que nous recherchons pour compléter notre équipe !
Conditions de travail :
Emploi permanent à temps plein;
Horaire de travail de 35 à 40 heures par semaine, de soir semaine et les de fin de semaine en rotation (prime de fin semaine 0,50$/heure)
Salaire établi selon la politique de rémunération interne;
Qualité de vie au travail.
Nous vous remercions de l'intérêt porté envers notre entreprise et notez que seuls les candidats retenus pour une entrevue seront contactés.
La forme masculine est utilisée uniquement dans le but d'alléger le texte et désigne aussi bien les femmes que les hommes.
Read more
---
Work environment




---
Requested skills
Le candidat recherché doit répondre aux exigences suivantes :
Posséder une expérience pertinente et/ou des aptitudes pour le service à la clientèle et la vente telles que la courtoisie, l'entregent, de tact et le dynamisme;
Bonne maîtrise du français écrit;
Maîtriser la navigation Internet et les messageries électroniques;
Posséder les qualités telle que l'honnêteté, l'autonomie, la débrouillardise et le sens de l'initiative;
Avoir une tenue soignée et professionnelle;
Être capable de recevoir et traiter les paiements des clients puis balancer le tiroir-caisse;
Être apte à travailler sous pression;
Détenir une bonne capacité de communication. Le bilinguisme est un atout;
Connaître le réseau routier québécois et ontarien (atout important);
---
Equal Opportunity Employer
This employer is an equal opportunity employer committed to diversity and inclusion. We are pleased to consider all qualified applicants for employment without regard to race, color, religion, sex, sexual orientation, gender identity, national origin, age, disability, protected veterans status, Aboriginal/Native American status or any other legally-protected factors. Disability-related accommodations are available on request for candidates taking part in all aspects of the selection process.
---
Requirements
Level of education
undetermined
Work experience (years)
undetermined
Written languages
Fr : Intermediate
En : Beginner
Spoken languages
Fr : Intermediate
En : Beginner
Internal reference No.
Other Groupe Maheux's offers that may interest you