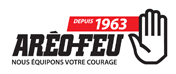 Benefits
Air conditioning
Cafeteria
Tables à pique-nique extérieures disponible pour la saison estivale.
Commitment to work-life balance
Deferred profit sharing plan DPSP
Disability insurance
Employee assistance program
Free parking
Life insurance
Medical and paramedical expenses coverage
On-going training
Performance bonuses
Public transportation nearby
Recognition program
Schedule
Journée de travail qui se termine à 12h00 le vendredi.
Telework
Accès à notre politique de télétravail, après votre période de probation.
Travel insurance
Years of service recognition
---
Description
Vous souhaitez relever de nouveaux défis, évoluer au sein d'une équipe dynamique et engagée ? Aréo-Feu Ltée vous attend et vous offrira bien plus encore !
Avantages offerts :
Horaire se terminant à 12h00 le vendredi – 38 hres/semaine
Télétravail/Conciliation travail-famille
Prime annuelle
Assurance collective et REER collectif
Formation continue
Programme de reconnaissance
Club social et événements corporatifs
Stationnement
Ambiance de travail agréable, stimulante et valorisante
Raison d'être du poste : Sous l'autorité du directeur produits et approvisionnement, le commis approvisionnement est responsable:
d'effectuer des entrées de données et de réaliser diverses mises à jour en lien avec nos produits/services vendus;
d'effectuer des suivis auprès de nos fournisseurs et sous-traitants et de prendre action pour minimiser les impacts négatifs liés à des retards et autres problèmes logistiques;
collaborer avec l'équipe des ventes et du service à la clientèle, de manière à assurer la satisfaction de nos clients.
Tâches spécifiques:
Suivre et mettre à jour quotidiennement le journal des achats (délais/retards de livraison, commandes non confirmées, respect des coûtants, etc.)
Communiquer toutes informations pertinentes à l'équipe du service à la clientèle.
Mettre à jour les listes de prix, les interactions avec les fournisseurs et toutes autres informations essentielles.
Suivre les diverses anomalies identifiées et les retours de marchandises, aux fins d'obtenir nos crédits fournisseurs.
Procéder à la codification des produits et assurer l'uniformisation des codes et des descriptions des articles.
Mettre à jour, dans le système central et le site web, les informations relatives aux produits (description anglais/français, fiche technique, etc. )
Suivre les articles à faible taux de rotation et préparer le fichier aux fins de leur liquidation.
Effectuer des suivis d'inventaire.
Produire des rapports (ventes, prévisions de ventes, indications de performance, etc.)
Suivre des processus et participer à l'amélioration continue de ceux-ci.
Read more
---
Work environment




---
Requested skills
Qualifications requises
DEP en gestion de l'approvisionnement/gestion d'inventaire, un atout important.
Expérience: 1 à 3 ans d'expérience dans un rôle similaire
Bilinguisme fonctionnel, parlé et écrit (Français et Anglais)
Très bonnes connaissances informatiques: MsOffice (Excel) et avoir travaillé avec un ERP est un atout
Bonnes habiletés mathématiques, capacité d'analyse et de synthèse
Sens de l'organisation, rigueur, bonne gestion des priorités, esprit d'équipe
---
Commissions
Prime annuelle cible, basée sur les résultats financiers de l'entreprise et sur la performance individuelle de l'employé.
---
Equal Opportunity Employer
This employer is an equal opportunity employer committed to diversity and inclusion. We are pleased to consider all qualified applicants for employment without regard to race, color, religion, sex, sexual orientation, gender identity, national origin, age, disability, protected veterans status, Aboriginal/Native American status or any other legally-protected factors. Disability-related accommodations are available on request for candidates taking part in all aspects of the selection process.
---
Requirements
Level of education
High school
Work experience (years)
0-2 years
Written languages
Fr : Advanced
En : Intermediate
Spoken languages
Fr : Advanced
En : Intermediate