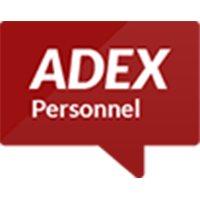 Mécanicien(ne) de bâtiment
Adex Personnel inc.
Laval,QC
Salary

To be discussed

Full time

Permanent job

Day shift work

Published on

June 4th, 2021
Benefits
Dental insurance
Life insurance
Medical and paramedical expenses coverage
Vacation
Vacances annuelles et possibilité de congés personnels
Vision care insurance
---
Description
Adex Personnel est à la recherche d'un(e) Mécanicien(ne) de bâtiment pour l'un de ses partenaires d'affaires dans le domaine de la transformation alimentaire, située à Laval.
Le titulaire du poste effectuera les réparations ainsi que l'entretien préventif et correctif des bâtiments afin d'en assurer le bon fonctionnement et de respecter les normes alimentaires et de santé sécurité.


Responsabilités :
Accomplir l'entretien préventif et correctif des lieux;
Gérer et veiller à l'applicabilité rigoureuse de la manutention des équipements sous sa responsabilité et aux travaux mécaniques du bâtiment de l'usine selon la charge de travail de son département de l'entretien;
Mettre à jour l'inventaire des équipements, les formulaires et documents nécessaires des travaux réalisés;
Agir proactivement au garant du bon état du bâtiment (intérieur et extérieur);
Faire en sorte que l'impact de l'ensemble de ses réalisations soit favorable au respect de toutes les normes de sécurité et de qualité dans la fabrication des produits;
Autres tâches connexes
Exigences :
Avoir complété un DEP ou DEC en mécanique de bâtiment, électricité ou autres domaine connexe;
Qualité d'adaptation environnementale (froid, chaud, espaces clos, extérieur);
Connaissance en électricité serai un atout;
Maitrise de suite MS office (Excel, Word, Outlook);
Expérience dans l'industrie alimentaire, en procédés et lignes de production;
Posséder une expérience d'au moins 2 ans dans un poste similaire (atout);
Bonnes connaissances mécaniques et habiletés à exécuter des tâches manuelles;
Capable d'engager des efforts physiques en geste sécuritaire pour déplacer des équipements lourds;
Capacité à répondre aux besoins de plomberie, de menuiserie générale, de maçonnerie et de peinture;
Habiletés à diagnostiquer et connaissances des équipements utilisant la pneumatique, l'hydraulique et l'hydrodynamique;
Agilité à souder au TIG afin d'effectuer des soudures sanitaires;
Entregent (esprit d'équipe) et diplomatique;
Autonome, minutieux et organisé;
Bonne gestion de temps et de priorité;
Assiduité et confidentialité;
Bilingue: Français et anglais (oral et écrit).
Read more
---
Work environment



---
Equal Opportunity Employer
This employer is an equal opportunity employer committed to diversity and inclusion. We are pleased to consider all qualified applicants for employment without regard to race, color, religion, sex, sexual orientation, gender identity, national origin, age, disability, protected veterans status, Aboriginal/Native American status or any other legally-protected factors. Disability-related accommodations are available on request for candidates taking part in all aspects of the selection process.
---
Requirements
Level of education
Professional
Work experience (years)
0-2 years
Written languages
Fr : Advanced
En : Advanced
Spoken languages
Fr : Advanced
En : Advanced
Internal reference No.
Other Adex Personnel inc.'s offers that may interest you