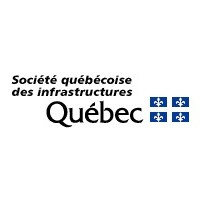 Benefits
Commitment to work-life balance
Competitive salary
Employee assistance program
Flexible hours
Insurance
Paid leave
Paid sick leave
Pension plan
Professional training and development program
Reimbursement of professional association dues or membership fees
Reimbursement of training and development activities
Telework
Vacation
Wellness program
Years of service recognition
---
Description
DESCRIPTIF DE L'ORGANISATION
Travailler à la SQI, c'est contribuer à bâtir le Québec de demain.
En tant qu'expert immobilier du gouvernement du Québec, la Société québécoise des infrastructures propose des défis stimulants et la possibilité d'avoir un réel impact sur la société.
Concrètement, ce sont plus de 1 200 employés dévoués qui soutiennent les organismes publics à la grandeur de la province dans, notamment :
La gestion de projets porteurs d'avenir comme les maisons des aînés et alternatives, les nouvelles écoles secondaires, ainsi que les établissements de santé et de services sociaux;
L'exploitation d'immeubles de bureaux, de postes de la Sûreté du Québec et des établissements de détention;
La gestion et le développement d'un parc immobilier comprenant 351 immeubles en propriété et 832 baux.
Nos équipes multidisciplinaires évoluent dans un climat de confiance, d'amélioration continue et de collaboration, et ce, dans le respect d'une culture organisationnelle axée sur le développement durable et de valeurs communes (respect, intégrité, rigueur, savoir-faire, performance et innovation).
Que vous souhaitiez faire carrière dans les grands centres ou en région, plusieurs possibilités s'offrent à vous.
Postulez dès maintenant et vous pourriez contribuer, à votre façon, à bâtir le futur au présent !


VOTRE RÔLE
Opérer, surveiller et entretenir diverses machines fixes et les réseaux qu'elles desservent pour fournir des services de chauffage, de refroidissement, de climatisation et de ventilation aux usagers des immeubles de la Société.
Read more
---
Work environment



---
Requested skills
Posséder un diplôme d'études professionnelles en mécanique de machines fixes (chaque année de scolarité manquante peut être compensée par deux années d'expérience de travail jugée pertinente) et détenir au minimum un certificat de qualification valide de classe 2 ou 3 en chauffage

Posséder une connaissance des installations de chauffage et d'appareils frigorifiques.

Connaître les lois et règlements reliés à ces appareils.

Avoir une connaissance de base de la mécanique du bâtiment et du fonctionnement des ordinateurs de contrôle.

Faire preuve d'initiative et d'autonomie.

Avoir le sens des responsabilités.

Posséder un bon jugement.

Démontrer un bon sens de l'observation.

Détenir un permis de conduire valide.

Être en bonne condition physique.

Avoir un bon esprit d'équipe.
Nous offrons des conditions de travail et des avantages sociaux très concurrentiels :
4 semaines de vacances après une année seulement de service ;
13 fériés par année ;
Régime de retraite à prestations déterminées ;
Régime de sécurité d'emploi ;
Assurances collectives ;
Équilibre travail et vie personnelle : flexibilité des horaires de travail et aménagement du temps de travail ;
Congés personnels et familiaux ;
Programme d'aide aux employés et à leur famille ;
Programme de remboursement favorisant l'activité physique et l'utilisation du transport actif et collectif ;
Remboursement de la cotisation annuelle aux ordres professionnels ;
Programme de promotion de la santé (mesures d'encouragement à l'activité physique, vaccination, etc.) ;
Environnement de travail stimulant et en pleine effervescence ;
Plusieurs possibilités de carrières et d'avancement.
---
Equal Opportunity Employer
This employer is an equal opportunity employer committed to diversity and inclusion. We are pleased to consider all qualified applicants for employment without regard to race, color, religion, sex, sexual orientation, gender identity, national origin, age, disability, protected veterans status, Aboriginal/Native American status or any other legally-protected factors. Disability-related accommodations are available on request for candidates taking part in all aspects of the selection process.
---
Requirements
Level of education
Professional
Work experience (years)
0-2 years
Written languages
Fr : Advanced

Spoken languages
Fr : Advanced

Internal reference No.
Other Société québécoise des infrastructures - SQI's offers that may interest you