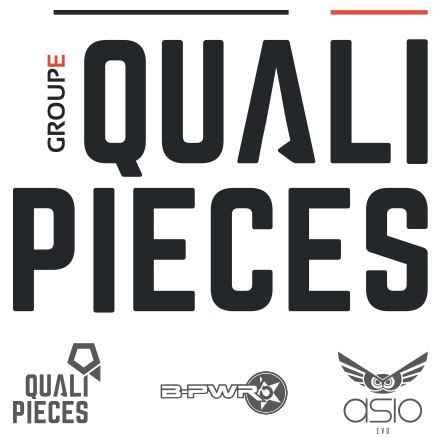 Benefits
Commitment to work-life balance
Flexible hours
Free parking
Fresh fruits
Games room
Insurance
Nous offrons un programme d'assurances collectives avantageux payé à 50% par l'employeur.
Life insurance
LifeWorks program
Long-term disability insurance
Lounge
Massage
Medical and paramedical expenses coverage
On-going training
Paid sick leave
Reimbursement of training and development activities
Social activities organized by the company
plusieurs fois par année
Summer schedule
Nous offrons un horaire d'été allégé, vous permettant de profitez pleinement de la belle saison!
Vacation
---
Description
QUALIPIÈCES is first and foremost a
PASSIONATE
,
CREATIVE
and
DYNAMIC TEAM
.
We are a company that designs, manufactures and distributes utility accessories for the motorsport field.
We are currently looking for a production worker to join our team.


Benefits of working with us?

- Nice working atmosphere
- Flexible hours
- Work-life balance, a priority
- Insurance Group
- Continuing education
- Wellness program
- Fresh fruit every week
- Chair massage
- Daytime schedule only
- Diversified tasks
- Collective insurance
- Clean environment
- Safe
- Human company, attentive to the needs of its staff.



YOUR MISSION:



Responsible for the assembly of several types of different metal parts, the day laborer actively participates in the production of all products manufactured by the company and in the general maintenance of the equipment and the building.
YOU WILL:
- Read work orders and machine parts
- Use the various bending and pressing machines for metal parts to fabricate and assemble the products.
- Support the production and distribution team in their tasks.
- Maintain production machinery.
- Maintain the building and the spaces.
YOU ARE:

- Skilled at working with industrial machinery
- Able to work in a team
- Autonomous and you have a sense of responsibility
YOU HAVE:
- A positive attitude
- Rigor and thoroughness
- A strong interest in manual and diversified tasks
Forklift card / welding ability and ability to read basic engineering drawings are assets!
If that speaks to you, say
hello!

RH@ECOPAK.CA
WWW.QUALIPIECES.COM
Read more
---
Work environment




---
Requested skills
- Skilled at working with industrial machinery
- Able to work in a team
- Autonomous and you have a sense of responsibility
---
Requirements
Level of education
undetermined
Work experience (years)
0-2 years
Written languages
Fr : Beginner
Spoken languages
Fr : Beginner
Other Qualipièces's offers that may interest you