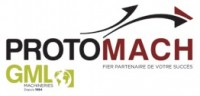 Benefits
Air conditioning
L'entièretée des installations sont dotées de l'air climatisée. Que ce soit dans l'usine, l'entrepôt ou les bureux.
Employee assistance program
Le programme Ré-action est un programme d'aide de mieux-être psychologique. Nous croyons en le capital humain et à l'accompagnement sain.re-action.qc.ca 
Medical and paramedical expenses coverage
Recognition program
Schedule
LUNDI AU JEUDI: 7H30 À 16H30VENDREDI: 7H30 À 15H
Social activities organized by the company
Travel insurance
---
Description
Vous avez besoin d'action? Votre expérience et votre attitude professionnelle vous permettent de relever tous les défis? Protomach est à la recherche d'un Programmeur / TI qui mènera d'une main de maître nos opérations. Nous avons besoin de votre talent.
Depuis plus de 25 ans, Protomach se spécialise dans la distribution et la fabrication d'équipement et d'outillage pour le secteur industriel. Depuis nos débuts, nos valeurs sont les piliers sur lesquels reposent nos activités : Persévérance, harmonie, appréciation, réalisation, efficacité, voilà les mots d'ordre qui guident chacune de nos actions.
Vos journées ne seront jamais les mêmes en tant que Programmeur / TI. Vous serez amené à réagir rapidement et efficacement. Votre énergie et votre assurance vous permettront de réaliser chaque nouveau projet avec brio.
En tant que Programmeur / TI, vous jouerez un rôle primordial pour le bon fonctionnement de nos opérations. Grâce à votre sens de l'organisation et à votre attitude proactive, vous trouverez rapidement des solutions aux aux nouveaux projets qui vous seront confiés.
Vos responsabilités

- Prises-en contrôle des différents logiciels et programmes ;
- Résolution de problèmes ;
- Prises-en contrôle des cas chez les clients en demeurant respectueux et professionnel;
- Participer aux différentes installations chez nos clients lorsque requis;
- Bâtir et maintenir l'espace réseau en collaboration avec un collègue ainsi qu'une aide externe;
- Participer de manière active et participative aux projets;
- Assurance qualité et respect des normes de sécurité en vigueur (CSA-Z432 et autres);
Read more
---
Work environment




---
Requested skills
Compétences recherchées
- Connaissance des langages Delphi, MySQL, MSSQL, VB .NET (Atout), PHP (Atout);
Note : Le Delphi est un programme structuré dérivé du Pascal
- Expérience en programmation orientée objet;
- Connaissances intermédiaires des systèmes Win XP, Win7 et Win10
- Connaissance des environnements serveurs virtualisés (VMWare, IIS, vSphere, AD);
- Expérience avec les systèmes ERP, CRM;
- Expérience réseau(TI);
- Connaissance du milieu manufacturier;
- Anglais fonctionnel.
---
Equal Opportunity Employer
This employer is an equal opportunity employer committed to diversity and inclusion. We are pleased to consider all qualified applicants for employment without regard to race, color, religion, sex, sexual orientation, gender identity, national origin, age, disability, protected veterans status, Aboriginal/Native American status or any other legally-protected factors. Disability-related accommodations are available on request for candidates taking part in all aspects of the selection process.
---
Requirements
Level of education
College
Work experience (years)
3-5 years
Written languages
Fr : Intermediate
En : Intermediate
Spoken languages
Fr : Intermediate
En : Intermediate
Other Protomach Inc.'s offers that may interest you